WASHINGTON — Juggalos just want to be able to listen to their favorite band in peace.
Fans of the Detroit horror hip-hop duo Insane Clown Posse gathered on the National Mall Saturday to reiterate that message amid a yearslong struggle with the FBI, which has labeled the fanbase a gang.
They baptized newbies in Faygo soda, the official drink of the Juggalo, painted their faces, and high-fived and hugged old friends ahead of a planned march and concert.
It was as jubilant as one imagines a crowd of clowns can be.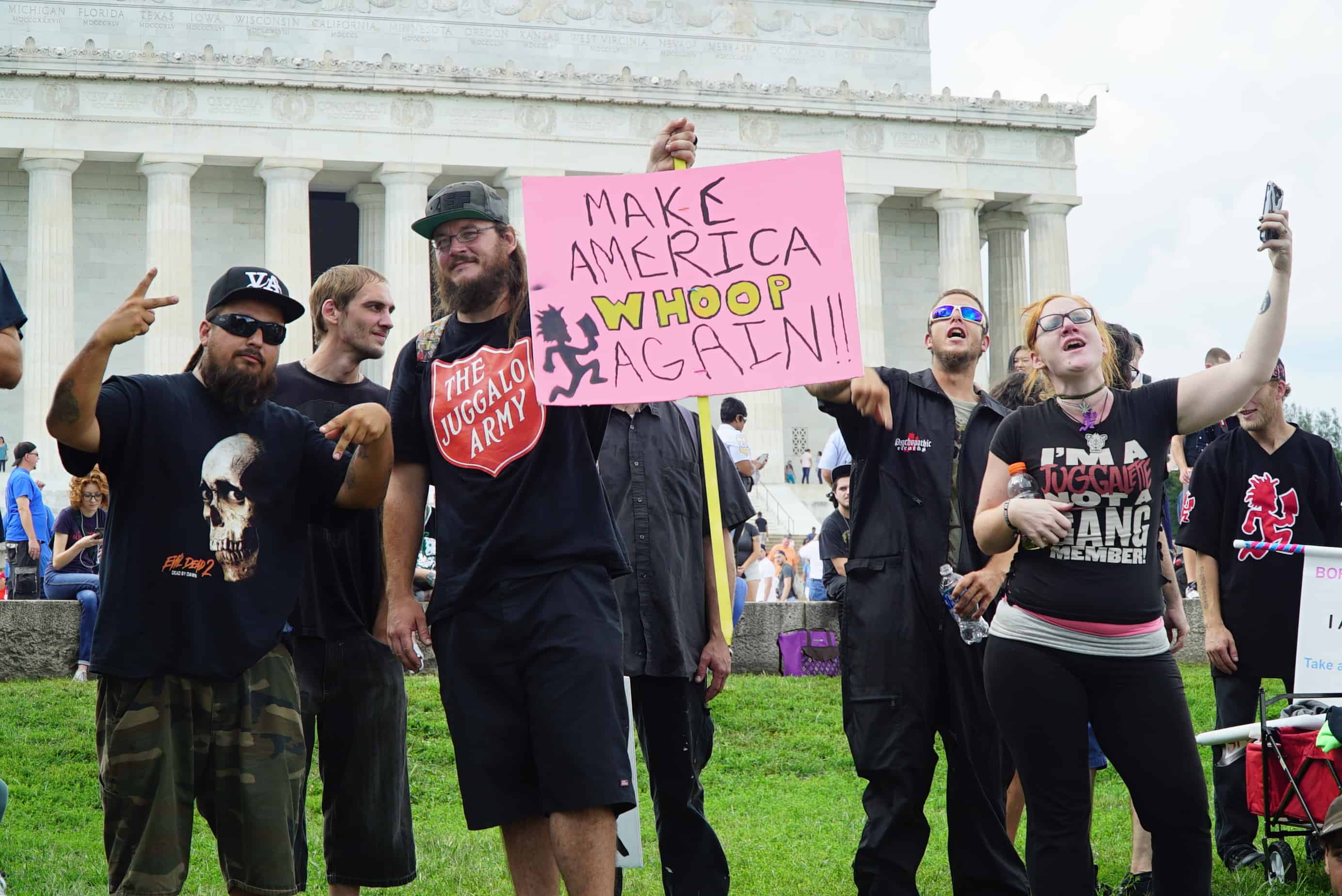 Their purpose for coming together, however, was serious. A contested 2011 FBI report claimed Juggalos engage in "gang-like behavior and criminal activity and violence." For proof, the bureau cited theft, drugs, and assault committed by ICP fans.
ICP MCs Violent J and Shaggy 2 Dope, with the help of the ACLU of Michigan, sued the FBI in 2014, demanding the FBI remove Juggalos from its list of gang-affiliated groups, which includes the Aryan Nation and MS-13. The case was dismissed. ICP appealed and the suit was reinstated. The case was dismissed again, and is on its second appeal.
It's true that people who identify as Juggalos have committed crimes. But as the ACLU of Michigan noted on its website, "We believe this gang designation violates the fundamental free speech and due process rights of the hundreds of thousands of Juggalos."
The statement continued, "Branding the Juggalos, as a group, as a criminal gang, based on the isolated acts of a few, is similarly unconstitutional."
The gang label has frustrated fans, and allegedly led to tragic consequences for some. A Juggalette named Crystal Guerro spoke to the crowd gathered in front of the reflecting pool Saturday about losing custody of her children after attending an ICP show. "One concert was all it took. And now I see my children two times a week for six hours," she said.
Others followed, including Laura King, who said ICP's music helped her find peace when a friend gave her an album while she was in the hospital after a suicide attempt. In response, the crowd broke out in chants of "Family! Family!"
That camaraderie was palpable throughout the gathering of about 1,500.
And it wasn't just Juggalos marching.
About 20 members of the D.C. chapter of the Democratic Socialists of America, the vanguard of a reenergized Left, came out armed with snacks, drinks, and signs that read "Faygo not Fascism."
DSA, which sees Juggalos as natural allies because of their working-class root, put out a statement in the run-up to the march saying it "stands in solidarity with the Juggalos, and all those targeted by law enforcement."
D.C. DSA member Leslie Bentley said she and the rest of her chapter were there to help, not to recruit. "People see this," she said pointing to a "Faygo not Fascism" sign, "and come up to us."
"This is not gang activity. This is their family," she added.
For long-time Juggalo community organizer and organizer of Saturday's march Rachel Paul, the support from groups like DSA is welcome. "The spirit of community is what it's about," she said. Though she made clear that the March would happen with or without the support of other groups. "Juggalos are organizing themselves," she said.
Paul granted that Juggalo politics tend to fall left of center, and pointed to ICP's long-held stance against Confederate symbols (one song includes the chorus "Fuck your rebel flag"), a position that has taken on fresh relevance since the election of Donald Trump and more recently after the events in Charlottesville.
"We've been burning rebel flags since the '80s," she said. "Glad everyone's catching up."