Photo courtesy of Munroe Bergdorf
It all started a few months ago when L'Oréal got in contact with me and said they were expanding their True Match line. The foundation line had received a lot of coverage and positive press the previous year, so they were extending it to five new shades. L'Oreal wanted me to wear the foundation and feature in the #YoursTruly True Match campaign in shade 8.5W, which matched my skin tone.
I was the first black transgender model and activist L'Oreal had worked with on a makeup campaign, and one of the first trans models in the UK. My role? To market and promote True Match foundation.
At the time that L'Oreal approached me, I didn't really have any reservations about working with the company. Instead, I thought I would be participating in something I believed in strongly: more makeup to match more skin-tones. Historically, black women have struggled to find the right shades. I thought, This is in line with my message; this is what I want to push for. I was really excited to be a part of the campaign and participated in an interview with Vogue about the role of makeup in my life.
Sadly, I didn't anticipate the reaction they would have when they read comments I wrote on Facebook, which detailed my thoughts on white supremacy following the neo-Nazi rally in Charlottesville. "Honestly I don't have energy to talk about the racial violence of white people any more. Yes ALL white people. Because most of ya'll don't even realize or refuse to acknowledge that your existence, privilege and success as a race is built on the backs, blood and death of people of colour. Your entire existence is drenched in racism," I wrote.
It started when a L'Oréal publicist called me, saying, "It looks like someone has sent in a screengrab of your Facebook rant about racism to the Daily Mail." I waited a day to hear more, and then found out last Friday that I was being dropped. I was really disappointed when I got the second call, telling me the news. We wouldn't need diversity campaigns if racism didn't exist; the reason why the makeup industry doesn't usually represent women of color and trans people is because we are not seen as being the standard of beauty.
Read more: One in 12 Beauty Products Aimed at Black Women Deemed 'Highly Hazardous'
Additionally, the Daily Mail took my comment completely out of context and made it seem like I went on a random rant about white people when actually I was speaking about white supremacy. "But days after she was announced as L'Oreal's first transgender model, Munroe Bergdorf launched an extraordinary rant declaring all white people racist," the story read. They also made it seem as though I'd written my statements after the campaign launch, when actually this was something that was written last month in reaction to the Charlottesville atrocities. Instead of publishing the full statement, the Mail took lines from it, so while I'm upset about the online reaction I've received, I'm also unsurprised that people got the wrong idea. If the press is only going to take certain little bits of a wider picture, of course it's going to offend people, because it's not the truth—it's not what I was saying.
When I stated that all white people are racist, I was addressing the fact that Western society as a whole is a system rooted in white supremacy: It's almost always designed to benefit, prioritize, and protect white people at the expense of communities of color. I was trying to understand why tragic and violent events like Charlottesville happen in the first place, and attempt to dismantle the structures that allow them. I shared my thoughts about Charlottesville because I believe that if we want to find a way out of the situation we're in, we need to be vocal about the history that got us here, which includes everything from slavery to colonization to segregation.
---
Watch: The Australian Model Calling Out Fashion's Size Hierarchy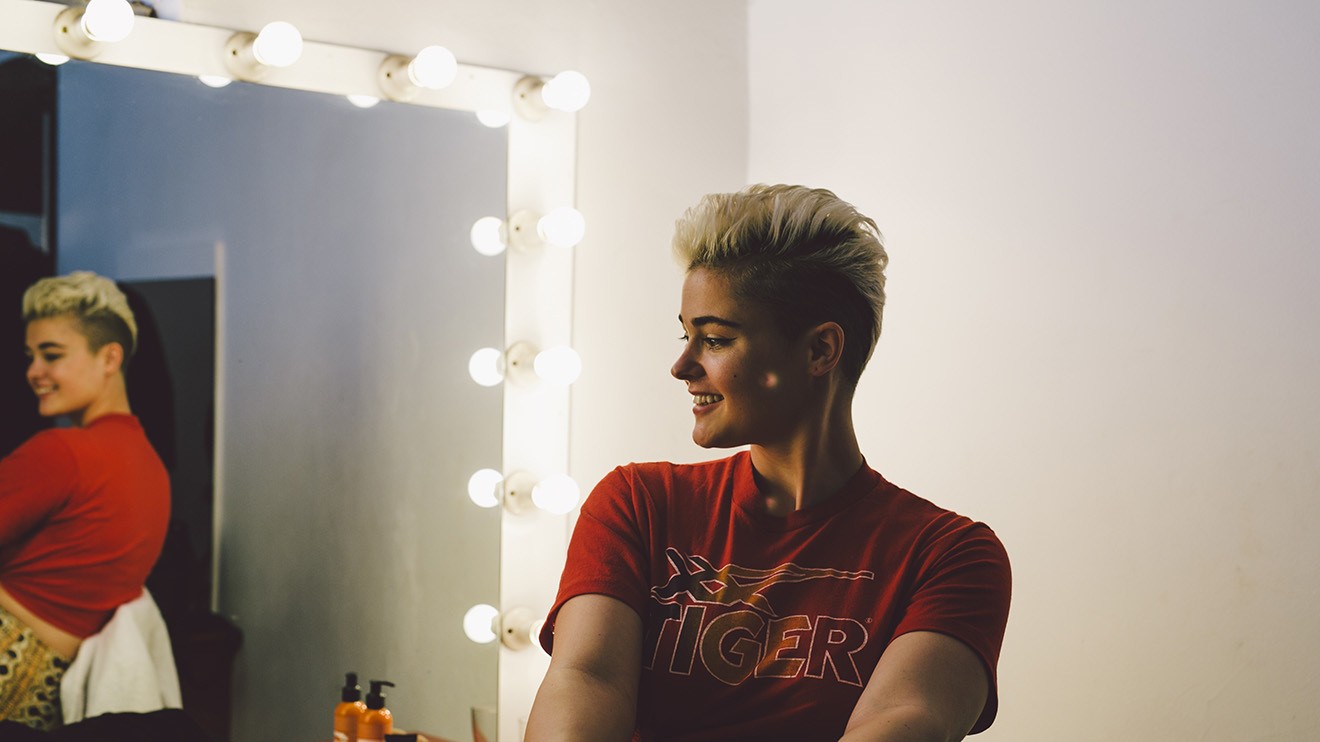 ---
I still don't understand how identifying racism and explaining the source of racism that persists today can lead to me being labelled a racist by the public and being dropped by the brand. By firing me for speaking out against white supremacy, L'Oréal has implied that calling someone a racist is worse than actually being one. But coming out of all of this, I strongly believe this instance speaks volumes about the true motives of brands and empowerment campaigns. You can't just use the images of people of color to profit from an untapped demographic; you need to actually support the people you are representing. If we're talking about increasing diversity, we have to speak about why we need diversity in the first place. We have to talk about the reasons why black women aren't held up as beauty icons or role models by the makeup industry.
The backlash to my statements has been insane and my nerves are literally shot—I've even received death threats. I've made bold and controversial comments before, but I've never had a response like this. At the same time—and although it feels awful to find myself in the eye of the storm—I'm still glad we're having this important conversation and at an international scale. I hope this moment will make some people think more about structural racism and provoke further dialogue on how to rid ourselves of white supremacy, especially during a time when we are censored and penalized for speaking out against it.
I knew that the attention and abuse was always going to come at some stage if I was going to excel in any way because of my identity and my politics. I didn't know it was going to be all at once, but I plan on staying strong regardless. I have been speaking with press about the events that transpired both because I am strong in my convictions and it's do or die for my career. I went on British chat show Good Morning Britain, presented by Piers Morgan—even though I know his viewers were unlikely to agree with my viewpoint—to show I'm not some raving, random person. Coming out of that, I found that I may have undervalued his viewers, because I've had positive feedback from people who say they watched it and understood my perspective.
With all of this, I'm hopeful that people can see that I actually want a resolve. I don't want segregation, I don't want to keep white people away from me (half my family is white); I want all of us in this together to speak about racism and its roots.
To be world news in the space of four days is a lot to handle. I can only do my best and I'm doing my best. Most other people don't have the platform I do to make statements that challenge the status quo. I'm saying really hard truths in white spaces, and I'll carry on doing so. I've got other campaigns lined up and I've got one with a company that's stood by me, which is amazing, but it's changed how people see me. I don't know if I can walk into a room anymore and people will see me for who I am, or some pre-conceived notion of me based on what they've seen in the media. It's so difficult to gauge the situation right now.
For now, I'm just doing my thing, and hoping my message gets through.
Editor's note, in response to Broadly's request for comment on their decision to drop Bergdorf's from their campaign, L'Oréal gave the following statement:
"L'Oréal supports diversity and tolerance towards all people irrespective of their race, background, gender and religion. The L'Oréal Paris True Match campaign is a representation of these values and we are proud of the diversity of the Ambassadors who represent this campaign.
We believe that the recent comments by Munroe Bergdorf are at odds with those values, and as such we have taken the decision to end the partnership with her. L'Oréal remains committed to celebrating diversity and breaking down barriers in beauty."