Image sources via CP / Wikipedia Commons.
It's been nearly two years since Alan Ranta, a BC-based music editor and record store employee, was banned from the US after admitting to a border guard that he had smoked weed before.
Ranta and a friend were on their way to a music festival when they were searched and questioned by US border guards. "We were trying to go to Washington [State], where pot is legal," Ranta told VICE. "It didn't seem like that big of a deal."
Once pulled into an interrogation room and handcuffed, border guards proceeded to question Ranta about whether he'd used cannabis before. "Being handcuffed for the first time in your life is pretty intimidating," he said. "I admitted pretty much immediately after I had the handcuffs on."
Ranta was denied entry to the US that day and given a lifetime ban. Though he can apply for a waiver in order to enter the US again, he currently can't afford to do so.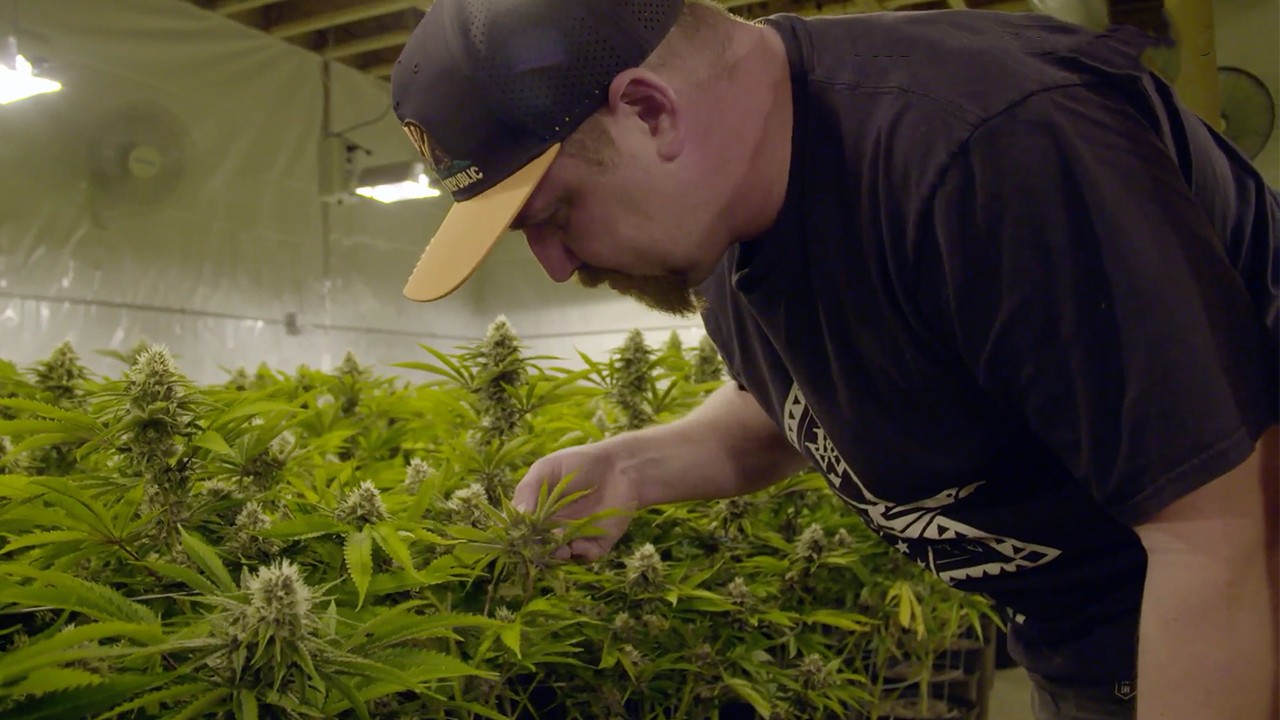 It's certainly a very bad idea to tell a US border guard that you've used cannabis before. Even if you tell them it was just one time in university at a party, a Canadian admitting to cannabis use is likely to not only get turned away from entering the States—but could get banned for life.
Could this change now that we know cannabis will be legal in Canada on October 17? VICE reached out to several experts to find out how weed legalization in Canada could affect the border, and how Canadians can best handle it.
Refuse to answer questions about pot consumption
Len Saunders, a lawyer with Blaine Immigration in Washington State, told VICE that when legalization hits, he expects a "tidal wave" of clients who've been deemed inadmissible and banned from the US for cannabis use.
"Until I get a definite answer from the US government, I tell people I wouldn't answer that," he said of US border guards inquiring about personal cannabis use, even post-legalization. Saunders said he plans to hire another full-time employee at the firm to accommodate the wave of clients he suspects could come after cannabis legalization in Canada.
Michael Niren, an immigration lawyer and CEO of VisaPlace.com, told VICE he expects "a lot of confusion" to occur when legalization onsets.
"People on the Canadian side are going to feel they're not doing anything wrong because it's not illegal—then they'll be shocked that they could be facing denial at the border," Niren said.
The Washington State-British Columbia border is a hotbed for Canadians who've been rejected from the entering the US because of weed, according to Saunders. Though Canadians entering into Washington may be aware cannabis is legal there, cannabis is still illegal in the US at a federal level, making this a moot point at the border.
"The Canadian government… I don't think they fully understand the ramifications of Canadians going to the border and admitting to past marijuana use," Saunders said. "Government officials have been telling Canadians to tell the truth."
Refusing to answer questions about past drug use may get you turned away from the border that day, Saunders said, but would not result in a lifetime ban like an admittance could.
Don't carry paraphernalia
Saunders said upon legalization, Canadians will likely be more relaxed about admitting to cannabis use in general, and may feel more at ease carrying cannabis and paraphernalia in their vehicles. "This could be a major problem," Saunders said.
Before you cross the border, it's not a bad idea to do a clean sweep of your vehicle (or make sure your friend does if they're driving). That means looking for any signs of cannabis use, including rolling papers and smoking devices. Vacuum the car if you're concerned there may be any stray bud. Whether by air or land, you could also clean out your purse, bags, and wallets beforehand.
In Ranta's case, a novelty change purse that said "weed money"—but never contained weed—found in a car search may have been what landed him in an interrogation room. So, it may be best to leave items at home that are emblazoned with pot leaves.
Put passwords on your electronic devices
If you're concerned that anything in your text messages, emails, photos, or social media could point to you using cannabis, make sure you have a password on your electronic devices before traveling to the US. If you don't need to bring devices with you, don't, or bring a spare phone that doesn't have your entire life on it.
Refusing to give a guard your password in order for them to search your phone or laptop will likely get you turned away from the border that day, but should not result in a lifetime ban.
Buying weed with a credit card could cause trouble
As well, consumer data could present another set of problems for Canadian cannabis users at the border. Canadians' legal cannabis purchases on credit cards could end up on American servers that authorities could get access to, Global News reports. Saunders hasn't seen any clients who've had credit card purchases brought up at the border before, but agreed it is a possibility.
Being involved in legal cannabis can get you denied
Saunders said clients needing US entry waivers after being deemed inadmissible to the US related to cannabis use has stayed relatively stable at Blaine Immigration over the last two years—about a person or two per week. But since April, about a dozen people have contacted the firm for another reason related to cannabis—Canadians involved in the American side of the industry, such as via investment or being part of a company that makes cannabis-related equipment—are being banned from entering the US.
"They're going after senior officials [of cannabis-related companies]… They're being sent right to secondary," Saunders explained. He said that companies listing the names and job titles of higher-ups on their websites could be a source of this info US border guards seem to have recently.
The firm Niren works at—which mainly sees clients who try to enter the US from Ontario—more often sees people who've been banned based on cannabis-related convictions rather than situations like Ranta's. People who are convicted for cannabis crimes can be barred from entering the US, and the Canadian government has not yet promised pardons to people with criminal records for pot possession.
Niren said he thinks something has to give in the way the US border deals with Canadians who've used cannabis before.
"I think it will cause a lot of problems at the outset," Niren said. "There's got to be some modification in the way in which officers are going to have to adjudicate these cases because they're not going to be able to handle the influx of Canadians who are participating."
Ranta is concerned that more Canadian citizens will be "caught unaware" of how the US border operates once cannabis legalization happens. He hopes that people will learn from his experience.
"You definitely have to keep your wits about you. No matter what it feels like when you go to the border, they're not on your side," Ranta said. "You really have to be aware of what you're doing.
Sign up for the VICE Canada Newsletter to get the best of VICE Canada delivered to your inbox.