Illustration by Arielle Daughma.
The first female self-made millionaire in America was the child of former slaves.
Madam C. J. Walker was born Sarah Breedlove on December 1867 at the same Delta, Louisiana cotton plantation that her parents had been enslaved on just a few years prior. She was their first child born free. And she was destined to forge a self-sufficient path for Black women entrepreneurs for generations to come.
Breedlove's young life was heavy with loss and struggle. As chronicled in her biography, On her Own Ground, following the Emancipation Proclamation, her parents worked as sharecroppers. By age 7, she was an uneducated orphan working on the same plantation she'd been born on, living with her sister and an abusive brother-in-law. Yearning for reprieve from the abuse, she married by age 14, became a mother at 17, and a widow just two years later.
Penniless and alone with a child to care for, 20-year-old Breedlove decided to follow in the footsteps of her brothers, and move north to St. Louis. There, she worked as a laundress for 18 years, getting paid $1.50 a week. But in that time, she took it upon herself to improve her education, as she had been denied one by the state of Louisiana as a child. Working with women she met at church, she learned to read, write, and sing. But that wasn't enough for her.
"I was at my tubs one morning with a heavy wash before me," the New York Times quotes Breedlove recalling. "As I bent over the washboard and looked at my arms buried in soapsuds, I said to myself: 'What are you going to do when you grow old and your back gets stiff? Who is going to take care of your little girl?' "
Breedlove's eventual answer to that question—owning her own booming business—originated in the form of a personal problem: Her hair was falling out.
At nearly 40 years old, resourceful Breedlove began creating at-home remedies and trying every store-bought treatment she could get her hands on. Meanwhile, in 1905, Breedlove moved to Denver and soon after married Charles Joseph "C.J." Walker, a newspaper ad salesman who encouraged her ambitious spirit. From then on, she became know as "Madam C. J. Walker." The name was partly aspirational—and, in retrospect, prophetic; she chose "Madam" to mimic the French beauty industry leaders of the time.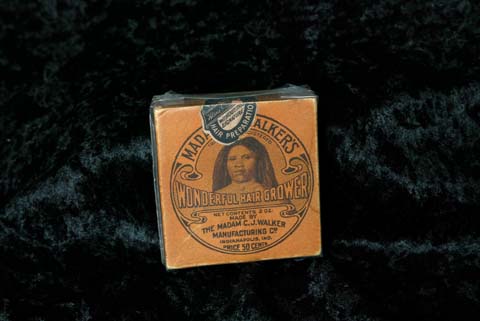 Not long after her nuptials, Walker had a dream that would change her life forever.
"A big Black man appeared to me and told me what to mix up for my hair. Some of the remedy was grown in Africa, but I sent for it, put it on my scalp, and in a few weeks my hair was coming in faster than it had ever fallen out," she later told a reporter.
Soon after, Walker started her first line of Black hair products. The crown jewel of the line was The Wonderful Hair Grower, a scalp ointment made with medicinal sulphur. Along with a reimagined version of the hot comb, Walker had the early makings of a beauty empire.
Walker was all guts and grit. She sold her hair products door to door. She placed ads in Black-owned newspapers across the country. She visited church groups and clubs to make sales in person. She created her own catalog. Walker soon became a master of marketing. Never before had anyone met the hair needs of Black women on such a scale.
In addition to promising hair health, Walker began to see her products and brand as a way to empower Black women and the Black community at large. Before her advertisements came on the scene, light-skinned women had been pictured as the desired "after" photo in the Black hair makeovers featured in newspaper ads. In an unprecedented rebuke of white beauty standards, Walker made sure that the women in her "after" photos were Black and proud.
As her business expanded, so did Walker's philanthropic and activist endeavors. As she grew into her forties and continued to amass wealth, she made it a point to support as many charities and civil rights causes as possible. From 1912 to 1914, She even paid the college tuition of six Black students at Tuskegee Institute.
According to A'Lelia Bundles, Walker's great, great granddaughter and biographer, in 1912, Walker, at that point divorced, set another goal for herself: To address the delegates of the 1912 National Negro Business League (NNBL) convention. Although she was uninvited, she showed up anyways. And after her requests to speak were ignored, she addressed the attendees out of turn.
"Surely you are not going to shut the door in my face. I am a woman that came from the cotton fields of the South," she declared. "I was promoted from there to the wash-tub; then I was promoted to the cook kitchen, and from there I promote myself into the business of manufacturing hair goods and preparations. I have built my own factory on my own ground."
The following year, she was invited to return as a keynote speaker.
Determined to create opportunities for Black people who she saw working as maids, laundresses, cooks, and sharecroppers, Walker began recruiting Black men and women across America, the Caribbean, and Central America to join her growing beauty empire as sales agents. "I am not merely satisfied in making money for myself," Walker said in 1914. "I am endeavoring to provide employment for hundreds of women of my race."
By her mid-forties, Walker had her own factory in Indianapolis, had incorporated her business (with her own $10,000 investment), had opened countless product labs and "hair-culture colleges" for beauticians in training, and begun training what would total to upwards of 40,000 "Walker Agents."
In 1916, just in time for the cultural renaissance, Walker moved to Harlem. The following year, she founded the National Negro Cosmetics Manufacturers Association and held the first Madam C. J. Walker Hair Culturists Union of America Convention, one of the first gatherings in history for female American entrepreneurs. At the convention, women shared their tales of success: Margaret Thompson, president of the Philadelphia Union of Walker Hair Culturists announced that while she had once earned five dollars a week as a servant, she now made $250 a week thanks to Walker.
"I got my start by giving myself a start."
Walker's commitment to social justice continued throughout her life. As member of the organizing committee for the NAACP's July 28, 1917 Silent Protest Parade against lynching, she marched alongside W. E. B. Dubois and fellow activists to protest racial injustice and lynchings. Almost a century later, A'Lelia Bundles uncovered that the US government—threatened by Walker's influence—had put her under surveillance by a Black War Department spy.
The last couple years of Madam C. J. Walker's life were as lively and achieving as ever. After hiring Vertner Woodson Tandy, one of New York State's first licensed Black architects to build her prized four-and-a-half acre estate in the same neighborhood as John D. Rockefeller (America's first billionaire and funder of government eugenics experiments), she hired Frederick Douglass' grandson to play violin at her housewarming party. Walker was known to drive her fast cars at high speeds around the neighborhood for sport, much to the pearl-clutching chagrin of her wealthy white neighbors.
Walker died from nephritis and kidney failure on May 25, 1919, one year after her dream home was completed. She was 51 years old and the first female self-made millionaire in American history, as well as considered the richest Black woman in the country.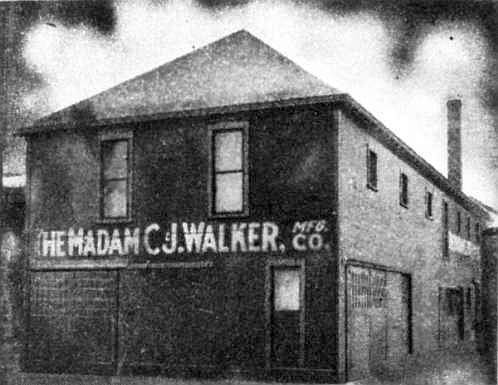 After Walker's death, her beloved Hair Culturists Union of America conventions continued through the 1960s and her wildly successful system of "Walker Agents" and multi-level selling set the stage for companies like Mary Kay and Avon.
Netflix is reportedly developing a series about Walker's life starring Octavia Spencer, and rebooted versions of Walker's original healthy hair formulas are now available to modern Black women at Sephora. In numerous way, Walker's legacy lives on.
"There is no royal flower-strewn path to success," Walker once said when asked about her life. "And if there is, I have not found it, for whatever success I have attained has been the result of much hard work and many sleepless nights. I got my start by giving myself a start. So don't sit down and wait for the opportunities to come. You have to get up and make them for yourselves!"