It seems completely unsurprising that a mobster nicknamed "Porky" would be back in jail because he couldn't resist stopping at a bakery.
John "Porky" Zancocchio, the 60-year-old consigliere of the Bonanno crime family, has been confined to his home after a recent arrest for racketeering. A judge granted him permission to leave his Staten Island home to attend his aunt's wake, memorial mass, and burial, but he allegedly ventured beyond the funeral home, stopping in at two restaurants and a bakery.
According to SI Live, Zancocchio did attend those memorial events, but he also paid a visit to restaurants Bella Mama Rose and Denino's pizzeria, along with an "unnamed bakery" in his neighborhood. Zancocchio is a co-owner of Bella Mama Rose, a family-style Italian eatery that he operates with another mobster, Frank Camuso of the Gambino crime family. (As an aside, the Bonanno and Gambino organizations are both among the "Five Families" of the Italian-American Mafia; the Gambino family is the one that John Gotti once ran).
Authorities say that Zancocchio was seen both in front of and behind the bar at Bella Mama Rose, and that he spent a leisurely couple of hours at Denino's the next day. While walking home, he dropped in to the as-yet-unidentified bakery to "greet some people."
"Mr. Zancocchio ate at his daughter's own restaurant (Bella Mama Rose), which was within walking distance from the funeral home and where he had previously worked prior to his arrest," his defense attorney, John Meringolo, said. "Likewise, Mr. Zancocchio attended a prayer service lunch after the burial on February 12th. This restaurant is also family-owned and was originally opened by Mr. Zancocchio's grandfather (the father of his deceased aunt) and is currently owned by his cousin […] After the gathering there, he then returned home within the confines of his release conditions."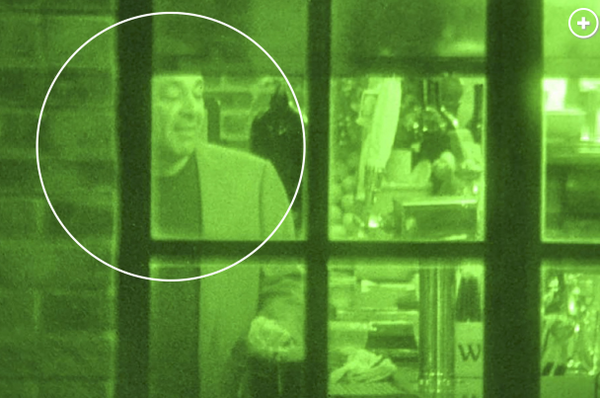 Manhattan Federal Judge Alvin Hellerstein disagreed with that interpretation of Porky's "release conditions," and ordered that Zancocchio be returned to the Metropolitan Correctional Center.
Zancocchio is currently facing up to 20 years in federal prison on a number of charges related to a racketeering conspiracy, "including extortion, loansharking, wire and mail fraud, narcotics distribution, and conspiracy to commit murder," according to a statement from US Immigration and Customs Enforcement (ICE). Porky Z (a name we would never call him to his face) has been sent to prison twice before on charges of income tax evasion.
But we know how it goes: When you're craving pizza, you're craving pizza.