Donald Trump may be a
world of chaos
all by himself, but the world beyond Trump is changing in dramatic ways, often with little notice. We'd like to tell you about it and we're keeping track of these global changes, from the incremental to the monumental, so that you don't have to.
This week: Politics loom over the Pyeongchang Winter Olympics; Assad ratchets up brutal campaign on rebel-held territory; Duterte gets a careful look from the Hague, and the #MeToo movement grows in France.
South Korea: Pyeongchang's politics
North and South Korea staged a remarkable show of unity as the 2018 Winter Olympics kicked off in Pyeongchang, South Korea, marching in the opening ceremony together under the same flag. You'd almost forget that a week before, U.S. President Donald Trump used a good chunk of his first State of the Union to blast Pyongyang as "depraved" amid reports that the White House is still mulling its "bloody nose" plan to launch a limited strike on the Hermit Kingdom.
Trump's words were not lost amid the Olympic cheer. "It's a forewarning of how the Trump administration will handle the North Korean nuclear and missile issue in the future," said Yoo Seung-min, chairperson of the center-right Bareun Party, at a recent parliamentary meeting. "War on the peninsula could be started by both North Korea and the United States." Trump's "bloody nose" plan for North Korea could make a mess of the Olympics / Max S. Kim
U.S. officials didn't seem to share in the Games' glow either. Vice President Mike Pence and his wife were reportedly the only ones in their VIP box who didn't stand up when the unified Korean squad entered the stadium. Mike Pence and "Mother" score VIP seats next to Kim's little sister / David Gilbert
Honduras: U.S. wades into a disputed election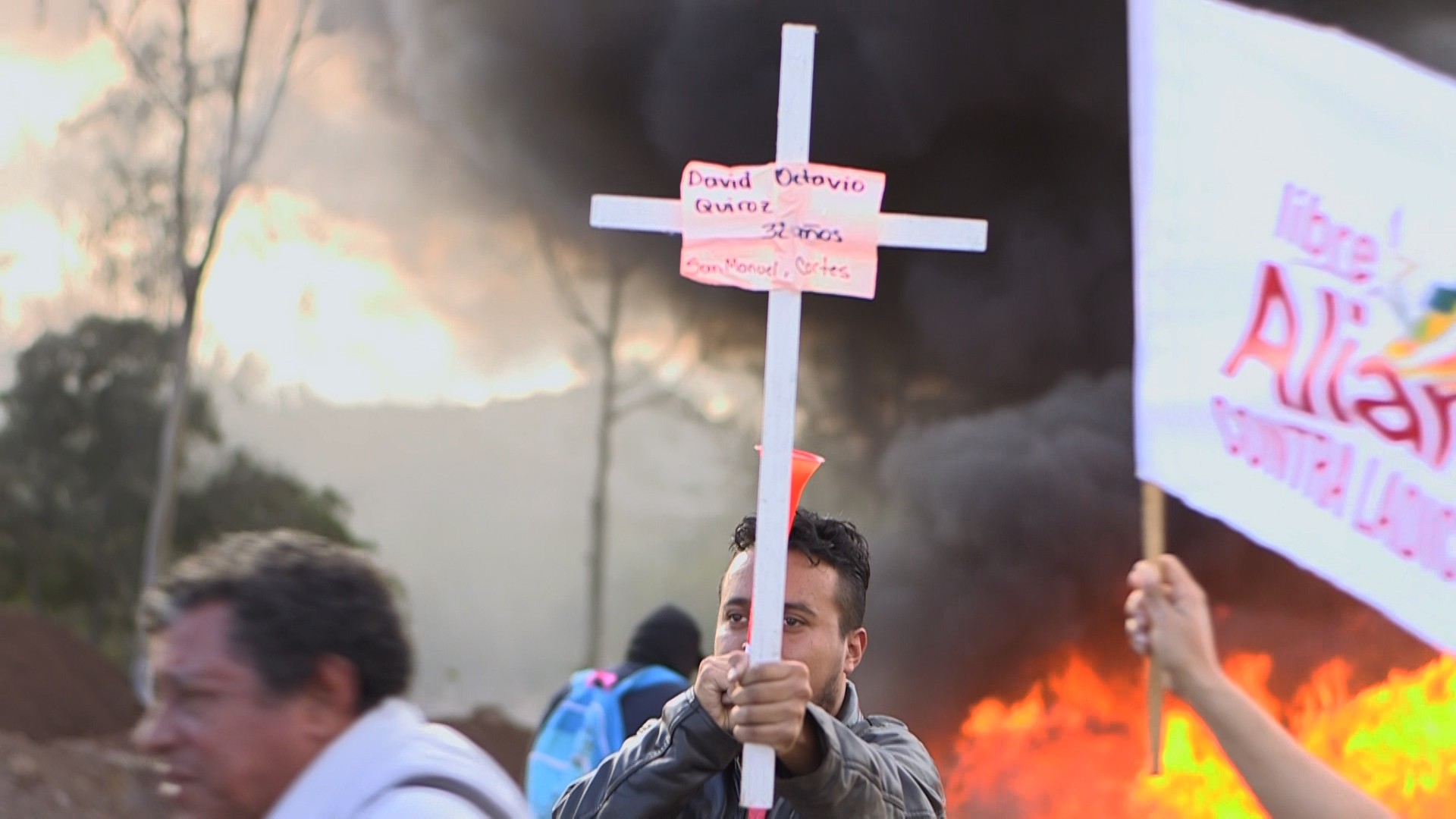 President Juan Orlando Hernández's controversial re-election in Honduras has thrown the fragile nation into crisis, and the U.S. has its fingerprints all over the situation. Despite widespread corruption scandals and political assassinations, the U.S. has stuck by Honduras's military and police time and again. The result, critics say, is a government that now operates above the law.
VICE News visited the capital, Tegucigalpa, as protests were sweeping through the country. The U.S. is propping up a dictatorship in Honduras /David Noriega
Some Numbers
0 / 22
That's the share of terror attacks between 2011 and 2017 that were conducted by ISIS fighters returning to the U.S., according to a new report, which concluded that the threat from returning travelers appears to be highly "limited." Threat of ISIS fighters returning to the U.S. is "miniscule compared to other countries," experts say/Alexa Liautaud
100
milliseconds
That's how long it takes high-tech sunglasses being worn by Chinese police to recognize a suspect's face in a crowd of 10,000 people. China just rolled out police glasses that track its citizens/ David Gilbert
$6K
That's the level below which bitcoin fell at the lowest point of its volatile roller coaster ride last week, marking a stunning loss of over two-thirds of its value from a peak of more than $19,000 in December. Bitcoin just slid below $6000/ David Gilbert
Syria: "There is nowhere for them to escape"
The Syrian regime kept up a brutal campaign against the rebel enclave of eastern Ghouta, killing over 200 civilians by Friday. The onslaught of airstrikes, with support from Russia, continued despite a desperate plea from the UN for a break in the fighting to allow for humanitarian aid, and days after the U.S. condemned the regime for its repeated use of chemical weapons. "There is nowhere for them to escape": Assad's latest offensive is killing hundreds of civilians in Syria / Alexa Liautaud France: The #MeToo movement is growing despite backlash Some Quotes "I don't want imprisonment. I beg of you to find a country where they execute." — Philippine strongman Rodrigo Duterte mocked the International Criminal Court for opening a probe into the wave of extrajudicial killings alleged to have taken place in his infamous war on drugs, saying he'd rather be shot by firing squad than face prison if found guilty. The day before, ICC Prosecutor Fatou Bensouda announced a "preliminary investigation" into the claims that could, one day, lead to charges of crimes against humanity against Duterte in the Hague. Duterte says he'd rather die by firing squad than face prison over his drug war/ Greg Walters "The simple truth: There is nothing." — Israeli Prime Minister Benjamin Netanyahu protested his innocence on Facebook after local media said Israeli police will soon recommend his indictment for demanding an receiving gifts, including champagne and Cuban cigars, from businessmen in exchange for favors. Bibi is about to be indicted for corruption / Tim Hume "Instinctively I turned around, I went home, I opened the safe and took the pistol and decided to kill them all." — Luca Traini, 28, an Italian far-right extremist reportedly confessed to shooting six African immigrants after hearing a report about a local teen's murder on the radio, then taking off on a two-hour shooting spree around town in his car. Italian fascist shooter targeted immigrants in "revenge" attack /Tim Hume "Like a full-on Caligula orgy." —An unnamed source speaking to the Times describing video footage from a party thrown by senior aid workers for U.K. charity group Oxfam, who paid young Haitian girls for sex following the country's devastating 2010 earthquake. Oxfam denied trying to cover up the incident. Top Oxfam staff paid survivors for sex after the 2010 earthquake /The Sunday Times "Here's the photo Musk is hiding from us." — Russians took to social media to mock their own space program and mega-yacht-buying billionaire set after Elon Musk's Falcon Heavy rocket sent a cherry red Tesla Roadster flying through the cosmos. Russians are mocking their space program after the SpaceX launch / Greg Walters Read last week's VICE News Guide to the World here.