On most days, despite the scorching heat, Gandhi Park in Meerut, a small town on the periphery of Delhi, is found to be full of lovers in hidden nooks, stealing away a few moments of privacy. In India, where love is often discouraged, couples find privacy in public spaces, away from where they live and from the prying eyes of families and neighbors. But, for several weeks now, Gandhi Park, the most popular spot for young people to have amorous trysts in the city, has been empty. On a May evening, the only people around were a few families with children. "The anti-Romeo squads have scared young people away," says a man standing by the ticketing window.
In March, India's most populous and largely lawless state, Uttar Pradesh (where Meerut is), launched "anti-Romeo squads"—teams of cops from local police stations that keep vigil at colleges, schools, markets, parks, and other crowded spaces—to prevent the harassment of women.
What was meant to be a measure for women's safety soon turned into a form of overzealous moral policing. Since the campaign was implemented, teams of cops have swooped down on couples in different cities across the state, interrogating, harassing, shaming, and in some cases even arresting them. Videos surfaced of young men suspected of being "Romeos," a colloquial term in India for a man who harasses women (which is known as "eve-teasing"), being told to hold their ears and do sit-ups in front of the police; in late March, one man was forced to shave his head after he was accused of misconduct. Friends, married couples, siblings—the squads spared no one. In one bizarre incident, police teams descended on a house where a tutor was exchanging notes with his female student. Men who were found standing or roaming outside women's educational institutions or publics spaces were rounded up and their parents notified.
The anti-Romeo squads were formed as a result of a campaign promise made by the newly elected chief minister of the state, the right-wing religious leader Yogi Adityanath, who swore to "protect the honor of women." The move demonstrated two conflicting ideas: that women's safety should be a matter of honor and protection, rather than female empowerment, and that the conversation about women in India has changed in the last few years. Public anger at women's insecurity has grown since the brutal gang rape on a bus in Delhi in 2012, and it's now an issue politicians must address.
---
Watch: Inside the Satanic Temple's Fight to Protect Abortion Rights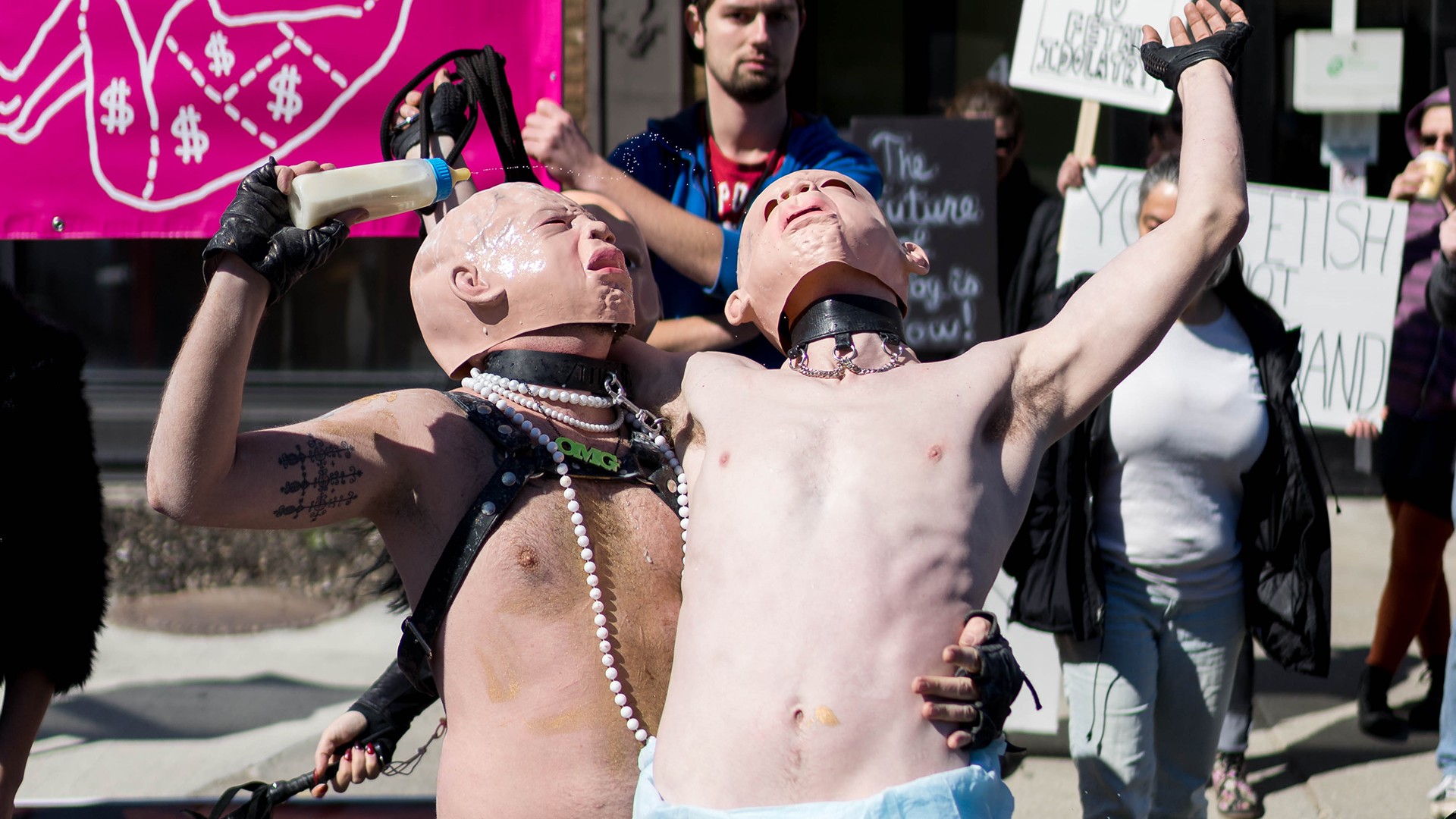 ---
Broadly spent some time with one anti-Romeo squad in Meerut from the mahila thana—all-women police stations that are designed to encourage women to report crime. The sub-inspector, Anjana Chaudhary, a young, confident officer, explained how to identify a "Romeo": "You can tell if someone is a Romeo from the way they dress, their body language. Once we identify them, we ask them what's their context for loitering—let's say outside a college or a school. If the explanation is satisfactory, we let them go. If not, then we probe more." The goal, she said, is to catch people who are there to molest, harass, or stalk women, and not go after friends or boyfriends. She adds with a smile, "The name for the [campaign] is misleading. Romeo was a lover, not a lout."
Indeed, terms Romeo and eve-teasing blunt the edge of the insidious sexual harassment that takes place on Indian streets. It can range from leering, passing lewd comments, and making obscene gestures to groping, stalking, intimidation, and threats of violence.
In the middle of the day, a team of four policewomen, two in plain clothes and two in uniform, set off for Raghunath College for Girls, a post-secondary school, which is located in the old town, the busiest part of the city, a few kilometers away from Gandhi Park. The college, one of the three women's colleges in the city, was set up by the wife of a local businessman when India was under British control to promote the education of women. Ironically, it has been a prime center for harassment of young women—they said they find it difficult to enter or leave college without being subjected to lewd commentary, or worse, from the men who hang around outside. This is not unusual: Many young women, across Uttar Pradesh and other parts of India, drop out of school or college because of harassment. Here, women have a set of dos and don'ts for dealing with harassment: They only travel in groups—never alone—always dress modestly, and never loiter in public spaces.
When they find no men outside the college, the police team takes off in different directions to patrol other areas. People I spoke with said about an equal number of students at Raghunath College support the drive as those who are opposed to it. Nidhi Dhariwal, a science student who rides a motorcycle to college to avoid harassment on public transport (though that doesn't stop men from following her), pointed toward the college gates as we spoke. "The street outside was taken over by young men who would come here to ogle," she said. "They're not coming anymore. I'm happy the boys are finally getting it back."
Yet others feel that the state's interference through anti-Romeo squads has restricted them further. "I have the right to be with a man without the police questioning our motive," Farah Siddiqui, a literature student, told me. "And I can't just feel safer because the premises around our college are free of loutish men. I need to feel safe everywhere and all the time, and that can't just happen when the police are hunting for Romeos."
At the neighboring Meerut College, a coeducation institution, three young men were standing near the cigarette kiosk outside the college gate. They froze when I approached and brought up the phrase that strikes fear in their hearts—anti-Romeo squads—taking me to be a cop in plain clothes. "We're not here to look at girls. We study here," said one defensively. When I assured them that I was not on the lookout for Romeos, they started talking freely. "Yes, harassment of women is a big issue. I see my female friends and relatives go through it," another said. "But how can the police crack down on men at random? We are scared of venturing out of our homes."
While the harassment of women in public spaces is an endemic social problem in India —a 2016 study found that nearly 80 percent of women have faced public harassment in Indian cities—the underlying issues of sexism and misogyny are rooted much deeper. Data collected by the National Crime Records Bureau in 2015 found that violent crimes committed against women were most often carried out by husbands and male relatives. "The spectrum of crimes against women is unthinkable," says Pushpa, a social activist who runs Varangana, a women's rights NGO in the Uttar Pradesh interior. "Stalking, rapes, murders, acid attacks, domestic violence, and dowry deaths are what we deal with on a routine basis, and the state hardly cooperates with us. What is the point of focusing on this one thing?" Pushpa was one of a long list of signatories from across the country who have demanded the disbanding of anti-Romeo squads, arguing that the groups further limit women's freedom.
Following the backlash against and intense media scrutiny of the squads, the top brass of police in Uttar Pradesh issued a new set of instructions for them, with sensitization briefings that order officers to leave couples alone. Nevertheless, the idea spread. Inspired by the anti-Romeo squads, the neighboring state of Haryana launched "Operation Durga" in April—though it failed to stop the recent brutal gang rape and murder of a 23-year-old woman who had allegedly been subject to harassment that she reported to the police. Other states like Jharkhand, Madhya Pradesh, Gujarat, and Rajasthan have also implemented the idea in the last few weeks.
Kalpana Viswanath of Jagori, a Delhi-based feminist collective with a focus on women's public safety, says that on its own, the idea of increased patrolling (without the accompanying moral policing) has merit, but it's just one step in tackling a problem that needs a multi-layered approach. "We need to build on infrastructure to have more women-friendly public spaces," she says. "We need the law-and-order system to be more responsive when a woman complains, and we need to build awareness on the issue, to address cultural ideologies and social norms."
This last point is particularly salient. In India, as more women begin to claim space and challenge the patriarchy, hostility toward women in public has grown. Though anti-Romeo squads purport to act on women's behalf, they have ended up promoting the same values they are aimed at eliminating. But they will face just as much resistance from women in India.