Image: nito/Shutterstock
Every day, Pornhub makes otherwise flat things spike up, but who thought the adult entertainment site could make people excited about web encryption?
On Monday, Google's security engineer Adrienne Porter-Felt tweeted what looks like the internal traffic chart of the company's HTTPS Transparency Report, a page where Google publishes data on the adoption of web encryption.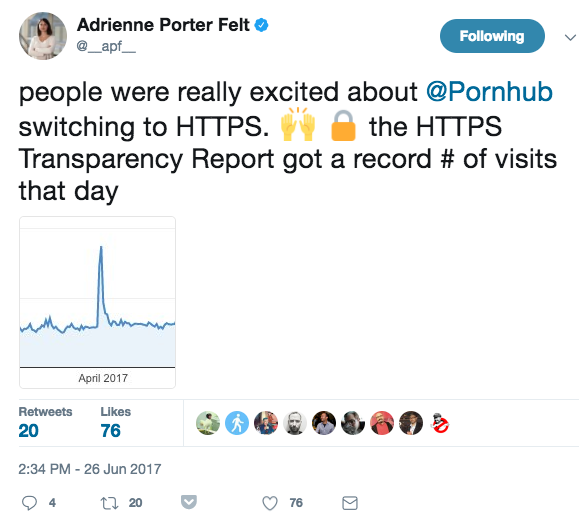 On March 30 of this year, Pornhub and YouPorn, two of the largest porn sites in the world, switched to using HTTPS by default, protecting tens of millions of users. Thanks to this change, your ISP, or someone monitoring your connection at a public WiFi, can see you went to Pornhub, but not that you searched for your bizarre fetish.
In the days following their announcement, according to the chart shared by Porter-Felt, Google's website on HTTPS saw a huge spike in traffic, registering a record number of visits, according to the Googler. (Google did not immediately respond to a request for comment.)
HTTPS relies on Transport Layer Security (TLS), a technology that encrypts and protects your data as you connect to sites that implement it. If a site uses HTTPS, that's signalled by a green padlock in the browser's address bar. Google, as well as many other tech companies and privacy advocates, have been lobbying for more sites to use HTTPS in the last few years.
As Porter-Felt wrote, "the jokes write themselves with a graph like that."