RVR Photos-USA TODAY Sports
Diana Taurasi's resume reads like that of a video game create-a-player: three NCAA championships at UConn, three WNBA titles with the Mercury, four Olympic gold medals, five WNBA scoring titles, and nine first-team All-WNBA appearances.
To the list, add WNBA all-time leading scorer. Late in the second quarter of the Phoenix Mercury's game against the Los Angeles Sparks on Sunday, Taurasi dribbled around a screen, drove to the basket, and sank an easy lay-up—giving her 7,489 career points, which moved her past Tina Thompson for the league record.
For a decade and a half, Taurasi has been a dominant figure in her sport, a six-foot sharpshooter with incredible instincts and a reputation as a wonderful teammate. Following the 35-year-old's latest accomplishment, it's fair to ask: Is she the greatest women's basketball player of all-time?
The answer, it turns out, is complicated.
Taurasi is certainly a leading candidate for GOAT status. She's a mainstay on lists of the best ever WNBA players and of the best ever women's basketball players, and in 2015 she won ESPN's fan-determined bracket to determine the all-time greatest.
But separating Taurasi from greats of previous decades is difficult. The WNBA has been around only since 1997, so if we want to evaluate players from before its creation, we're stuck with college stats, international records, and anecdotes from short-lived domestic leagues. That makes cross-era comparisons nearly impossible.
"When I look at greatest player of all time, I always just cringe because of differences in opportunity and what we don't know about players," says Mechelle Voepel, an ESPN women's basketball writer. "I don't think you can ever have the conversation without talking about the difference in opportunity."
Taurasi has been lucky to play her career in the relatively stable WNBA and overseas in high-paying European leagues. Her resume contrasts sharply with that of, say, Cheryl Miller, who dominated at USC in the early 1980s and won a gold medal at the 1984 Olympics but found sparse professional opportunities afterward.
Is Taurasi better than Miller was? It's impossible to say without imagining for Miller an entire professional career that she never had. Ditto for Ann Meyers, Carol Blazejowski, and Nancy Lieberman—all of whom dominated the sport in the pre-WNBA era—and Lynette Woodard, whose greatness came almost exclusively before the league was formed.
For similar reasons, it's hard to compare players of different generations using the eye test. Today, women's college basketball and the WNBA are broadcast on local and national television. Phoenix this season has two games on ESPN2 and five on NBATV, so if you want to watch Taurasi play, all you need is a cable package. If you wanted to watch Miller play in the 1980s, you would probably have needed a ticket and a flight to Los Angeles.
Rebecca Lobo, a former Naismith Player of the Year at UConn and a 2017 Hall of Fame inductee, has been around basketball for more than a quarter century but still doesn't consider herself qualified to choose a GOAT.
"I never saw Ann Meyers Drysdale play, I never saw Nancy Lieberman in her prime play," says Lobo, now an ESPN analyst. "So when these conversations or discussions come about, I can only speak to the players that I saw."
The dearth of data on early generations of women's basketball players means that to determine the GOAT, we're left with opinions from the few folks who have actually seen a majority of the candidates.
Enter Mel Greenberg, who covered women's basketball throughout his four decades at the Philadelphia Inquirer and in 2007 became the first writer elected into the Women's Basketball Hall of Fame. If anyone is qualified to answer this question, he is.
But Greenberg is more interested in telling stories than picking favorites. He offers up something of a ranking, but only with hesitation.
"Cheryl [Miller], off of what we she did, might be right behind Diana. I might be picking between those two," Greenberg said. "And Lieberman might be there. Because they were all intangible-type players."
Still, Greenberg says, he loves Lisa Leslie and Tamika Catchings—both of whom starred in the WNBA—and is hesitant to fully concede that Taurasi has passed them on the list of all-time greats.
And that brings us to a question that's a bit easier to answer: Is Taurasi the best player in the 21-year history of the WNBA?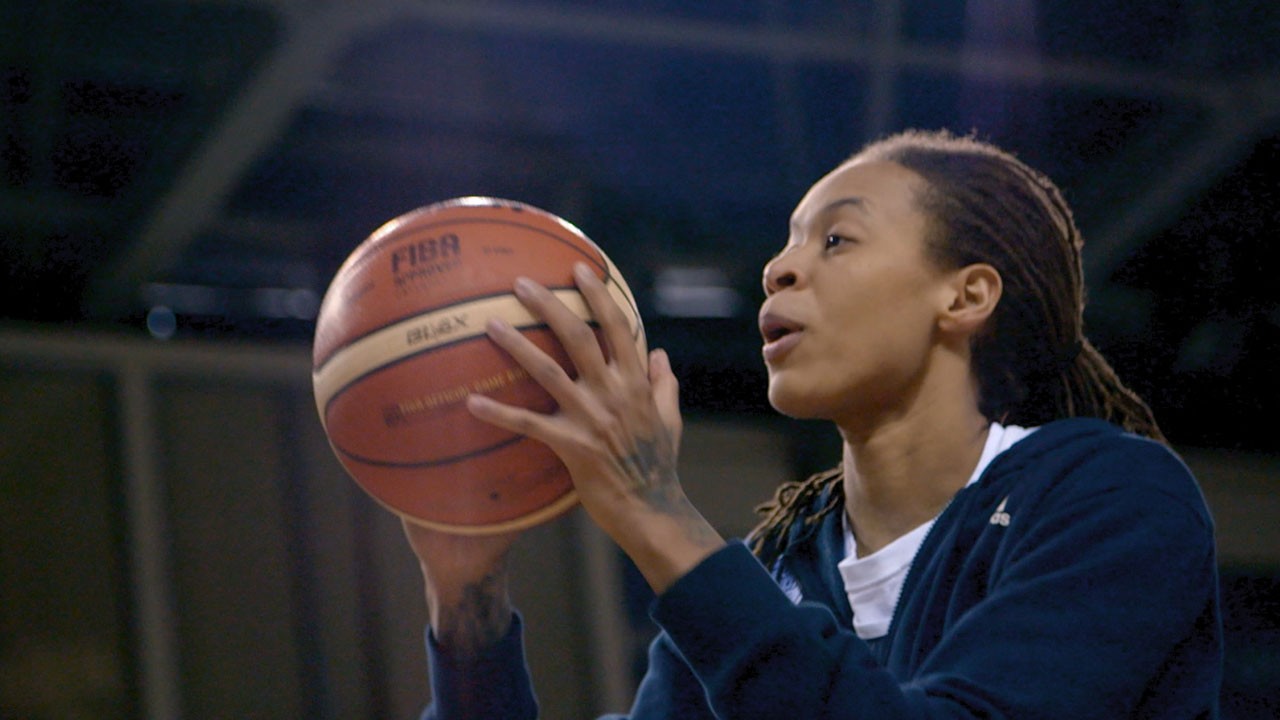 Now that she has eclipsed Thompson's record (in 119 fewer games, no less), Taurasi certainly belongs at the front of that discussion. Thompson, now an assistant coach at the University of Texas, declined through a spokesperson to be interviewed for this article, but in a statement called Taurasi "one of the best players to ever play the game and definitely one of my favorites."
Taurasi's case as the WNBA's GOAT goes much deeper than her new scoring record. She currently ranks third all-time in points per game (19.9), trailing two players who have each played less than a third as many career games: current Washington Mystics wing Elena Delle Donne, and the retired Cynthia Cooper, who began her WNBA career at age 34 and still won four titles and two MVP awards.
Taurasi recently became the league's all-time leader in three-point field goals, and her percentage from long range ranks 13th all-time, behind many players who received much less defensive attention. For good measure, she's fifth in WNBA history in assists and 14th in assists per game.
Taurasi's gaudy totals aren't only a product of opportunities created by the Mercury's fast-paced offense. Here are the career effective field goal percentage (as of Sunday afternoon) marks for the WNBA's top 20 all-time scorers:

Taurasi ranks second, ahead of fellow greats like Leslie, Catchings, Sheryl Swoopes and Lauren Jackson. She trails only Becky Hammon, an underrated point guard who can't match Taurasi in accolades or titles.
By true-shooting percentage, Taurasi also ranks just behind Hammon but ahead of all other top all-time scorers, according to Basketball-Reference. By offensive rating, which attempts to encapsulate a player's full offensive value, she trails Jackson, plus a handful of other greats with far fewer games played, but ranks ahead of Leslie, Catchings, and Swoopes.
Other advanced statistical measurements aren't quite as favorable. By player efficiency rating, Taurasi is looking up at Jackson, Catchings, and Leslie, among others. And according to win shares—which, unlike the other advanced stats we've mentioned, is cumulative—she ranks well behind Catchings and Jackson.
Of course, all these measures have their strengths and weaknesses, and none can be taken as anything close to gospel. Win shares also will tell you that Karl Malone was better than Michael Jordan and that Reggie Miller was better than Kobe Bryant, and almost no one would make either claim. Even with advanced stats, these conversations always resist easy answers.
What's clear is that the numbers place Taurasi right up there with anyone to ever play in the WNBA. To Voepel, her status as the league's greatest winner and one of its most beloved teammates pushes her ahead of the pack.
"If the question is greatest WNBA player of all-time, right now, I think you'd have to say it is Diana Taurasi," Voepel says. "She's a great player who is also a great teammate."
Lobo agrees, saying Taurasi is already the best player of recent vintage and will only extend her lead in the coming years—at least until Maya Moore or Candace Parker begin to catch up.
"Ultimately it's about championships, it's about making your teammates better, it's about being a great leader, a great teammate, and she checks the boxes on all of those," Lobo says. "I don't know that anyone has had the impact—college, pro, overseas, Olympics—that she's had."
So Taurasi is probably the best player of the WNBA era, a period that, due to the aftershocks of Title IX, probably features the deepest talent pool in women's basketball history. Though the broader GOAT question is ultimately unanswerable, the WNBA's all-time leading scorer seems like as good a choice as any.
"If anyone was to say to me, 'I think Diana Taurasi is the greatest player of all-time,'" Voepel says, "I would not argue with that."