Photo illustration by Lia Kantrowitz
In early 2019, the L train in New York City will shut down for 15 months to repair damage caused during Hurricane Sandy. Leading up to the closure, VICE will be providing relevant updates and policy proposals, as well as profiles of community members and businesses along the affected route in a series we're calling Tunnel Vision. Read more about the project here .
The guiding principle behind the city's plans to manage the L train shutdown in 2019, when one of New York's most important mass transit platforms could be thrown into chaos, is diversion. How will America's largest city fit the 225,000 people who usually take the L between Manhattan and Brooklyn daily into every crevice of an increasingly notorious subway system that's already operating well over capacity? The answers offered to the public so far have relied on a mix of the old and new: more buses, ferries, and trains, but also maybe a scooter share, subsidized Ubers, or even a flashy gondola over the East River.
Basically, everything is on the table.
Since the shutdown was announced last year, officials at the Metropolitan Transit Authority (MTA) have insisted that one of the most viable alternatives for thousands of L train passengers will be to take the nearby G train north to Court Square, where they can (in theory) quickly connect to a train going to Midtown Manhattan. The agency has said the G train will get full-length cars, providing as much as a 160 percent increase in capacity to accommodate the onslaught.
There's only one problem: Queens.
In this borough of 2.3 million people, the Court Square station is a renowned chokepoint where four major train lines—the G, E, M, and 7—converge. According to the MTA's own data, 23,317 riders passed through this maze of a hub on an average weekday in 2016; an increase of 2.6 percent from the previous year. That's likely in part due to Long Island City, where the nexus resides, experiencing one of the largest construction booms of any neighborhood in the country. And knowing from this reporter's own experience, nearly every train that pulls into a packed Court Square platform at rush hour is already full, having picked up all of central Queens along the way.
"The mitigation plan is still a work in progress," said a spokesperson for the MTA. "Between the 7, E, and M, there is enough capacity at Court Square." They added that the agency will be making "improvements at Court Square to improve passenger flow," details of which will come in the near future.
This May, organizers from the transit advocacy group Access Queens—which started off as a Facebook campaign to raise awareness of inadequate conditions on the 7 train—released their mitigation plan, arguing that the L shutdown's potential blowback on Queens has been been left out of the conversation. So VICE sat down with Joseph Anastasio (a researcher and analyst for Access Queens) and Brandon W. Mosley (the group's senior director) for perspective on how the L's partial closure could resonate in the borough Donald Trump once called home.
---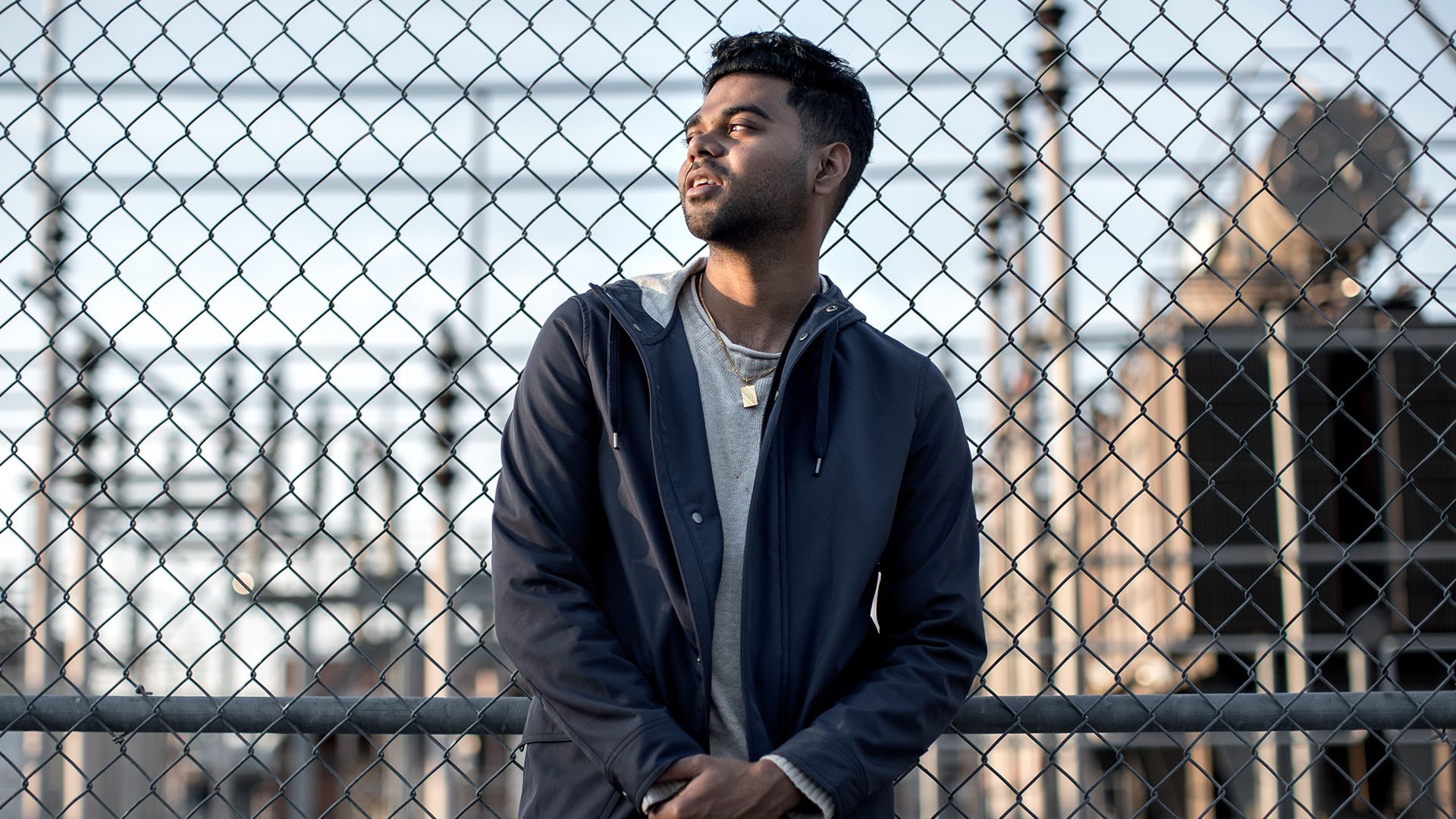 ---
VICE: What level of ridership can we expect to see transfer from the downed L train onto Queens subway lines?
Joseph Anastasio: Basically, [the MTA] is looking to more than double the number of current G train service going to Court Square—double the length of the train, and more trains per hour. Additional cars add 900 more passengers to each train, so if you add three more trains at rush hour, the math really adds up quickly. We're talking at least 2,000 more people per hour coming to Court Square—maybe even more than that. I don't think [the MTA] can give a hard estimate of how many, but all we know is that there will be more G trains; therefore, there will be more people.
Court Square is not built to be a major transfer station. The 7, G, and the E/M platforms, when they were all built, were never one cohesive station. They were connected over a number of years. Our big concern here is that trains are already at capacity when they get to Long Island City, and now we're going to try to put more people on the train.
It seems like there's this disconnect, where people think that Brooklyn and Queens aren't these conjoined twins. What affects one is going to affect the other. In this situation, unless we add something—more trains, or more options—I think Court Square is going to become dangerous, and trains are going to be way too crowded. People are going to be waiting at rush hour to get on the train. There will be lines.
"There's a huge discrepancy between what the MTA says and what's actually going on in reality."
What condition are the trains that intersect at Court Square in now?
The 7 and the E are very crowded. The M sometimes has space, but I think, as bad as things are now, by the time the L train shuts down in 2019, there are going to be 10,000 more apartments down here. It seems like it's more every day. I'm looking at out of my window right now, and can see six different developments going up, on two blocks. It's like a perfect storm.
Brandon W. Mosley: The 7 train, during peak hours, is at capacity. And it seems like the MTA doesn't understand how dire the situation is in Queens. Part of that is because the data that they use doesn't reflect what the riders' experience is. Last year, we had a town hall with several MTA executives, and we had the community come and ask questions. They said that out of 65 Mondays, 55 were reported with good service. Anybody who takes the 7 train can tell you that pretty much every Monday is horrible. On the MTA's website, the 7 train has "good service," but meanwhile, customers are standing at nine in the morning, waiting for a train for 15 minutes with no announcements, and once the train comes, it's packed, or skips the stop. There's a huge discrepancy between what the MTA says and what's actually going on in reality.
The MTA's plan [announced last week] is nothing new: It's stuff that's already been planned in the capital budget, that they've been talking about doing for years and years. But from our perspective, it's like, "OK, well, you keep talking about what you're going to do, but when are you actually going to do it?" With that said, all of these things that are underway, or currently planned for, are constantly over-budget, and well past their deadline. So something has to change within the agency in order to narrow those margins a little bit.
"People don't even know to think about this yet. It's not even on anyone's radar in Queens."
What effect might this saga have on the livelihoods of Queens residents who rely on these trains every day?
Anastasio: It'll just mean more delays across the board—it's going to affect us all. You can live in Forest Hills, and you're still going to face the same delays. This could even affect people in Nassau County, on Long Island, because you have people who take buses to the E train. I think, if you live in the immediate areas—Long Island City, Sunnyside—you're probably thinking, "How can I change my commute, and switch to alternate trains that don't run through Court Square?" There are a few options, but I don't think it's enough.
Part of the problem is that [the MTA] is treating the L train shutdown as purely a Brooklyn problem. If they were telling people in Queens, "Start expecting this. You might want to plan an alternate route," there are alternatives. There should be more, but there are alternatives. But people don't even know to think about this yet. It's not even on anyone's radar in Queens.
So what are some of the proposals that Access Queens has put forth to try to cushion the blow?
Number-one thing would just be more subway service in Queens. Depending on the amount of work they're doing on Queens Boulevard, I think it's clear that they could provide more service between Brooklyn and Queens. The G train used to go to Forest Hills, and now ends at Court Square. They cut that back incrementally over ten years, and they finally terminated it in 2010. The D train used to run on Queens Boulevard, and now it's the M. The D was a ten-car train; the M is an eight-car train. Overall, Queens has lost quite a bit of subway capacity the last few years.
Other proposals could be shuttle buses between Court Square and the Midtown Tunnel, which would bring people right down 34th Street to other subway lines; free walking transfers is another idea, just to get people away from Court Square. We documented a few different stations that are pretty close to each other—a five- to ten-minute walk. It's our impression that if Court Square is too crowded, maybe someone will opt to walk, or get out at an earlier station. Realistically, walking those distances, it's really not a whole lot different than walking the distances within the Court Square station, which is pretty spread out.
Again, you're spreading out the crowd, and giving people more options. Right now, nobody seems to be giving any more options. [The MTA] is just saying, "Here's a whole bunch of L train riders. Merry Christmas!" And they're telling L train riders, "Oh, go to Court Square, and good luck once you get there."
Mosley: Obviously the MTA knows there's crowding, but I don't think they know about the minutiae. I actually shot video a few weeks when there was a problem with the 7, and the scene at Grand Central was unlike anything I've seen before. People were backed up on the stairs in the middle of platform, just to get on the train.
Speaking of the MTA knowing about these issues, what has been the response thus far to your sounding the Queens-based alarm?
They haven't responded yet. They did say that they were very impressed with our work, and it had a lot of solutions. So they tacked it onto their planning department to take a closer look at it. It sounded like they were in the early stages of figuring out how they were going to approach all of this, and they were just about to start rolling out their computer model to see how traffic moves. But there hasn't been any further conversation about that. I haven't seen any mention of the 7, or Queens, for that matter.
They've been paying attention to Queens a little bit more since we started getting in the press, and raising these issues. We just have to keep hitting the ground as hard as we can, and keep these issues at the forefront of the conversation. I'm sure there are also geopolitical reasons as to why Queens trains don't get as much attention as trains in Brooklyn. But if they're going to be building all of these apartments, and people are paying $5,000 to $8,000 a month in rent, they're going to have to figure something out. People are going to expect some kind of service.
Everything is interconnected, in one way or another. The L train shutdown is going to affect people in Flushing. It's going to affect entire lines, and that's being left off the table.
This interview has been lightly condensed and edited for clarity.
Follow John Surico on Twitter.