Image by Jessica Saesue
The Emancipation Proclamation of 1863 was followed in relatively short order by a century of Jim Crow, a time sometimes referred to as white redemption. So in some ways it's unsurprising that America's first African American president will be succeeded by a man who was endorsed by the official newspaper of the Ku Klux Klan.
Donald Trump waged a bitter campaign defined by flagrant appeals to bigotry. In doing so, he gave voice to a seething white rage at the heart of this nation's broken social contract and its legacy of racial discrimination and violence. His promise to "Make America Great Again" was arguably an assurance to poor white voters to make America white again—a welcome message for those who saw Obama's ascendance as a threat to their dominance.
Now history suggests African Americans—and black men, in particular—may be relegated to a modern three-fifths compromise, one in which neither Black Lives nor Black Votes Really Matter.
Last week, Trump appointed Stephen Bannon, the former chairman of Breitbart News, as White House chief strategist and senior counselor. The man has a long history of publishing anti-Semitic, racist, and xenophobic propaganda—and oversaw Breitbart's evolution into an echo chamber for white nationalists.
But Trump's pick for attorney general, Alabama Senator Jeff Sessions, may be even more disturbing. The man's career was nearly derailed by accusations of bigotry: In 1986, the Senate Judiciary Committee denied him a federal judgeship after a black former prosecutor testified Sessions referred to him as "boy" and warned him to "be careful what you say to white folks," among other glaring throwback remarks.
Not that this is anything shocking: As a candidate, Trump gave young people of color—and black men in particular—plenty to worry about. He routinely made the Nixonian declaration that he was the "law-and-order candidate," a transparent suggestion that he will defer to police authority over the rights of regular citizens. He has openly criticized the Black Lives Matter movement and encouraged violence against protesters at his rallies.
Trump is also a champion of New York's "stop-and frisk" program—which was deemed unconstitutional because it targets black and Hispanic males, despite evidence that white males were more likely to be in possession of drugs and other contraband. He went so far as to suggest Chicago adopt the failed practice, routinely conflating minorities with "inner-city" violence and lack of education.
The president-elect has apparently been honing this racial animus for decades now. In the 1970s, Trump was sued by the Justice Department for discriminating against African American tenants in his New York properties. He was compelled to settle after the government uncovered evidence his company had violated the Fair Housing Act. In 1989, Trump led the charge against the Central Park Five—a group of black and Latino teenagers falsely accused of raping a white female jogger. Trump purchased full-page newspaper ads suggesting the young men be executed, and despite the fact they have since been exonerated thanks in part to DNA evidence, Trump continues to purport their guilt.
Of course, it's not unprecedented for a modern American president to be reviled within the black community. But such open enmity for black equality seems like a deliberate attempt to reverse the nation's course of racial progress after eight years under President Barack Obama.
"We live in a country founded on a 'value gap'—with white lives valued more than others," explains Professor Eddie Glaude, chair of African American studies at Princeton and author of Democracy in Black: How Race Still Enslaves the American Soul."We need to prepare ourselves for a more repressive policing regime. This will extend from the kind of policing in black communities, to massive deportations of Hispanics, to concerns about domestic surveillance of Muslims, to the overall debate about mass incarceration of young black men. Trump will do everything in his power to change our current course."
---
Watch the rapper YG dive into the comments beneath his anti-Trump cut.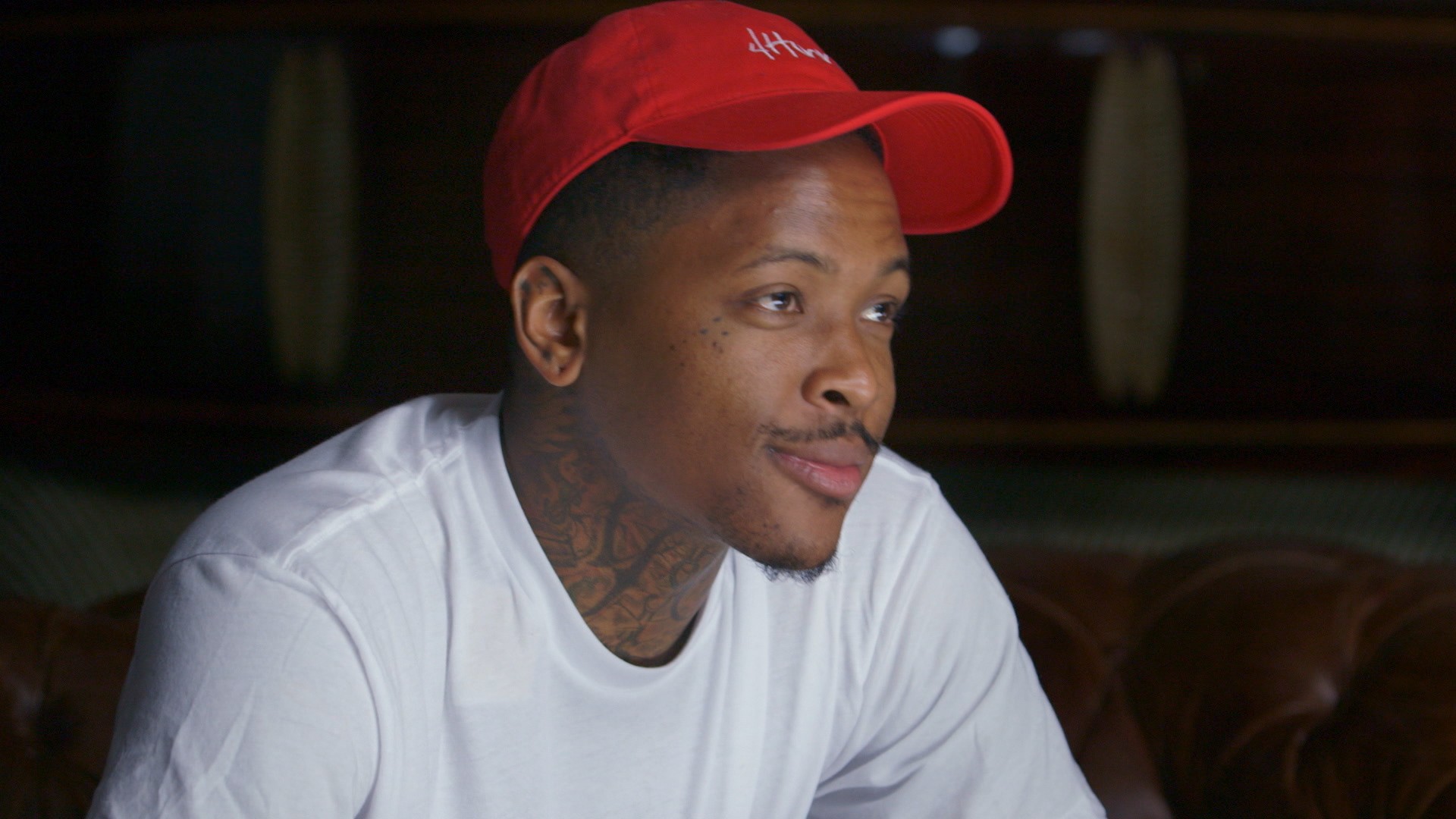 ---
It's worth noting that Trump's aggressive rhetoric condemning the Black Lives Matter movement earned him the endorsement of the Fraternal Order of Police—the largest police union in the country. How and whether he will reward them remains to be seen, but the greater concern may not be new programs but inaction on the part of the government.
After all, despite the Washington gridlock that obstructed President Obama's progressive agenda, his Justice Department always served as a de facto watchdog organization on matters of civil and voting rights. For the first time in America's sordid racial history, we had a leader who could say: "If I had a son, he'd look like Trayvon." That mattered for young boys in Baltimore, Ferguson, Newark, Chicago, Detroit, and everywhere in between, who were subject to a national spectacle of police violence.
"What I am seeing in court rooms across the country is the legalized genocide of people of color," says Benjamin Crump, the attorney who represented the families of slain teenagers Trayvon Martin, Michael Brown, and Tamir Rice. "We must fight to stop a conservative avalanche of our federal court system. And if police shootings of unarmed black males continue, or vigilantes and white nationalists are emboldened by this election, I believe Trump's administration will simply turn a blind-eye to atrocities."
President Obama also created the "My Brother's Keeper" initiative to help young black men avoid the school-to-prison pipeline—one of many reforms likely to be abandoned by Trump's new administration. (A request for comment from Trump's transition team was not returned prior to publication.)
So as the sun sets on Obama's presidency and a Justice Department helmed by its first two black leaders ever—Eric Holder and Loretta Lynch—quickly fades to memory, African Americans are left to wonder: Who will be our brothers' keeper now?
"The best I can hope is that Trump campaigned in poetry, but will govern in prose—though I am not that optimistic," Cornell William Brooks, president and CEO of the NAACP, tells VICE. "The president-elect is a con-artist and a snake-oil salesman who panders to the least common denominator. That means his policies—when we finally get to see them—might not reflect the things he has said or done. But even that is dangerous, because it proves Trump cannot be trusted."
Edward Wyckoff Williams is a television producer, correspondent, and writer living in New York City. Follow him on Twitter.