As Nonotak Studio, Paris-based artist duo Noemi Schipfer and Takami Nakamoto's work consists of manipulating light to create transportative immersive environments. Their latest continues this tradition, but incorporates its opposite, shadows, as an integral part of the installation. Called Volume the piece was commissioned for the Day For Night festival in Houston, Texas back in December.
"Its an exploration of shadows mostly so we can make the audience feel like they are losing notion of balance and space." Nakamoto tells The Creators Project. "Our aim was to create some vibrations within the space just with the use of shadows and lights. We were interested in how we could change the perception of this massive space by using simple lights. We also liked the fact we could make scaffoldings look like geometric elements because we had the space to link them together and spread them along the warehouse. This way we could envelope the audience and create many different point of views with many vanishing points."
The warehouse-based installation also uses music to heighten the effect and utilizes scaffold structures to create a sense of neverending expanse, as lights flicker intently throughout the echoing space. The result creates a forboding, creepy sensation.
Images courtesy of the artists
The piece is a version of an earlier project, Silhouettes, which featured a needle-covered canvas with lamps behind it which were controlled by the pair, manipulating the spatial dimensions of the canvas in the process.
They've upscaled the idea from a 6m x 2.5m canvas to an indoor space of around 2,400 sq meters, using 1,800 sq meters of scaffolding, 50 strobes, and 50 LED washers. With sound coming from 6 subs and 12 speakers, people can walk through and get immersed in the hypnotic audio and visuals. The idea was to create the sensation of walking into one of their smaller gallery-set installations.
"It was really exciting to work on such a scale, because we always created smaller scale installations that try to create some sensation of space or infinity," explains Nakamoto. "In this case we didnt really have to deal with creating visual depth in the installation as long as it was actually big. It was also important to know that thousands of people were expected in the installation during the Day For Night festival and we wanted something big that people could collectively experience. Walking around Volume and see the crazy reactions from the audience was amazing. I really felt like people were sharing an immersive experience all together."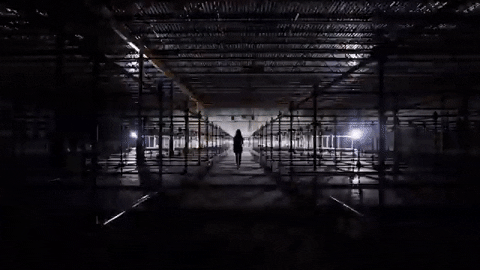 GIF by author via
Click here to visit Studio Nonotak's website, and check out the links below for more from the artist duo.
Related:
"X" Marks the Art in Minimalist Light Installation 'Convergence'
Artists-in-Residence: Nonotak Studio Take Montreal's Satosphere Dome
Dancing 'Silhouettes' Illuminate This Audio-Visual Performance