Photo by author
In our latest series, Australiana, VICE is exploring national identity beyond the stereotypes. There are no cork hats or shrimps on the barbie here, we're letting Australians tell their own stories, free of national myth or propaganda.
In 1998, Nike introduced the Tuned 1, also known as the TN. Nike's creative director Sean McDowell came up with the shoe after seeing palm trees silhouetted by a sunset on holiday. In Australia, this sunset gradient was interpreted as a two-tone spray paint fade, over which a series of angry-looking veins gave the TN its characteristic "ribbed" look. To me and my friends, living in Melbourne's outer suburbs, TNs instantly became the product of our environment.
Whenever my dad took me to his shoe stall in the Dandenong markets, there were always a few rattled-looking customers asking if we stocked TNs. It was the early 2000s, and these grimy customers might have sported weathered faces and ankle monitors, but they also rocked the freshest kits a train station hang-around could dream of. Snap button Adidas trackies, Sergio Tacchini spray jackets, bum bags, and Nike TNs—straight out of the box.
WATCH: The Game About Pingers, Lads and Nike TNs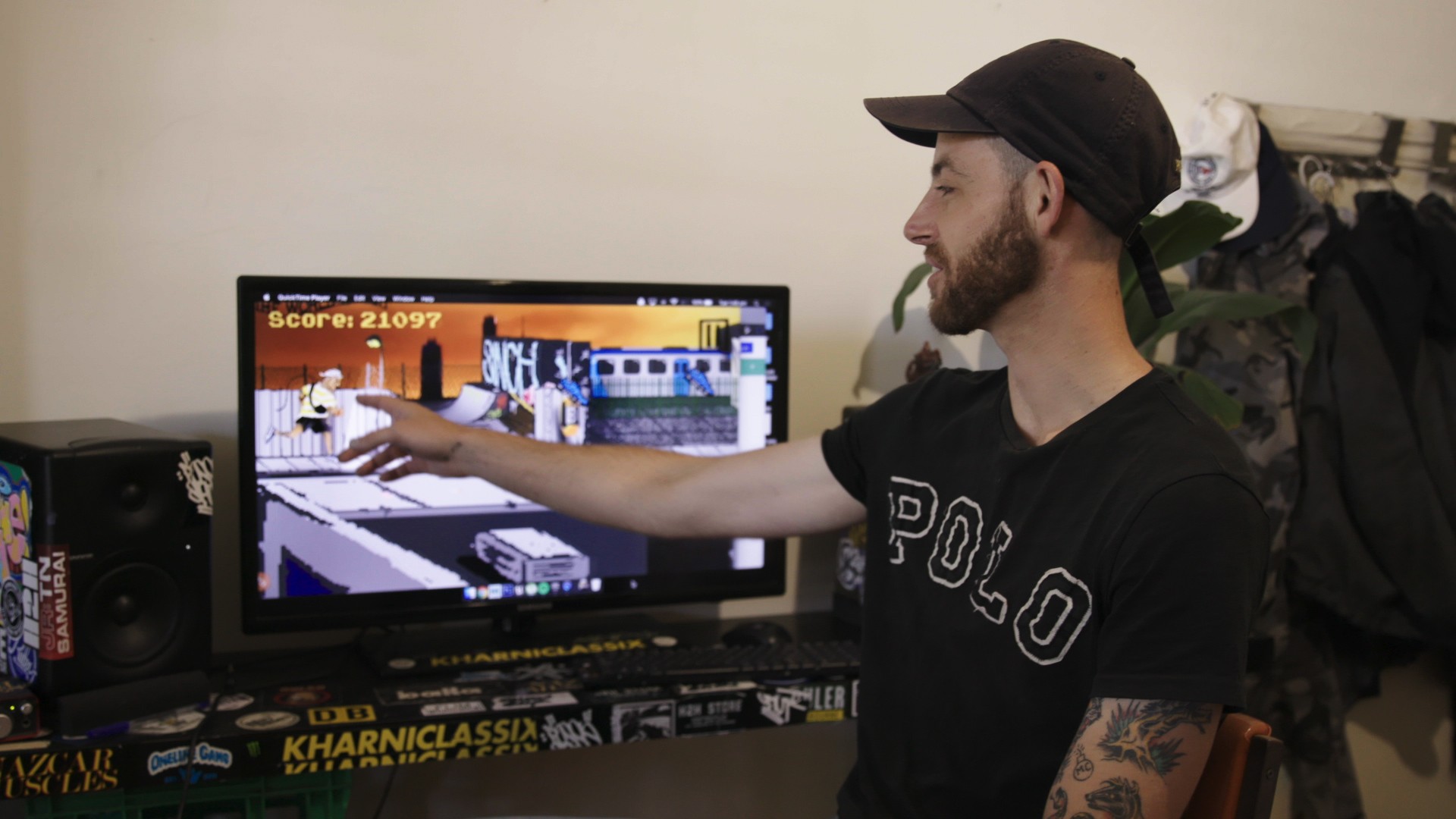 The shoe's hefty $240 price tag and aggressive look instantly placed it on a golden pedestal. I remember chasing the latest colours harder than all of my teenage crushes combined. The first pair I ever bought were black with green swooshes. They were half-price at Footlocker and a size too small, but I told my dad they were a perfect fit. It was worth all the pain. The venomous green veins that wrapped around the shoe in hard plastic echoed the sentiment of a poisoned carcass. The shoes were an emblem of thuggish anarchy, a subtle air-raid to your peers that you were "doing well" off the street. When you wore TNs you became part of an underground movement governed by the remnants of DMX, the Slim Shady EP, and graffiti culture.
Before TNs, I don't remember anyone's shoes receiving compliments. The whole sneaker geek movement was incredibly niche, so it was either you stood out with your TNs or you didn't. It was also the only time young larrikins did anything that got them more props from guys than girls. In fact most girls seemed to hate TNs, and thought wearing them was a totally self-indulgent endeavour.
Today, TNs are selling in the suburbs just as hard, but their statement has shifted to something more ironic. These days they're worn by guys re-appropriating 90s sports chic with their dad's Kappa jacket and a Nautica cap. And yet, adoration for the shoes is just as devout as it ever was.
To get inside this love for the Nike TN, I asked people to send me photos of their prized collections. We spoke about the shifting TN culture, and what it felt like to rock their first pair.
I used to see young guys inside [prison] coming in and rocking them. Everyone used to just wear Air Max, then we saw the kids coming through with these bright staunch looking things and it just took off. Every cunt wanted a pair. It's hard to stand out inside because you all wear the standard issued greens, it's your shoes that set you apart and TNs left an impression in everyone's heads about where you stood in the system.
It was a status thing, but also meant you had the balls to back it. You wouldn't just get them for looks because they'd get taken off you faster than the drop of a hat. I've seen about as many cunts rolled for their shoes in there as they have for their gear. That's how much people froth over the fucking things. They want them as bad they chase gear sometimes. TNs just go to their heads.
I first bought TNs because I loved the different colour ways that came out and how comfy they felt back when trainers weren't really a thing. They were a lot of money to buy a pair but felt so good to pick up a new pair.
I probably started really buying trainers in mid 2000s, but sadly I don't have many of those as my feet randomly had a growth spurt and I went from a UK 10 to 11. I had to sell so many pairs off—and so many that aren't around anymore. Sad times!
These days you can get all sorts of different styles of TNs like the recent Ultras and Breezes. Personally for me I don't like the Ultras, I think they look a bit thin and cheap, I'm probably a bit of a traditionalist.
I remember the first pair I got in high school. They were black and bright red. They were one evil-looking shoe, man. The wiry bits along the side were like a blood red that looked like you'd just stomped in a pool of blood, kind of like a comic book blood stain style. Back then no one was really bringing out such bold looks in bright colours.
In the early 2000s, you wouldn't just wear them to look cool. It was dangerous rolling around in a pair at certain train stations if you couldn't back yourself. Everybody wanted a pair and the odds of getting "tested" or rolled was pretty high. Especially because the crooks chasing them were all broke graffers, dealers, and junkies. The shoes, as well as the whole scene, was fucking intense.
They were pretty much a hated and underground shoe, with some sneakerheads, eshays, hooligans, and middle-aged dads being the only people wearing them in Australia. But now it's shifted into some normy phenomenon. TNs had their 10th anniversary a few years back and Nike brought back the super limited Tigers, the original Hyper Blue colour ways and the TN Xs. Before the anniversary, everyone was pretty much accustomed to wearing Air Max 90s, that was the staple, but if you talk to anyone around '99 or 2000, they'll tell you a much different story.
Around the late 2000s, people started wearing Air Max 360s or just went back to wearing Shox. Not my friends though. We held onto ours because they were so loud and aggressive. TNs had such a strong stigma, people actually looked down on you when you wore them. They were the only shoes I can recall with that kind of effect.
Around 2013, TNs came back hard when the media started circulating the Nike Bikie thing. This specific look had now been kidnapped by an underground or underbelly-style culture. Think of what Doc Martens mean to skinheads. Aesthetically, that's what TNs are to young Aussie hoodlums. That's why we love them.