Back in 2013, Utah resident Spencer Stout proposed to his boyfriend, Dustin, while their friends danced in a Home Depot flashmob (remember those?) to the disco-fueled song "Somebody Loves You." He uploaded the clip to YouTube, it went viral and  ostensibly launched Betty Who's career. It also gained her a lifelong friendship with the happy couple and their babies ("They're the cutest little nuggets I've ever seen in my life").
Soon enough, Who's candy-coated synth-pop earworms began to hit the mainstream. And while "Somebody Loves You" may have been her calling card, the now-25-year-old had a slew of songs to back up her talent on her debut record, Take Me When You Go. From "High Society" (a song dedicated to Gossip Girl's Dan Humphrey) to the cinematic 80s synth-pop ditty "A Night To Remember," the former cellist and Berklee School of Music alum struck a chord within the pop community. Coupled with her dance skills, a tour with Katy Perry, and dedicated fanbase, Who (a.k.a. Jessica Newham) is on the verge of becoming a household name in the pop world.
Leading up to her sophomore record The Valley, Who dropped a series of singles ("Human Touch, "Some Kinda Wonderful," "Mama Say"), which showcased a swerve in her style. "I exclusively listened to R&B making this record, so maybe that's just like kind of in my bones, and it came out when I was writing the record," she explains. "I think fundamentally I make pop music and that's what it is at its core, but I was trying to expand and listen to a lot of other music because sometimes I get into these holes and listen to my own music… it drives you crazy." One of the sleeper hit singles Who came in the form of an ethereal, lush cover of Donna Lewis' "I Love You Always Forever."
The sonic shift in Who's work was in no small part due to her relocation from New York to the LA valley. But the name also stems from the high highs and low lows she's experienced. "Not only physically being in The Valley, but metaphorically and emotionally I was in the valley of my life," she says. "I was in the low for a while and reflected on that. Finishing the album I felt like I was starting to feel better." The Valley was made exclusively for touring. "When you spend months and years on the road, you learn very quickly which songs you enjoy to play and which you don't, so I tried to learn from that," Who says. "The way I find the music I love is through live shows. It opens up a whole new space for you to feel involved with music and to love it in a different way."
While her sound has grown, so too have her moves and her dance crew. She seems like a natural thought it's something she was discouraged from as a child. "I was told not to because I was really tall, and I think [I was] bigger than most people who danced, so a lot of people were like, 'you're never going to do this, it's never going to be your profession, so don't waste time,'" she admits. "It's dark, horrible and sad, but I always loved it and took hip-hop classes even though they told me to stop. When I started performing more, I got more and more comfortable grooving on stage, and that sort of turned into a whole new love of dance, rhythm and getting into my body. It changed the way I felt about myself on stage."
Crucially, after five years of making music, Who has grown into herself—her songs have evolved from singing about how "Nobody loves me" to finding real love. "I had such a history of being fundamentally pushed aside all the time… as a teenager and as a young adult," she says. "Now, as more of a woman… I came into myself and also found that the man I was dating before [my current boyfriend], was the first person that said, 'I want to be with you not anybody else.' It shelved me out of my 'nobody wants to be with me self-pity place."
The result is a more self-aware version of Betty Who, one who knows her own worth: "I feel much more like I'm awesome and beautiful no matter what's going on. I'm super happy with the person I am—that has changed the way I write music and how I talk about myself on this record."
Below, Betty takes us through a collection of photos from her childhood and throughout her music career.
This is my tiny little adorable baby hand in my dad's. I am definitely a daddy's girl. Always have been, always will be.
I may or may not have been allowed to dress myself this day (and I was obviously very into coordinating since I was matching the swing set like a pro). I wish my hair was still this curly…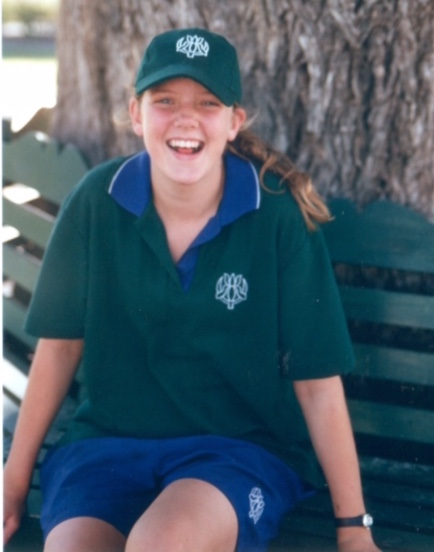 My sports uniform was chic. I was awesome at cricket (I know, so Australian), I loved a good low pony and, if I'm not mistaken, this was also the year I decided to cut my own bangs. But how was I supposed to know that you had to cut it longer if it was wet because it would shrink when it dried? So I walked around for a year with a little tuft for bangs. Serves me right I guess.
I started playing cello when I was four and played for fourteen years. I even went to a performing arts high school in Michigan for three years, playing three, four, five, sometimes six hours a day. I didn't even practice as much as everybody else did, so the kids who were really dedicated were playing six-eight hours a day. Even though I look like I want to be literally anywhere else in the world in this picture, those years were some of my favorite of my life so far.
When I was seventeen, my mum decided it was time to add some perspective to my life and signed us up to work at the Blue Dragon Orphanage in Vietnam for a summer. It was one of the greatest gifts she's ever given me. I am so grateful for the time we had there and the children we got to know. We had the most unforgettable experience. This was, if I remember correctly, right after we all had ice cream together and I was about to leave to head home to America.
This was what we called "Coffee House" at Interlochen. It was a student run open mic night sort of event every few weeks, so in my senior year I threw the final "Seniors 10 Coffee House" (yes I was student body president - I'm THAT girl). I actually think coffee houses was where I realised I wanted to be a writer and singer. I spent so much time dedicated to playing cello that I don't think I really gave myself a chance to love songwriting. (Also CAN YOU EVEN BELIEVE my hair evolution.)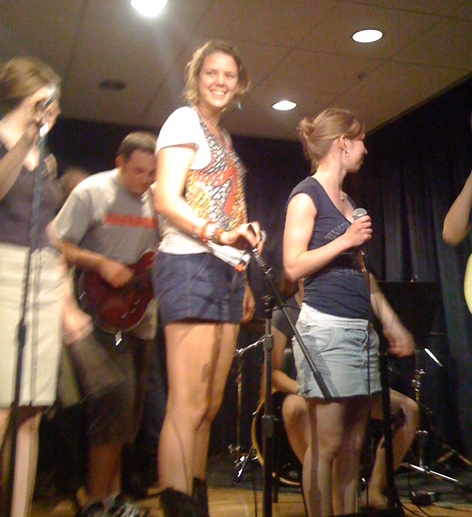 This was the summer of 2009 at Berklee, and it was the first summer program I even attended as a vocalist. I'd been to so many as a cellist and finally wanted to test the waters a little as a singer and songwriter. I remember feeling like I had finally found what I was supposed to be doing. I'm sure this is me singing Shining Star by Earth, Wind and Fire.
These SWEATERS bring me so much joy. I knew I wanted to wear Grease-ish Varsity sweater on stage but didn't know how to go about getting them. So of course, my beautiful, perfect, incredibly resourceful mother ordered BW patches online and sewed these sweaters together for us. We wore them until they basically fell apart at the seams on stage.
Aaah the early days. This was one of my first shows ever in Washington D.C. I think everything that could have gone wrong did at this show. My in-ears died, the tracks were all over the place… But it was one of the best nights of my life. I love performing so much, I've been so lucky to have such forgiving audiences and kind hearted fans, no matter how much I've screwed up a show, I've still been so excited just to be on stage.
This was one of my favorite tour posters we've ever had. It was the last tour we did of the first album cycle and it felt so strange to be done with the first record. I was excited, sad, overwhelmed… But mostly so ready for the next chapter of my life.
This is one of my favorite pictures from when I was on the Katy Perry tour. It was such a rush, performing for all those people every night. The first night we did it I was so nervous I seriously thought I could throw up (and I never ever feel that way…) but after that night I decided I wasn't going to let nerves ruin this experience. So I went on stage the next night and had the best time ever.
I ran in a 200 mile relay marathon for Nike this summer called Hood To Coast. This is my favourite picture from that race.
This was a selfie I took of me, in a bathtub in Romania listening to my mastered album for the first time. Tears ensued.
Betty Who Tour Dates:
THU
4/20
Concord Music Hall
Chicago, IL
SAT
4/22
Triple Rock Social Club
Minneapolis, MN--SOLD OUT
SUN
4/23
Bluebird Theater
Denver, CO
MON
4/24
Urban Lounge
Salt Lake City, UT
WED
4/26
Neumos
Seattle, WA
THU
4/27
Imperial
Vancouver, BC
FRI
4/28
Wonder Ballroom
Portland, OR
SUN
4/30
Harlows
Sacramento, CA
TUE
5/2
The Fonda Theater
Los Angeles, CA
Tour dates w/ support from Geographer
THU
8/10
Soho Music Club
Santa Barbara, CA
FRI
8/11
The Observatory: North Park
San Diego, CA
MON
8/16
Crescent Ballroom
Phoenix, AZ
TUE
8/15
Lowbrow Palace
El Paso, TX
THU
8/17
Trees
Dallas, TX
FRI
8/18
Vulcan Gas Company
Austin, TX
SAT
8/19
White Oak Music Hal
Houston, TX
MON
8/21
Republic New Orleans
New Orleans, LA
TUE
8/22
Saturn
Birmingham, AL
WED
8/23
Terminal West
Atlanta, GA
FRI
8/25
Exit/In
Nashville, TN
SUN
8/27
Majestic Theatre
Madison, WI
MON
8/28
The Hi-Fi
Indianapolis, IN
FRI
9/1
Beachland Ballroom
Cleveland, OH
SUN
9/3
The Mod Club
Toronto, ON
MON
9/4
La Sala Rossa
Montreal, QC
WED
9/6
Brooklyn Steel
Brooklyn, NY
Follow Ilana Kaplan on Twitter.