Two creative legends are being honored tonight at the The Kitchen's 2017 Spring Gala. Rock'n'roll pioneer and founding member of The Velvet Underground, John Cale, and the architect of the 1960s conceptual art movement, Lawrence Weiner, will join a revered list of revolutionary artists selected as honorees for the The Kitchen's annual gala. Since its in inception in 1971, The Kitchen has served as one of Manhattan's premiere non-profit art venues, producing groundbreaking works and showcases across artistic disciplines. Much like the artists they exhibit, The Kitchen has helped shape our country's cultural landscape. In addition to artist talks and lectures, The Kitchen has hosted a wide variety of exhibitions and performances in the realm of dance, music, and theater as well as video, film, and art. Previous gala honorees include painter and sculptor Robert Longo, video art pioneers Charles Atlas and Dara Birnbuam, and Sonic Youth co-founder Kim Gordon.
John Cale has spent the last four decades of his career producing music for a number of successful recording artists, including Barbra Streisand, Patti Smith, Andy Warhol, LCD Sound System and the Stooges, and composing multiple film and video scores. Best known for founding The Velvet Underground with Lou Reed and Sterling Morrison, Cale developed a reputation for bringing the sensibilities of the Avant-Garde to rock music and helping to define the nature of punk in the early to mid-1970s. His sonic fearlessness is perhaps best understood through the array of musical styles he has been known to use, everything from classical orchestra and noise to modern pop and heavy rock. Nothing in the musical lexicon is too taboo, and Cale has used it all.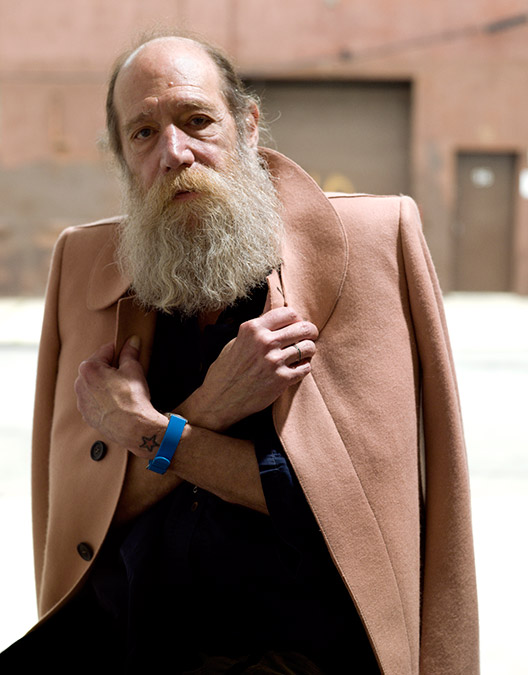 Since he first started exhibiting work when he was 19, Lawrence Weiner has been regarded as one of the key figures in establishing Conceptual Art. Weiner came to attention in the 60s and 70s for his investigation into forms of display and distribution. He's known for pioneering text-based installations that have uniformly challenged traditional assumptions about the nature of the art object. Weiner has also authored a number of books over his career, including Green as Well as Blue as Well as Red and Displacement; he's also produced a number of films. Solo exhibitions of his work have toured around the world in museums like the Tate Modern and the Deutsche Guggenheim in Berlin.
This year's gala is different from previous years' because, for the first time ever, The Kitchen will be presenting their Emerging Artist Award. Accompanied by designer Philippe Starck, artist and composer Laurie Anderson will present the award to an exceptional individual working in the fields of visual art, music, theater, performance, or dance. The awardee will receive $20,000 along with a program or exhibition at The Kitchen. On supporting The Kitchen, Starck writes, "Kitchen and food. They say there are a lot more neurons in our stomach than in our brain. That is why, for a better creativity, I prefer to support The Kitchen than a school." Jurors for the award include artists Kevin Beasley, Simone Leigh, Ralph Lemon, and Marina Rosenfeld, as well as curators from The Kitchen staff. Throughout the evening, gala attendees will hear performances by singer songwriter Joan As Police Woman, up-and-coming world music act Yemen Blues with Ravid Kahalani, and acclaimed proto-punk rocker Jonathan Richman. After dinner and performances, guests will make their way to an afterparty hosted by Bryce Dessner, Nico Muhly, and James Murphy, with DJ sets by Kindness and SHYBOI.