On September 24, 2013, Drake's highly anticipated third album, Nothing Was the Same, was released after a series of lengthy delays. But it was worth the wait. NWTS ushered in a strange, new era of Drake. His crooning gained a sexier feel, ("Own It", "Wu-Tang Forever", "305 To My City") and his disenchantment grew more pronounced ("The Language", "Connect", "Too Much.") The biggest pivot, though, was in his embrace of the now undeniable flex, as he made the transition from star to superstar. "Worst Behavior", by no means the album's single, is NWTS's highlight, and in retrospect, the precursor of a changing tide. "Worst Behavior" exists beyond itself. The rallying cry and proverbial spit-in-face set the scene for Drake's 2014 bass-in-his-voice domination ("Believe Me", "0 to 100 / The Catch Up", "Trophies"); a freshly minted confidence that would leave many who thought they had the Torontonian singer/rapper all figured out flustered. New York Times called the song "the most chaotic and rowdy song, which seethes with spite." A lesser known blog calls it "kinda brutal and unnecessary," coming to the conclusion that "undoubtedly, the album suffers for it." (Note: hahahahahahaha.)
But "Worst Behavior" was just the beginning. The track laid the groundwork for his 2014 testing of the waters, and 2015's damn near impeccable If You're Reading This It's Too Late Drake. Gully Drake. Loosie king Drake. Hometown Drake—his assumed natural state, even if it was considered to be widely conflicting by outsiders. (That is to say, even the relatively tamer NWTS Hometown Drake was illegible to non-Torontonians, or to Torontonians who, largely, were not black or of a very particular experience.) This iteration of Drake was an unmistakeable child of black Toronto's cultural and linguistic fabric, his pristine celebrity, an afterthought to whatever he had to get off his spirit.
"You know me, you know me," he raps over the DJ Dahi-produced beat. "They used to never wanna hear us, remember?/Mafucka never loved us." "Worst Behavior," for all intents and purposes, was the chest-beating, menacing reminder of all that's smudged of Drake's legacy as it is pieced together in real-time—his blackness, his loyalties, his unmovable roots. It also was the first of many mentions of a collective "us," a specific Torontoist togetherness. Suddenly, he hated to leave the city, only "back-and-forth across the border lines" out of sheer necessity. "Us," he would continue to repeat in track after track. But it's in "Worst Behavior" where the word felt its weightiest. As if Toronto could actually, finally mean something serious. At once a threat and promise.
"Always hated the boy, but now the boy is the man," he recites with an invincible impunity. "Mafucka, I done growed up." Though "Worst Behavior" was not chosen as an instant favourite by some critics, it reverberated deeper, influencing a still-malleable narrative and attitude of a rapidly changing city and people. They never loved us—the young of us, the black of us—anyway, right? So as Toronto's spotlight shone with an ever-growing intensity, what was there to lose? Especially when, as it stood, there seemed to be so much more to gain, right at our fingertips?
There are ways to love a city and not lie about its truths and how it endangers its own. Can Toronto ever match up to the Toronto of our dreams?
In 2017, there is little, if anything, new to be said about Toronto that hasn't already been said by its foremost authority: Torontonians. A shortlist of writers, if you will, who have, at various stages and through various lenses, analyzed what the Drake effect does to impact (and implicate) our local and international artistic reach and economy: Rawiya Kameir, Sajae Elder, Anupa Mistry, Huda Hassan, Jabbari Weekes, Sharine Taylor, Lindsey Addawoo, Erin Lowers, and Bedour Alagraa, to name a few. (I have, too. Nuff times.) Artists, too, both past and present, have shared frustrations with Toronto's increased popularity, as well as their concern with its standstill growth. "Toronto artists can make a fire song without OVO and it be an amazing song that the world will fuck with," said Sean Leon, an independent artist, in conversation with me. "Toronto is just a hateful city. The love isn't where it should be," expressed Puffy in an interview almost a year ago, when asked why he felt he hadn't majorly taken off. Singer Adria Kain shared a similar sentiment: "There's a lot of negativity, also, in the Toronto music scene. […] Everyone's kind of like, every man for themselves. But why?" Ian Kamau, an integral name in Toronto's hip-hop lineage, put it plainly in an "insider's look" essay he penned, some time after he stepped back from music himself. "Aubrey's success has not yet made Toronto easier for most artists though his situation has brought plenty of attention to our city, specifically to OVO Sound artists," stated Kamau in 2015. "When Drake proclaims that going stateside isn't necessary anymore, he's doing artists from Toronto a disservice—even though the sentiment is honorable."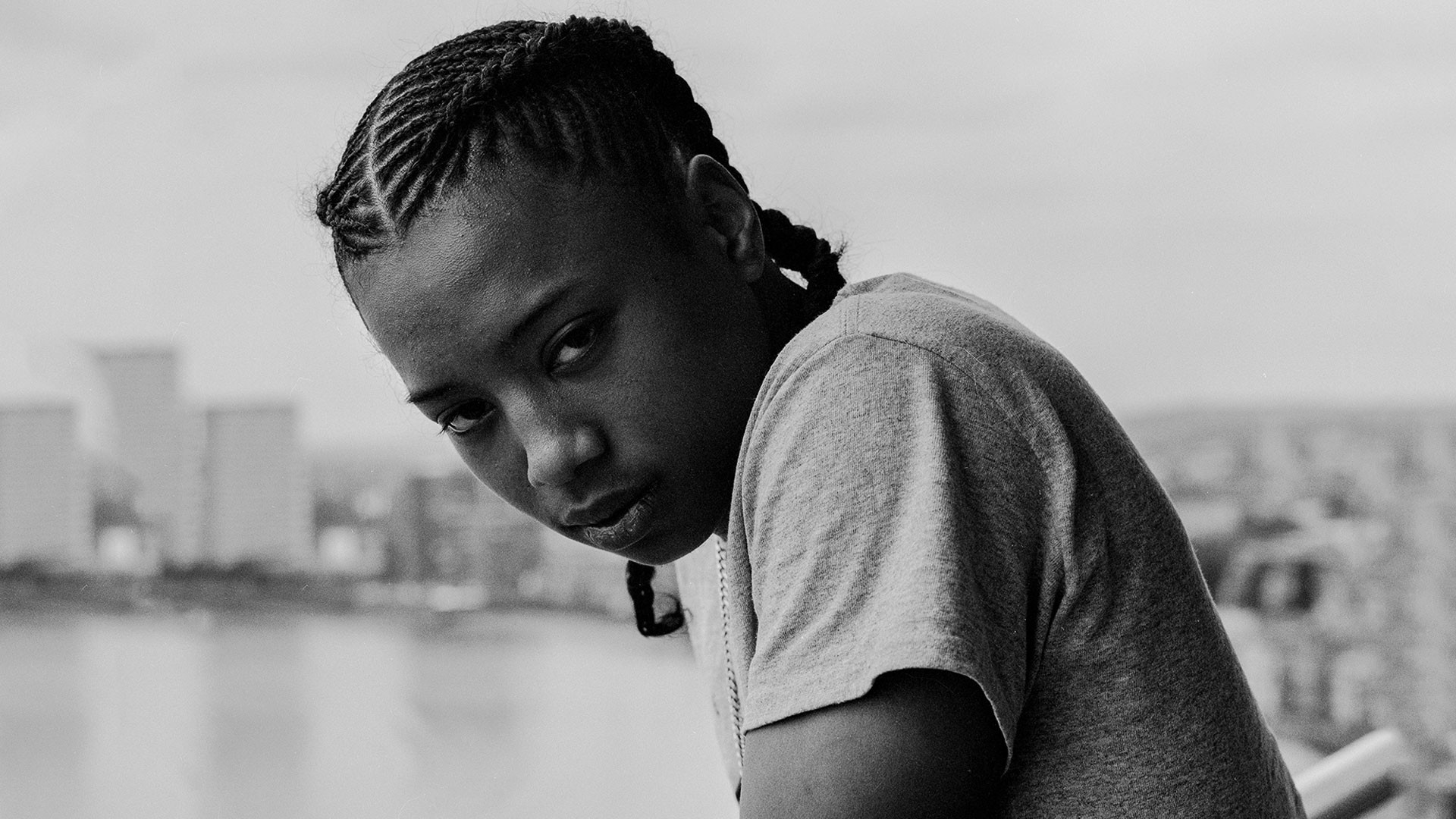 Torontonians—writers, artists, and everyone in-between—have been vocal about their grievances with the city's flippant attitude towards uplifting its at-home talent for a multitude of obvious reasons. (Bias against black people and black genres for one, and a scarcity in places for people, namely black people, to congregate and perform both ranking pretty high on the list.) Frustrations span across all the notable eras; pre-Drake, post-Drake, and right alongside (chronologically, at the very least) his meteoric rise. But he broke through, miraculously. Even more surprising was his emerging on the other side with a gummy grin and a belief in a greater, plentiful future. The question, however, remains: how realistic is that idea? And who is the onus on for the eventual— fingers crossed—overhaul?
It should go without saying that an individual artist's commercial boom would not—and isn't obligated to—immediately yield major infrastructural transformation of its neglected arts (read: black arts) sectors. This is a fact, no matter how much manpower they claim to have, or how loud their regional pride bellows. And it should go without saying that undoing a years-old systemic problem isn't necessarily said artist's responsibility either. In an ideal city and situation, an entertainer would not be expected to heal severely fractured and underserved artistic communities by virtue of existing and having the audacity to succeed. Ideally, that would be the job of the city and its employees, who, contractually, would be advocates for the advancement of their peoples' careers. But in this city, and particularly with Drake as its unofficial—and official—ambassador, the gap between Toronto's image as a beacon of opportunity versus its realities as a city no closer to creating a viable market for its homegrown black artists, in hip-hop and beyond, is striking. Perception of Toronto as a city with palpable prosperity in the air, then, is little more than incredibly effective, yet harmful self-serving branding. As CBC's Amanda Parris rightfully questioned following the cut of city-funded grants: how are we investing in the story we keep telling ourselves about our superficially diverse and progressive city? "[W]e are in the midst of a cultural renaissance that is redefining the narratives of this country," she tweeted out after the cuts were announced. "[I]t needs to be accelerated, not disrupted." So if everyone is on board and gunning for a better Toronto, then who is to credit for the disruption? When are the incessant, perpetual disruptions called what they truly are?
And what is a "cultural renaissance" without the necessitated tools and room to build? What of the urgency of a "new Toronto" that feels more like a contrived fable than a tangible future? How much is lost in the bridging efforts of the scrubbed, sanitized Toronto—a constructed, positivist haven—and ordinary, real-life Toronto—a gentrifying, hyper-surveilled metropolis? These are, after all, many of the haunts and places immortalized in Drake's lines (and not in Drake's lines) permanently closing, and being bulldozed into extinction to pave way for a "revitalized" city. Regent Park, Lawrence Heights, and smaller pockets of Toronto's east end neighbourhood already counted among the demolished. What becomes of the droves of people killed and arrested? Of the ones who survive, only to be cruelly slandered and accused of the murders of the loved ones they mourn? What is a rising Toronto if the people responsible for its upliftment are its first casualties? There are ways to love a city and not lie about its truths and how it endangers its own. Can Toronto ever match up to the Toronto of our dreams?
It's in these difficult, harrowing moments that the line between sentimental nostalgia and active hindrance of a due reckoning is blurred. "Drake's ability to rally a citizenry as ethnically, economically, and spatially diverse as Toronto is truly unprecedented," said Mistry of Drake's evolving narrative arc. A point she makes about Views in the same essay, however, aptly described the schism between Toronto as goldmine and Toronto as gravesite all the same: "Drake works from a comfort zone that often feels sealed off from the rest of us." While Drake's success is a massive win for young artists,—especially the black kids, just tryin' a ting with their schemin' ass friends — the stunted nature of a rosy, hometown glory story is not how to nurture home; it's how to leave it in the lurch. "That's the rub of what home can do to the ambitious," wrote Mistry. "Home has limitations: it can suffocate dreamers. In spirit, sound, and execution."
Drake is the exception; a charismatic, chart-topping, homerun-hitting, probably well-intentioned exception. But an exception, nonetheless. And Toronto's problems always have been and always will be greater than the one who stunned it out of its stupor. "After all," Kameir explained, "Drake's helpful, but he's not a magician." There's no telling what will become of Toronto once the dust settles and all is said and done. But the precariousness of the city's willingness to sustain a cultural moment—in a long tradition of notable Torontonian cultural moments—is ultimately not Drake's matter to repair. And contrary to popular belief, Torontonians deserve more than pretty talk and a corporatized version of our language, culture plastered on a billboard or a Councilman's Twitter page. Like he said, "we just want the credit where it's due." Keep your premium—give what you owe. Amani Bin Shikhan is a writer based in Toronto. Follow her on Twitter .