Fringe Toronto mayoral candidate Faith Goldy, a far-right YouTuber known for her white nationalist views, has publicized photos she took with Rudy Giuliani, the former New York City mayor and current lawyer for Donald Trump.
For Goldy, it is another publicity win in a race where she's far behind in the polls and in which media outlets have tried largely to ignore her and treat her run as a publicity stunt. This week, an alliance of anti-racism and anti-hate organizations launched a campaign to ensure her ads don't get any airtime.
Goldy, who gained widespread notoriety for her sympathetic coverage of white supremacists in Charlottesville, was famously fired from her job as a commentator for right-wing media outlet Rebel Media after appearing on a neo-Nazi podcast. In 2017, Goldy also recited the white nationalist slogan known as the "14 words" in an interview: "We must secure the existence of our people and a future for white children."
Goldy posted two photos with Giuliani on Tuesday on Instagram, captioned "An honour to meet with America's Mayor while on the campaign trail. I can't wait to become Canada's Mayor!"
"Just like Giuliani cleaned up the streets of NYC, our tough on crime playbook is going to run illegal guns & gangs right out of Toronto!" she wrote.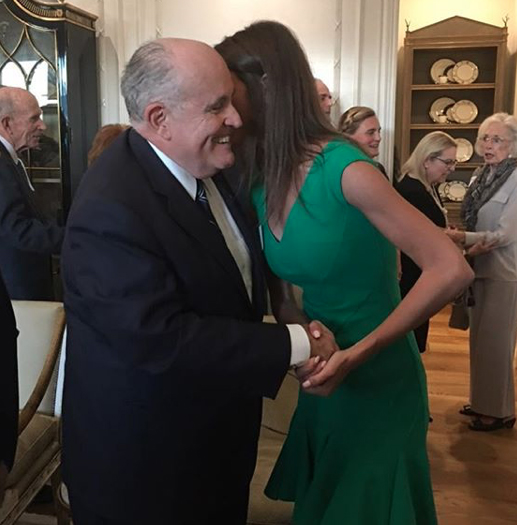 It's unclear where the photo was taken or if Giuliani knows who Goldy is.
It's not the first time Goldy's presence in photos has stirred up controversy.
In August, two Toronto police officers were criticized after they posed in a photo with Goldy and her supporters. The police claimed the officers had "no idea" who she was. A similar issue came up earlier this week when Premier Doug Ford refused to denounce Goldy's politics after being photographed with her at his annual Ford Fest.
On Wednesday, facing mounting pressure, he tweeted, "I have been clear. I condemn hate speech, anti-Semitism and racism in all forms- be it from Faith Goldy or anyone else."
A number of Jewish, Muslim and anti-racism groups will hold a press conference at the provincial legislature on Thursday calling on the premier to denounce those who espouse white nationalism.
Goldy, who is far behind in the polls, has resorted to stunts like storming the stage at a debate she wasn't invited to before being escorted out by police officers. A poll released on Wednesday put her support among decided voters at 1.5 percent, well below incumbent John Tory, who had 66.7 percent, and Jennifer Keesmaat, who had 28 percent. The poll surveyed 966 Toronto residents, and has a margin of error plus or minus 3.15 percent.
According to a post she made on Reddit, Goldy has bought ads on local TV station CP24, which are expected to run this week. There's an ongoing campaign to stop the ads from running.
"We are very concerned to learn that Faith Goldy has purchased ad space on CP24 and we urge you not to air her ads and provide her with a platform to whitewash and recruit for the hateful alt-right neo-Nazi ideology," says a letter from the Canadian Anti-Hate Network.
"Running ads by Goldy will incense a number of communities and trigger a controversy that will be damaging to Bell Media and CP24," the letter continued. "If you decide not to run the ads and face any backlash from Goldy's supporters, we will stand by and support your decision publicly."
CP24's parent company Bell Media has not responded to VICE News' request for comment. On Twitter, on Thursday, Bell Media president Randy Lennox said the company is not running the ads.
(VICE Media has entered into a licensing and programming partnership with Bell Media.)
Photo via Faith Goldy's Instagram account.