There are several crucial moments in Danish fast food history. The day when Burger King launched its first branch in Copenhagen's city hall square, the day when the first shawarma restaurant opened, and the day when Danes got obsessed with cramming sausage down baguettes and calling them 'French hot dogs'.
And then there was the time when Lih Chie Lee decided to add béarnaise to his famous roast pork sandwich.
Lih Chie Lee, known by locals simply as Mr. Lee, needs no further introduction for those who live in Copenhagen's bustling Vesterbro area. Almost anyone who has ever stumbled out of a bar around here with a raging hunger will—at some point—have visited his restaurant, Isted Grill. It's located on Istedgade, a gentrified street that runs west from the central train station, past trendy wine bars, heroin clinics, and buzzing restaurants.
The menu at the standing-room only Isted Grill ranges from chop suey to "sausage in kimono" (a fried sausage wrapped in pancake dough), but it's the roast pork sandwich that brings big lines in the small hours of the morning. It looks deceptively simple: slices of grilled pork roast served in a plain burger bun with pickles, braised red cabbage, and béarnaise sauce. Hardly any of the components are made from scratch, yet a mouthful of this crunchy, sweet, salty, and tangy wonder feels like alchemy.
"I really don't have any secrets," says Lee disarmingly. "I first cook the pork roast in the oven before the slices go in the pan. Maybe it's because I have a professional oven. And lots of practice."
Lee's legion of fans have dubbed him the "minster of pork roast." In 2012 when he turned 60 (in actual fact he turned 61), hundreds of people lined the street outside Isted Grill to celebrate him with balloons and DJs. Even The Guardian joined the chorus of delight, when a travel reporter called Mr. Lee's pork roast sandwich "probably the best in the world". The writer later suggested it was merely a pun on a famous ad campaign, but there was no need for clarification; no truer words had ever been printed.
"I really don't know why the roast pork sandwich became so popular, because this is so many years ago," says Lee, as he heats up the plancha where he cooks the slices of roast pork with crispy crackling. "It wasn't something that happened overnight. There were many factors. Perhaps it's because Vesterbro has changed. Today there is more nightlife, there are more tourists, and there are more people who like to visit a place from the old days."
Lee came to Copenhagen from Taiwan in 1976 and started working at Isted Grill, which his sister had opened five years earlier. In 1980 he took over the place, and there hasn't been many alterations since that day. Neither to the interior, the laminated printouts of turkey sticks and burgers, nor the menu. Lee looks around the space and points to the deep fryers. "There haven't been any drastic changes," he says. "Only the machinery is new."
The most significant changes have happened outside his window. During the 1970s, before pizzas and kebabs conquered the Danes' appetite, the first institution of international fast food culture was the kinagrill (Chinese grill). These were small takeout shops set up by immigrants who mixed a freewheeling menu of Chinese cooking and Danish staples from the hotdog stands and "grill bars;" there were spring rolls and fried rice alongside sausages and grilled chicken with fries. When Lee came to Istedgade, the street was full of these places, but as shawarma and pizza took over, the kinagrills vanished one by one. Except for Isted Grill. Why is he the last one standing?
Lee shakes his head and laughs: "It has also surprised me. It hasn't always been that easy. During the 1990s, gentrification hit Vesterbro and people moved away. That hit us hard. Old customers disappeared, and it took some time before new ones came. There were several empty shops around here. It looked like ruins. It wasn't a good look."
Today, owning a fast food spot open on weekend nights after last call at the swanky bars is a much better proposition. Especially when the revelers still crave pork and crackling in a bun. Some things have changed over the years, though. Mr. Lee has switched to a less fatty cut of pork belly for the roast, and then there is the sauce.
"We used to make the sandwich with remoulade and a small amount of mayonnaise," says Lee. "But as the market changed, we wanted to try a few other things. Both the customers and I liked to test something new, so about seven to eight years ago I had a go at putting béarnaise on the bun. And it just became really popular."
It was also really popular with MUNCHIES host Action Bronson, who was in Copenhagen last year to shoot an episiode for Fuck, That's Delicious. Isted Grill was the last spot on the itinerary but it was one of the most memorable.
"You can tell Mr. Lee has been through some wild shit," said Action after he had ordered a cheeseburger and a pork roast sandwich. "We're not going around eating bullshit. We like what we're eating. This is good."
---
WATCH: The Art of Making Danish Hotdogs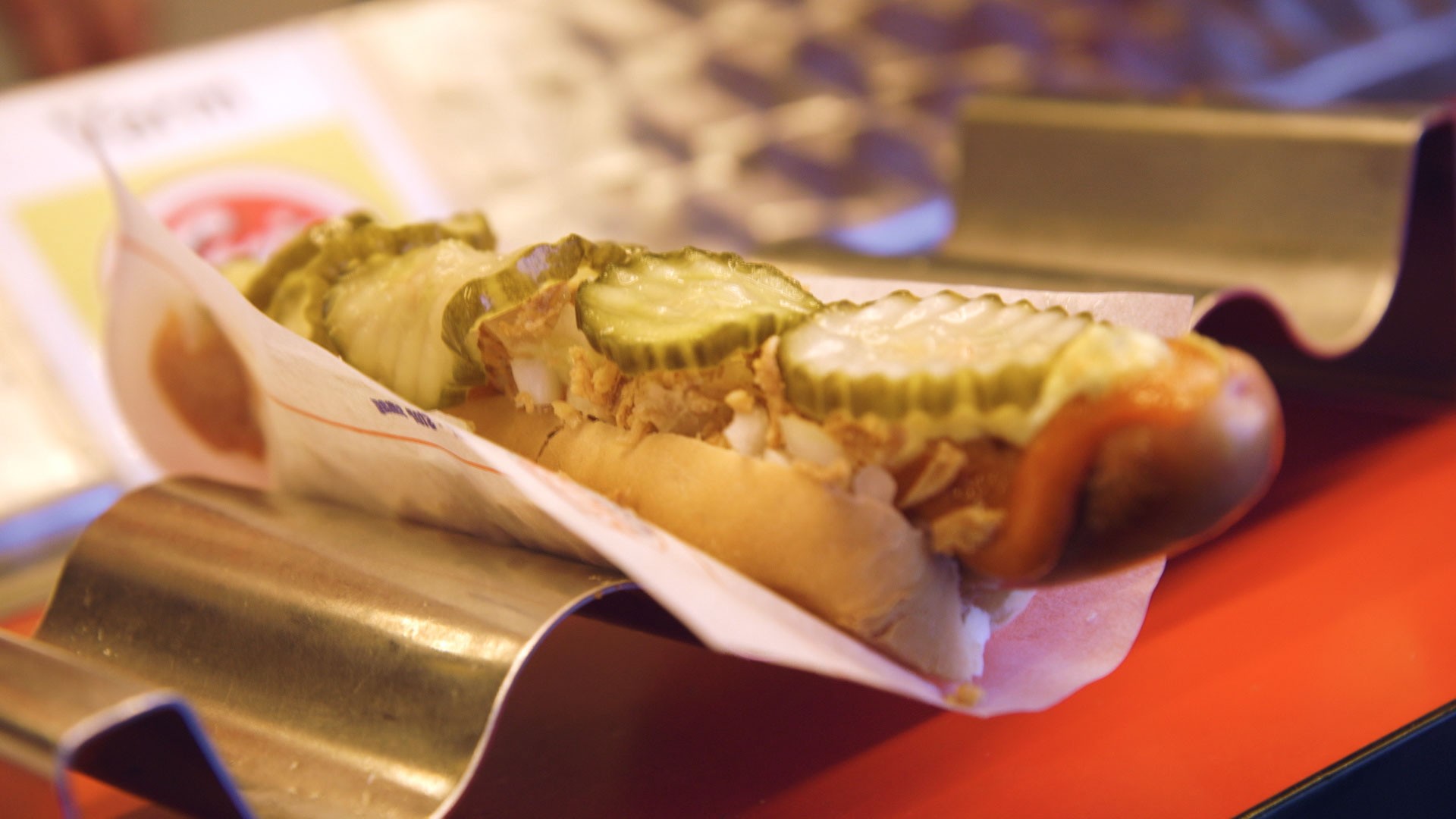 ---
The appreciation was mutual. "I didn't know who Action Bronson was," says Lee, "because it's mainly young people who know him. But he was very sweet and funny. I really like his show. He's talented, and he is great and singing and playing music."
Not all of the guests at Isted Grill are as polite as Bronson, but Lee has learned how to tackle the late-night crowds. "People can be a bit lame when they come here in the middle of the night, but most of them treat me really nicely." And there are still regulars who come here every week. People who have come here for more than 30 years, and where three generations have been fed on roast pork, fries, and chicken dippers.
"I think some people miss the old-school type of food from the grill bars," says Lee. "Grill bar food doesn't always have to be so unhealthy. Much of what we do is fried in a pan, just like if you were making burgers at home."
He turns 66 this summer and doesn't have any plans for retirement. His wife also works at the restaurant, but his children are busy pursuing careers in IT and banking, so there's no immediate successor to the honorable position of roast pork sandwich minister.
MAKE THIS: Roast Pork Sandwich
Lee flips the slices of pork on the plancha and ads a shake of salt. He smears a large spoonful of béarnaise sauce on my bun, but goes with remoulade for his own. Lee likes things how they used to be.
"I eat a lot of roast pork sandwiches myself if I am busy and don't have time to cook."
Have you ever tried a roast pork sandwich anywhere else?
"Errr…. No. Do you want yours with onions?"
I say 'no, thank you' and ask for the normal version as it looks off the menu.
"Ok classic," says Lee and opens a bottle of Cocio chocolate milk. "They say these two belong together."
"There you go."