A protestor demonstrates against Trump's travel ban. Photo by Flickr user Fibonacci Blue
Since January 27th, the Trump administration has sought to ban US visitors from a number of Muslim-majority countries in order to prevent "Foreign Terrorist Entry," as the title of his Executive Order had it. And on Monday, the Supreme Court announced it would review Trump's ban this October, partially reversing lower court rulings blocking his proposal in the process—meaning officials will begin enforcing a limited version of the ban today.
Among those affected by the reinstatement and new visa guidelines issued by the State Department on Wednesday night are LGBTQ asylum seekers and refugees, desperate to flee nations where they face violence, death, and persecution for their sexuality. Homosexuality is punishable by death in four of the six countries targeted by Trump's ban. For LGBTQ men and women who hail from them, Monday's decision could be a death knell.
Omid* is a 29-year old gay asylum seeker from Tehran. In Iran, in line with Sharia law, homosexuality is punishable by imprisonment, flogging, or execution. Omid's family doesn't know he's gay, and he tried to keep secret his relationship with his boyfriend, with whom he previously shared a home. But he knows that some in his life, like his army captain during his two years of mandatory military service, suspected the truth.
"In the Islamic Republic, you are always in danger," Omid told me through a translator. "As a gay couple, you have no freedom. You are always in danger of being exposed, and there is no limit to how bad the punishment could be."
Omid arrived in the US on a tourist visa on December 29, 2016. He'd hoped to travel here with his boyfriend—Omid told me that marrying him is his "greatest wish"—but his boyfriend's visa wasn't approved in time. But, Omid says, soon after arriving on US soil, he heard that a friend in Tehran had been executed by hanging for the crime of being gay. That's when he decided it was too dangerous to return, and he applied for asylum in January, before Trump signed the first travel ban.
Once a trader at the Tehran Stock Exchange where he supervised 130 employees, Omid, who holds a masters degree in plant pathology, now cleans restaurants in Los Angeles. He receives no government assistance. He has no car, friends or family in the US. For the past six months, he has spent his days taking English lessons (he missed our first interview because he'd been up all night studying for an English test), going to the gym, and talking to his boyfriend daily. It has been a lonely and difficult adjustment.
"I don't have my own bed to sleep in," Omid said. "I have a very, very hard life here, but I feel free. I don't fear that someone is going to capture me and kill me for being gay."
When I asked Omid if he felt hopeful about his new life in the US, he struggled to speak through tears. "Hope," for him, could only be defined in terms of the love he'd left in Iran.
"I can't live without him. I only have hope if he is allowed to come here," he said. "I can't rest for a single moment worrying that he might be harmed. I'll do whatever it takes."
Trump's travel ban makes that impossible for now.
---
Watch VICE News Tonight on how Trump's travel ban will affect Syrians already here: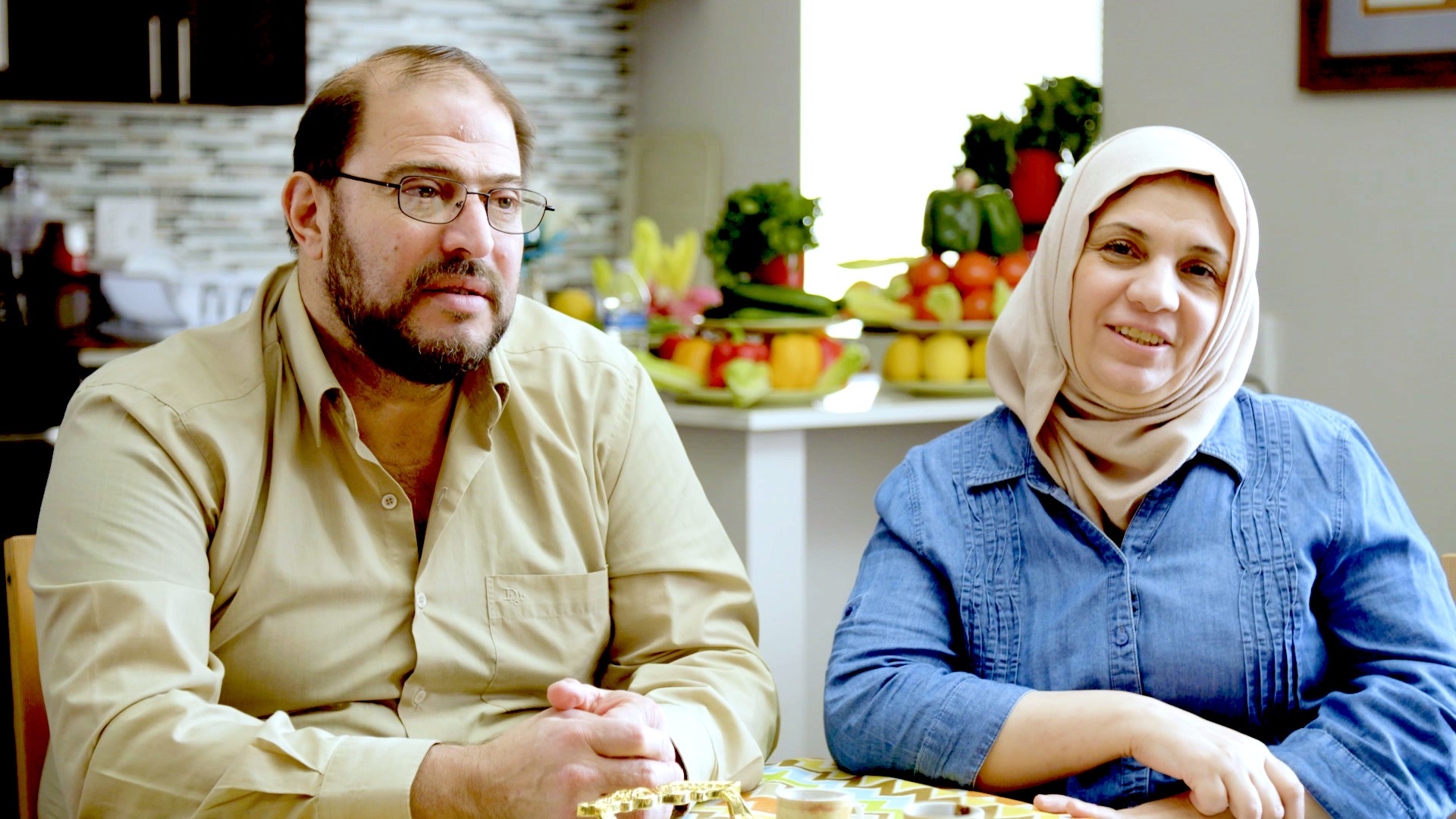 ---
Ally Bolour, a Los Angeles-based immigration attorney whose firm is handling Omid's case, said that clients like Omid are scared for good reason. The effects of the limited travel ban and the new visa rules won't be played out in airports, but at the desks of officials worldwide responsible for deciding who should or shouldn't be allowed to enter the country. LGBTQ visa applicants such as Omid's boyfriend are doubly affected because the new visa rules don't recognize LGBTQ partnerships as "bona fide" qualifying connections.
For officials already inclined to discriminate, Bolour said the restrictions are essentially a free pass to do so. "If there is a visa officer or UN individual who has his own negative views or prejudices, the narrative that's being peddled in Washington gives them the green light to make it even more difficult [for applicants]," he said.
Refugees and asylees already go through a rigorous vetting process that can take years. In addition to security database checks, biometric checks, background checks, face-to-face interviews and other screening, Bolour noted that the Trump administration has begun to require the names and handles of an applicant's social media accounts going back five years.
"If you forget to turn everything over, you can be accused of fraud," Bolour said. "If you're lesbian, and you have a 'boyfriend' as a cover—in Iran, which is extremely homophobic, people need a cover if they're gay—and you talk about him on your Facebook and Telegram posts, that can become evidence, and your application can be denied."
Also at risk are asylees and refugees traumatized by rape, incest, or other abuse. They may have lived for years in denial of their sexual orientation, leaving a trail of "evidence" that can be used against them. Nervous body language can also undermine their claims: In February, the US Citizenship and Immigration Services (USCIS) distributed guidelines giving officers license to interpret an asylee's body language during interviews as counter-evidence. Experts say that, because of the current political climate, it is harder for a Muslim asylee to be approved for asylum than any time since 9/11.
When the executive order's 90-day ban on visa applicants from the six countries and 120-day ban on refugees expires, no one is sure what to expect. The Supreme Court's October decision could set the stage for further and more restrictive travel bans if it rules that the executive order did not overstep the president's statutory and constitutional authority.
"It's been more than 120 days since the original ban," Bolour said. "To my knowledge they've done nothing to further the stated goal of more rigorous vetting. The question is, how will they achieve that?"
And, if the ban is fully reinstated by the Supreme Court, refugee admissions could be shut down for the rest of 2017. The order reduced refugee admissions from the 110,000 quota set for 2017 by the Obama administration to 50,000. As of June 1st, 46,371 refugees have already entered the US this fiscal year, just a few thousand short of Trump's proposed cap.
Some refugee advocates, such as Bilal Askaryar, a gay Muslim Afghan-American whose family was granted asylum in the US when he was a child, wonder if the Islamophobic sentiments animating the ban mean that the US is no longer the "safe haven" that asylum hopefuls are seeking.
"This is probably the most hostile time for Muslims in America," he said. "On one hand, the right wing have decided that they are pro-LGBTQ as long as they can use it as an Islamophobic talking point. But imagine being a member of that [LGBTQ] community in a Muslim majority country…. You better believe they are listening to what Donald Trump says about their co-religionists, and hearing media reports about killings of people like Nabra Hassanen, and they are wondering whether the United States is the land of still the free that is purported to be."
Askaryar said that, between the Trump administration's closing of borders and fear of hate crimes against Muslims once on US soil, gays and lesbians fleeing the most homophobic Muslim countries may now be stuck in "less LGBTQ-hospitable places like Lebanon and Turkey," where violence against gays and lesbians is rising.
"Now, they have one less place to go," he said.
*Name has been changed at subject's request.
Shahirah Majumdar is a writer living in Chicago.