On an overcast Saturday morning in late May, several protesters had gathered outside of Hartford GYN Center, an abortion clinic in Connecticut. Many of them were clutching rosaries, and some bore signs decorated with images of beatific infants, with the implication that similar infants were in immediate danger of being murdered. They were, by their own description, facing down "the Evil One;" later in the day, a protester would tell me that an acquaintance of hers had once seen the devil himself crouched atop a different clinic and mistaken it for a gargoyle.
At one point, one of the protesters abandoned her post on the sidewalk to vigorously spray the clinic's sign with holy water. "I'm a prayer warrior," she explained when asked what she was doing there. "I pray outside, and if a woman goes by, I ask her if she's pregnant. If she's pregnant, I give her one of these cards and tell her about the Hartford Women's Center."
Read more: A State-by-State List of the Lies Abortion Doctors Are Forced to Tell Women
She handed me one such card as she spoke; it was emblazoned with an image of a distraught-looking white woman slumped on a nondescript staircase. "Pregnant? Scared?" it inquires. "You're not alone." It directs women to St. Gerard's Center for Life, a Hartford-based Catholic organization that aims to help women facing crisis pregnancies "make life-affirming decisions." On the back, a slew of official-sounding services are advertised: free pregnancy tests, free limited obstetrical ultrasounds, abortion pill reversal, and assistance in "recovering from post-abortive trauma."
Hartford Women's Center, which opened its doors for the first time this month, is the newest St. Gerard's location. It's a mere 30 feet from Hartford GYN Center, in the same office complex, with nearly identical signage. This is very confusing, and intentionally so. Hartford Women's Center is what's known as a crisis pregnancy center (CPC), a term used to describe anti-abortion organizations whose sole purpose is to convince women to carry pregnancies to term, oftentimes by posing as legitimate reproductive health care providers.
CPCs typically employ a variety of deceptive tactics, including posting misleading ads and establishing locations next to clinics and hospitals, with the intent of luring women into their offices. Once women are in their clutches, they bombard them with spurious information: that abortions are extremely painful and perilous, that ending an unwanted pregnancy may result in permanent psychological damage, that an abortion might not even be necessary because miscarriage is so common. In some cases, staff will even lie about the fetus' gestational age in order to push the pregnancy past the legal window for termination. There are currently over 3500 CPCs operating in America, compared with around 800 abortion clinics.
"The idea of a crisis pregnancy center being in your neighborhood is one thing," said Amanda Kifferly, the director of patient advocacy at Hartford GYN Center, which has been providing abortion care and reproductive services to its patients since 1981. "And then for it to be in the same complex as an already licensed institution within the community—I think it increases the potential risk and damage that can happen."
Although Hartford Women's Center resembles a legitimate family planning clinic on its surface, it offers basically none of the vital health care services women can access next door at Hartford GYN Center: no STI testing, no well women exams, no prenatal care, no birth control. Women who end up in the center are told that abortion is murder, that several forms of contraception are also murder, and that choosing to terminate a pregnancy could have ruinous repercussions, including PTSD, breast cancer, and infertility. They're urged to carry their pregnancies to term and promised financial and emotional support if they choose to do so. (In addition to the services advertised on its card, St. Gerard's currently offers free baby clothing and diapers for women who enroll in its education program, social service referrals, and baptism preparation for infants and mothers alike.)
"We want to give these women support to give birth to their children," Leticia Velasquez, the director of St. Gerard's, told me. "Whatever it takes to have a woman give birth, we're there for them."
A CPC… has a single aim, and that aim is make sure that the woman carries her pregnancy to term.
According to the employees of Hartford GYN Center and pro-choice groups in the state, "whatever it takes" often involves unethical and deceptive tactics. "They're obviously setting up in our complex as an opportunity to mislead our patients specifically," said Kifferly. "And they're appearing to look legitimate by taking our name."
The proprietors of Hartford Women's Center don't deny that they're trying to intercept Hartford GYN's patients, though they insist that the help they offer women is sincere and substantial, lasting up to the baby's second birthday. According to Velasquez, about 75 percent of the women they serve start out trying to go to Hartford GYN Center, and she expects that number to rise given their new proximity to their adversary. "That's why we're here," she said. "We want to offer a choice at the door of the abortion clinic."
A 2015 report from the pro-choice group NARAL investigated 27 crisis pregnancy centers in Connecticut, and found "a consistent pattern of misinformation, deceptive advertising, and blatant lies about reproductive health." This is tantamount to a public health crisis, the organization warns. "If you're an individual who is not used to receiving medical advice from a licensed medical practitioner… there's no red flag for you," said Sarah Croucher, the executive director of NARAL Pro-Choice Connecticut. "You think that you're getting medical advice, and you're not."
"What's really dangerous about someone walking into a CPC is that CPC has a single aim, and that aim is make sure that the woman carries her pregnancy to term," she explained. "And that's not an aim that's about caring about women and what's in their best interests and helping them make decisions that are right for them. [Crisis pregnancy centers] will give whatever garbage information they want to achieve their aim."
On Saturday, May 20, the Hartford Women's Center held its inaugural event. Its door, which is about 10 feet from the ramp leading to Hartford GYN Center, was propped open invitingly, revealing a waiting room decorated with several framed photographs of landscapes, as well as a florid print of the words "You are loved."
When I first encountered Leticia Velasquez, she was reclining genially in an armchair in the corner of this makeshift reception area, greeting each new arrival with enthusiasm. On the collar of her blazer was a minuscule opal pin in the shape of two baby feet; beside her was a large sign that read, in bright marker, "WELCOME to our Open House." There is something very maternal and comforting about Velasquez. She speaks effusively and rapidly, switching with adeptness between religious, personal, and scientific arguments against abortion. Whenever logical inconsistencies threaten to undermine her wholehearted appeal—which is frequently—she shifts gears, speaking from personal experience and emphasizing the suffering she's witnessed due to sex outside of marriage.
When asked about her organization's stance on contraception, for instance, her response was assured. "Most women who come in here are here because the contraception didn't work, OK?" she said. "One woman had a Norplant: It's supposed to work! I said, 'Well, obviously it didn't.' Because it was three years old, the last month, she got pregnant."
---
Watch now: The Unstoppable Wendy Davis on the Fight for Abortion Rights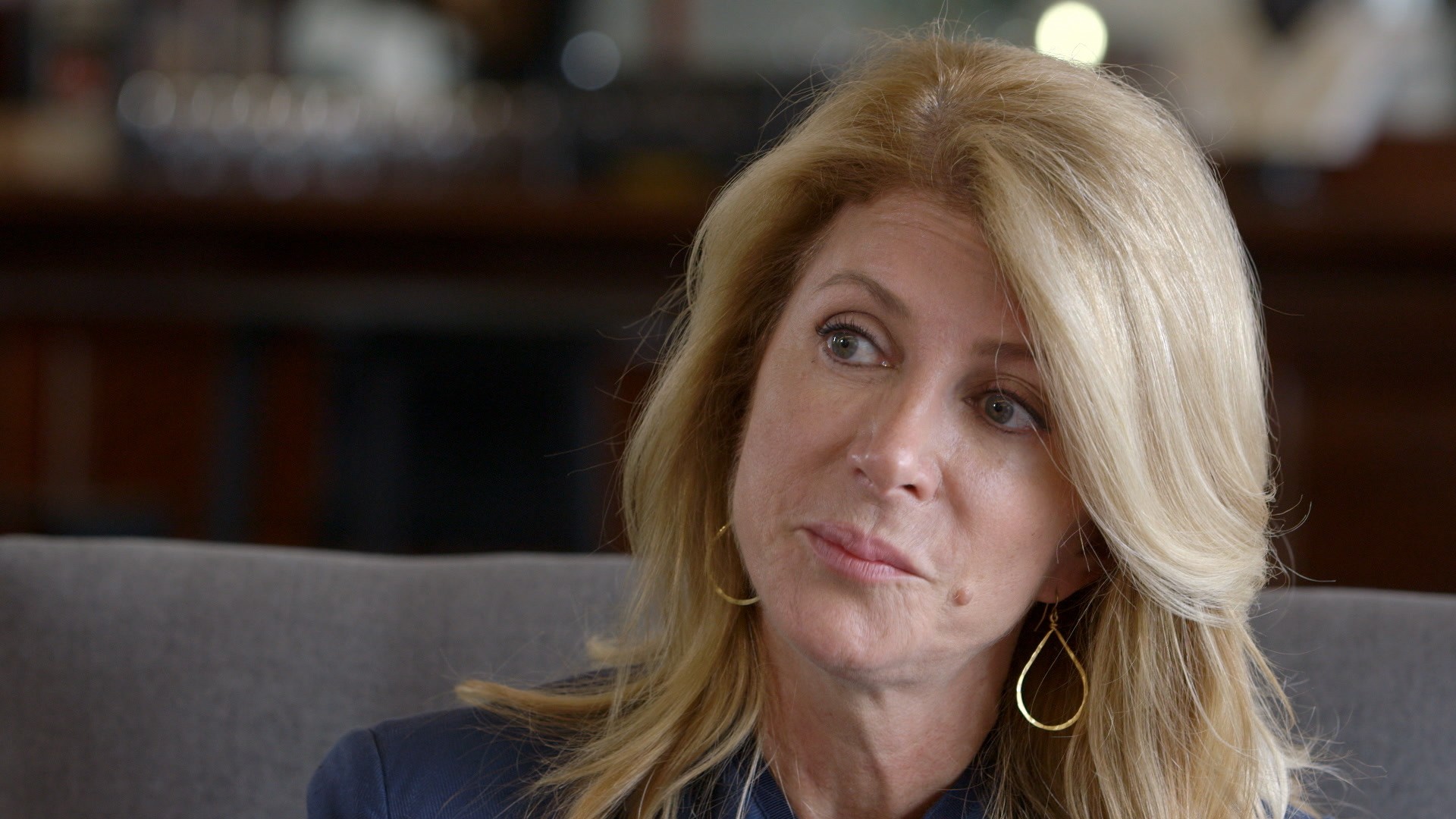 ---
Sensing my objection before I had the chance to voice it— contraceptive implants are 99 percent effective, and this anecdote seems to be the exception rather than the rule—she quickly segued into a larger moral and pseudo-scientific claim. "The problem is to divorce sexuality from procreation. You know, Janet Smith, a professor, has this tape I recommend called 'Contraception: Why Not?' You can find it on YouTube. Janet E. Smith, PhD, bioethics." (I did find it on YouTube, a few days later; in it, Janet E. Smith, a Catholic philosopher who speaks as though she's constantly attempting to hide a sense of deep exasperation, argues that contraception doesn't reduce the amount of "unwed pregnancies and abortions"—which is demonstrably untrue—because a "contraceptive culture" is one in which people learn to divorce sex from its consequences.)
"Pregnancy is sex working," Velasquez said. "That's the whole reason we have it, physically speaking. Now, that might not be your intention," she added, likely recalling an incident a few minutes earlier in which I'd asked her if a statue of the pregnant Virgin Mary was St. Gerard, exposing myself as a true heathen (St. Gerard, as it turns out, is a man). "But the mistake we make is to go into it very casually, thinking that this one-night encounter won't affect the rest of my life. It will. It can."
Like Dr. Janet Smith, Velasquez seems to believe that sex outside of marriage is inherently calamitous. "Contraception gives you that false feelings that sex has nothing to do with procreation, and it also kind of shields you from making dumb moves: sleeping with someone with a disease, sleeping with crazy person that's gonna haunt you and stalk you," she clarified. "There's a lot of hurt in society now, and people say depression and suicide, it's increasing. All the things that contraception was supposed to cure… a lot of them were caused by contraception."
The Hartford Women's Center is equipped to give women "limited medical ultrasounds," Velasquez told me, in order to "acquaint the mother with her child, and [ascertain] that it's a healthy pregnancy" —she paused, nearly imperceptibly, then corrected herself— "not a healthy pregnancy, but that it's in the right place." If the pregnancy is not in the right place, the Center can refer women elsewhere, but that's about it. "We don't do surgery," she said. "Our medical doctor is not an [obstetrician]. She's a family practice. She reads the scans." (Hartford GYN Center has two licensed ultrasound technicians on staff, as well as numerous licensed OB/GYNs.)
It's unclear what a "limited medical ultrasound" is. It's not a term used in the medical community, according to Croucher of NARAL Pro-Choice Connecticut. It also doesn't seem to appear in any reputable, legitimate sources, save for one: In 2005, the American Institute of Ultrasound in Medicine released a statement condemning the practice of performing ultrasounds for "bonding and reassurance purposes." Scans should only be performed by licensed medical professionals who have been trained to recognize medically important conditions, the organization warned: "Any other use of 'limited medical ultrasound' may constitute practice of medicine without a license."
Despite this, Velasquez is quick to criticize Hartford GYN Center for their lack of services. "As far as I know, their tagline is 'Abortion is 100 percent of what we do,'" she said. (Their tagline is "Unsurpassed excellence in women's health care.")
Pregnancy is sex working. That's the whole reason we have it, physically speaking.
"I don't see job counseling, I don't see looking for housing or paying first month's rent, or parenting classes or adoption plans," she added. "I don't see that listed as 'services.'" Under the "other services" section of the Hartford GYN Center's website, several things are listed: pregnancy testing, ultrasound exams, birth control, STI testing and treatment, emergency contraception, colposcopies, and gynecological care. They also offer education and support, including options counseling and adoption counseling and services.
In her role as patient advocate at Hartford GYN Center, Kifferly constantly fields calls from women who are considering abortion care. When someone is solid in their decision, she respects their autonomy. "If someone calls me and says, 'I'm calling to make an appointment for an abortion,' I'm not going to say, 'Oh, well, let's take a step back. Have you thought about motherhood?'" she said. If that same caller were to express doubt, however, she says she would offer them comprehensive options counseling, including discussing the potential of motherhood and adoption.
"I've absolutely witnessed patients come into the clinic, and I've assisted in them having pregnancies and carrying to term and choosing parenthood, and I've assisted in adoptions. All of those things are pretty common," she continued. "As a woman, I have been in the situation of pregnancy scares and pregnancy, and I know that you know what's in your heart, and you also know your body well enough to articulate that."
St. Gerard's is an affiliate of Heartbeat International (HBI), the biggest crisis pregnancy center network in the world. HBI has over 2000 affiliated organizations in 50 countries, and they also operate Option Line, a deceptively secular-looking 24-hour pregnancy helpline that answers over 600 calls and chats a day. In March of 2017 alone, Option Line volunteers offered counseling to over 28,000 women. The organization is experienced in using Google's AdWords program to boost their visibility, especially in conjunction with abortion-related searches—in their 2014 annual report, HBI boasted that "a woman who makes a Google search such as 'pregnant and scared' finds a local Heartbeat International affiliate or Option Line in her search."
Although there are no explicitly religious references on the Option Line website, it agenda is obviously and extremely Catholic—which is to say, staunchly anti-abortion and anti-contraception. "Last year alone, 50 million babies—created in the image of God—were silently put to death before they were even born," laments the HBI website, on a page dedicated to Option Line. "You probably know someone who has had an abortion. Was there something you could have done to prevent it?"
Option Line is rife with misinformation about abortion and contraception, though it has the appearance of a legitimate medical service, at least aesthetically. (Its logo suspiciously resembles that of Plan B, the emergency contraceptive pill.) On every single informational page, visitors are referred to HBI-affiliated crisis pregnancy centers in their area, though the true goal of these centers is only vaguely alluded to, often after a wall of official-seeming medical platitudes. "These centers don't perform or refer for abortions, but they have a lot of information about all your options," reads a cheery disclaimer at the bottom of a page entitled "Considering Abortion." "Many of them are even able to give you a free ultrasound."
The Hartford Women's Center is more than happy to provide visitors with the analogue equivalent of the Option Line website. After giving me a tour of the new facility, Velasquez furnished me with at least 15 fetus-festooned pamphlets and informational cards with titles like "Do You Really Want an Abortion?", "Love, and Let Live," and "The Harms of the Pill and Other Hormonal Contraceptives." She also encouraged me to take a model of a fetus at 12 weeks, which looked like a fully formed, diminutive infant and appeared to be huddled in fear.
Noticing that my arms were overflowing with anti-abortion propaganda, she generously handed me a plastic bag in which I could store all my new information; it was emblazoned with a photo of a soccer ball–sized amniotic sac containing a serene fetus, resting in a pair of outstretched hands. Below this very arresting image was a Bible quote: "I am your creator. You were in my care even before you were born. Isaiah 44:2."
The information contained within the materials Hartford Women's Center presents to it visitors is overwhelming: rows and rows of text, often studiously annotated. It's also extremely inaccurate. Many of the pamphlets tout a wholly debunked link between abortion and breast cancer or infertility; others warn of something called "post-abortion syndrome," a term neither the American Psychiatric Organization nor the American Psychological Organization recognizes. Numerous insist that birth control pills can cause early abortion, a claim that has no backing in established medical science. "Women and young girls who are using hormonal contraceptives may be self-aborting their babies and do not even know it," one brochure warns.
One pamphlet I received, "Ten Reasons I Want an Abortion," raises potential reasons a woman would want to terminate a pregnancy, only to promptly and glibly dismiss them, one by one. Reason One alludes to the possibility of a pregnant minor facing threats or abuse ("I can't let my parents know—they'll kill me!"), only to reject such fears as unfounded. "Have your parents ever killed anyone before?" it asks patronizingly. "Unless they really are violent, you mean they will be very upset." Reason Six, "I was raped," puts ending a pregnancy on par with sexual assault: "Adding another violent act, abortion, to the horrible thing that has already happened to you will only complicate your healing process," it reads. "Don't allow the rapist to add to your emotional turmoil by causing you to end the life of an innocent child."
Having received my trove of misleading anti-abortion information, I exited Hartford Women's Center, past a group of clinic escorts who had volunteered to walk nervous patients past the line of protesters into Hartford GYN Center, and arrived back on the sidewalk, where a lone woman was still praying and making sporadic, frantic comments about the murder of the unborn to passers-by. In her hand, she was clutching a rosary comprised of beads that were meant to represent the Virgin Mary's tears; inside of each was a tiny, pink fetus.
The "abortion industry," she told me, is hugely profitable, raking in $1 billion a year. She doesn't watch the news and doesn't own a computer, she continued, but she has it on good authority that many of the patients at Hartford GYN Center were getting as many as six abortions a year. Reaching into her purse, she handed me a grainy photocopy of a St. Gerard's pamphlet claiming there's a link between the birth control pill and several types of cancer—something doctors intentionally overlook, she said, due to the devil's influence, or blind greed, or both. "Why do officials in the Obama administration want women to take dangerous drugs, some of which are life-threatening?" the photocopied document demands.
Her gaze turned upwards; the sky had brightened, and it was crisscrossed with just a few narrow clouds. "Do you see that?" she asked, her voice firm and earnest. "Chemtrails." As she began to rail about the way in which the government was injecting biological agents into the atmosphere with sinister intentions, I gingerly extricated myself from the conversation, dropping her photocopied brochure into the bag of informational materials I had received from the imposter clinic.
I do not doubt that numerous volunteers and "prayer warriors" who had flocked to the new St. Gerard's location genuinely felt they were doing the right thing: saving the mother from sin, saving the fetus from abortion. I think they believe all their own stories, the Biblical parables and anti-abortion propaganda materials alike. But it's reckless and dangerous to approach accepted medical science as one approaches faith—as if incessantly proselytizing about the grave dangers of abortion makes it true, or as though it's ever morally justifiable to deny care to women in need.
I thought of something Velasquez had told me as she showed me the ultrasound machine. She was explaining to me the story of St. Gerard, who, appropriately, is the patron saint of expectant mothers. When visiting a family's house towards the end of his life, St. Gerard dropped his handkerchief. A young girl, noticing it fall, tried to return it to him, but he instructed her to keep it, telling her it would be of service to her at some point. A few years later, she started having complications while giving birth to her first child; the doctors thought she might die. But then she recalled the handkerchief and asked that it be brought to her. When she pressed it to her stomach, the pain stopped immediately, and she survived and delivered a healthy child.
"[She] was in labor, and they were in danger of the baby dying—you know, in the old days, people used to die," Velasquez had said in an offhanded aside while relating this allegory to me. I was taken aback: American women still die in childbirth at an alarmingly high rate, the highest in the developed world. How could someone operating a facility that purports to help pregnant women not know that?
At the time, I'd thought it an absurd indication of the anti-abortion movement's selective concern for mothers, but I was suddenly struck with a sense of terror and sadness. How many women would go into the clinic assuming they were in the hands of trained professionals? And how long will it be before we see pregnant women as full humans, rather than passive beneficiaries of a miracle that relegates them to the margins of their own lives?