Photo by Justin Sullivan via Getty
Today, January 23rd, marks three days after Donald Trump was inaugurated as president, and two days after millions of women and men protested his presidency in hundreds of cities around the country. Yesterday marked the 44th anniversary of Roe v. Wade, the landmark Supreme Court decision that made abortion legal throughout the country. Today, Trump reinstated a Reagan-era abortion restriction while several aging white men looked on in approval.
Before Roe, abortion was completely forbidden in 30 states; in 16 others, it was legal only under very limited circumstances, most often rape, incest, or threat to the mother's health. There were only four states that guaranteed women the right to terminate unwanted pregnancies. According to estimates, hundreds of thousands of illegal abortions took place every year during the 50s and 60s, and abortion accounted for 17 percent of the maternal deaths per year as a result, with low-income women and women of color disproportionately impacted.
Read more: How Far Have We Come? Attending the Women's March as a Trans Woman
At the Women's March on Washington this weekend, nearly half a million men and women gathered to oppose Trump, many of them wearing pink hats that evoked cat ears in a sartorial response to the comments most sensible people thought would ruin the petulant businessman's candidacy, most of them furiously wondering how things had gotten this bad. There were women marching who had been alive before Roe, women whose parents hard marched on Washington in the 70s, women bearing signs that said they were marching to protect their granddaughters' futures. The youngest attendant I saw, asleep in her grandmother's arms amidst the chaos, was about two months old.
Those who chose to carry signs representing the urgency of protecting reproductive rights had a variety of symbolism at their disposal. Some opted for "KEEP YOUR TINY HANDS OFF MY OVARIES," while others carried images of militant uteri, ovaries outfitted with raised middle fingers or snake fangs. Another common image was the clothes hanger with a circle and a line through it: Never again.
The image of a coat hanger abortion is intentionally visceral, but I found myself upset for another reason: Earlier this month, a woman in Tennessee was convicted on a felony charge after she perforated her own womb with a clothes hanger in an attempt to induce a miscarriage. And today—two days after a sea of women inundated the streets of Washington, DC, bearing signs that promised we won't turn back the clock on women's rights—Trump reinstated the global gag rule, a harmful and life-threatening policy that bars US funding from going to foreign aid groups that even discuss abortion. The policy was first established in 1984.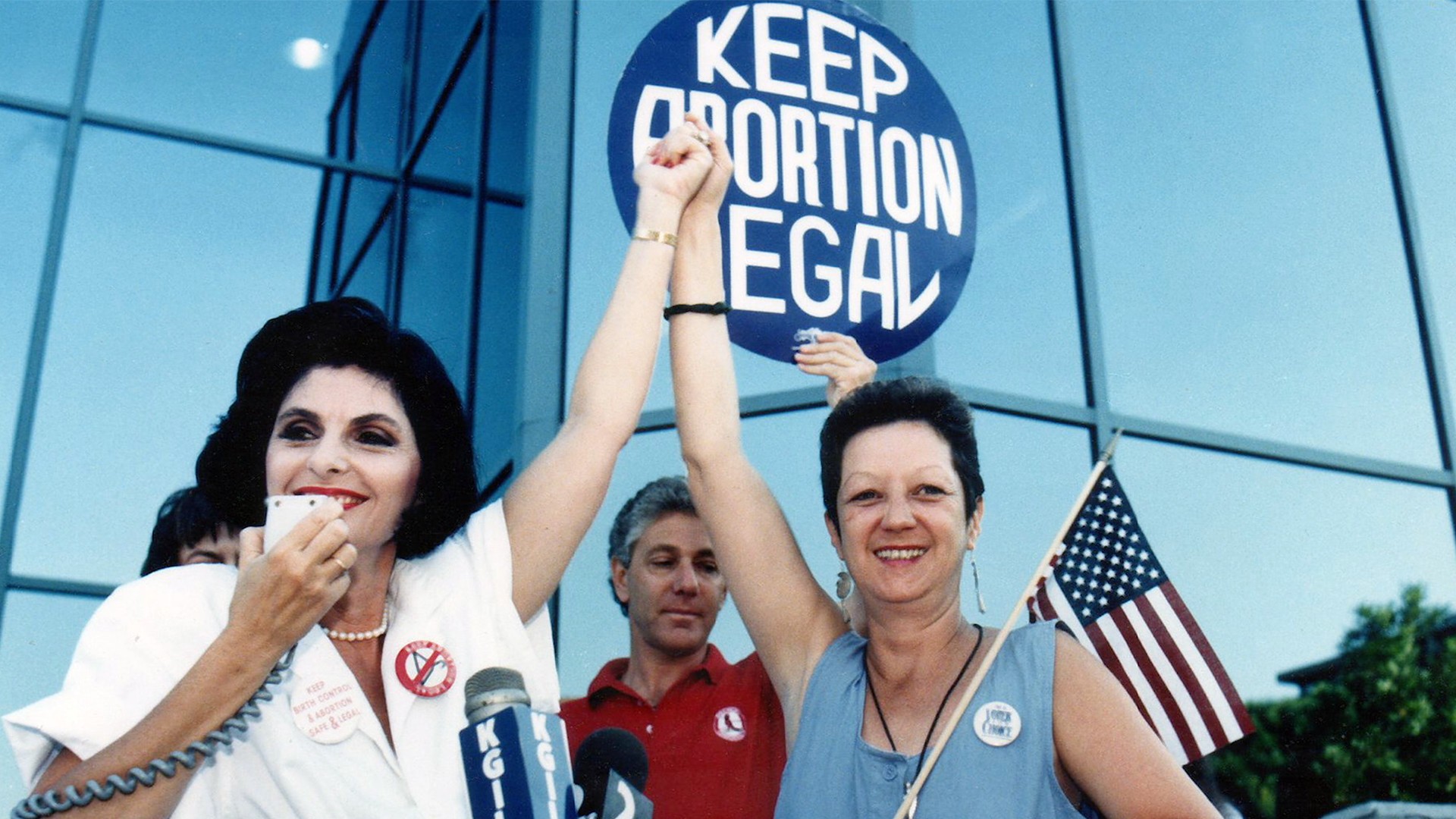 Never again feels like wishful thinking. We're now living in a world we swore we'd never return to—only now, the state is punishing women for their own desperation, while simultaneously working to bolster the conditions that create it.
Despite last year's landmark Supreme Court decision—arguably the most significant abortion ruling since Roe v. Wade—the steady onslaught of attacks against abortion access has continued unabated. According to the Population Institute's annual report on the state of reproductive health and rights, the situation has continued to decline: "a slippery slope that is quickly becoming a free fall," as the report puts it. Though the Senate was able to oppose attacks on reproductive health in 2016, they describe the outlook for next year as "bleak."
"Our future is more tenuous than it has been since that day 44 years ago," said Ilyse Hogue, the president of NARAL Pro-Choice America, in a statement yesterday. "We fully expect that [this administration] will use their power to dismantle, or even overturn, Roe v. Wade, and do what they can to appoint Supreme Court justices who share their worldview—one where women don't deserve basic rights and should even be punished for exercising them." According to a report released today by the Center for Reproductive rights, there are only 17 states in which abortion access would be secure were Roe overturned.
Our future is more tenuous than it has been since that day 44 years ago.
At the march, I spoke to a woman who had been working as an internist and OB/GYN for two decades—"Twenty years of taking care of women, all ages," as she put it. She wore a windbreaker and a sensible bob, as well as a pink sash expressing her solidarity with the Women's March. "I think this administration and this Congress is an unadulterated threat—very scary," she told me.
She talked about the attack on Roe, and the way limited abortion access will disproportionately affect low-income and marginalized women. "Someone made the statement that they can go to another state. That's ridiculous," she said. "If you put it back to the states, there's going to be large sections of this country where women have absolutely no access. And if they can't afford an abortion, they're going to get one illegally." Since 2005, here have been at least 17 cases of women prosecuted for trying to induce an abortion at home. At least 100,000 women in Texas have tried to terminate their own pregnancies.
I asked the doctor if she felt a sense of hope looking at the protest around her, which had clogged the streets of the capital to the extent that marching was impossible. In the middle of the throng, Planned Parenthood volunteers were taking donations and handing out pro-choice paraphernalia; later, the tightly-packed crowd would part to allow Planned Parenthood President Cecile Richards to pass, vibrant in a hot pink blazer, with a chorus of deafening cheers.
"I want to have faith in the American people," she said. "I hope I can."