While the White House moves forward with an initiative that would award federal grant money to school districts that want to arm teachers, the idea is nothing new to the state of Ohio, where teachers have been quietly arming themselves for years.
That's thanks largely to "FASTER Saves Lives," an organization founded in 2013, after the mass shooting at Sandy Hook elementary school left 26 dead, including 20 young children. It was created with the help of Buckeye Firearms Association, a second amendment group with long-standing ties to the National Rifle Association, and Ohio's Tactical Defense Institute, which offers tactical training to law enforcement, civilians and military, led by a Vietnam veteran and 37-year former police lieutenant John Benner.
"The rest of the country is finally catching up," said Joe Eaton, program director of FASTER, which stands for Faculty/ Administrator Safety Training & Emergency Response. "Same thing we saw after 9/11. Once we never would have imagined that we'd have armed pilots."
After Sandy Hook, Buckeye Firearms Association Chairman Jim Irvine, a former pilot, wrote a blogpost titled "Our children are dying for our insanity; It's time to emulate Israel's successful efforts to prevent mass killings in schools." In the post, Irvine, who has been the recipient of numerous NRA accolades including "Gun Rights Defender of the Year Award," reiterated his long-standing belief that having more guns in schools would defer potential attackers and offer a first line of defense in the event of a mass shooter.
Read: Here's all the states where teachers already carry guns in classrooms
Irvine also wrote to Ohio Attorney General Mike DeWine, a Republican, asking him to clarify whether state law gives local school boards the authority to decide whether to arm teachers or not. "Ohio law does not prevent a local school board from arming an employee," DeWine wrote in response. (The Buckeye Firearms Association donated $1,500 to DeWine's campaign for reelection the following year).
When it first launched, FASTER's pilot program offered training to 24 teachers and administrators from school districts across Ohio.
Today, the organization boasts that it's trained upwards of 1,100 teachers from 225 school districts across 12 states.
Eaton says the vast majority of trainees have been from Ohio, but others have traveled from other states including Oklahoma, Indiana, Kentucky, Tennessee, Pennsylvania and Illinois. The training also comes at no cost to participants, and is bankrolled mostly from private donations.
A recent VICE News analysis found that in at least 14 states, teachers in at least one school district are already armed. In many of those states, school boards aren't required to inform state officials if they choose to arm teachers. As a result, it's difficult to say definitively if Ohio has more armed teachers per capita than anywhere else. Texas education officials told VICE news that 172 out of the 1,031 school districts in the Lonestar State had armed teachers. Ohio education officials didn't respond to VICE News' request, but according to FASTER, school personnel from 76 out of Ohio's 88 counties have participated in their training sessions.
"The simulations were as authentic as you could get"
In 2017, the state of Ohio allocated about $100,000 to FASTER activities for Fiscal Year 2018, and $125,000 to Fiscal Year 2019. That stipend, according to FASTER'S website, helps pay for training and trauma equipment including tourniquets, compression bandages and chest seals.
The Mad River school district in Riverside, Ohio, signed up to the program in 2016.
"Bottom line, FASTER was a great experience," Mad River Superintendent Chad Wyen told VICE News in an email. "The simulations were as authentic as you could get and allowed for my staff to experience the mindset necessary to address/ confront a threat."
Read: Why schools can't expect "a guy with a gun" to stop school shootings
Wyen said he heard about FASTER during the Ohio School Boards Association Capital Conference in the fall of 2015. Today, Wyen says that there are 32 members of staff across the district's eight schools with access to firearms, which are "strategically placed" in safes in every building.
"When you have a resource officer, you only have one person that has the ability to confront a threat," said Wyen. "Multiple people who are able to respond with the same level of training and ongoing training as a typical resource officer simply makes more sense for us."
CBS News ran a segment in September about a FASTER training session. Principals, teachers and other school personnel are seen toting long rifles and pistols, navigating makeshift corridors, and firing at targets. They're instructed how to take down a gunman, and then tend to wounded students. In the segment, one participant hit a target that represented a student.
"We might take one. But we might have saved 30 or 40 other kids"
A principal interviewed by CBS acknowledged that there was a risk of a teacher accidentally shooting a student in the chaos of an attack. "We might take one," the principal says. "But we might have saved 30 or 40 other kids."
Sheldon Greenberg, a professor at the Johns Hopkins University School of Education and a former police officer, recently published a paper weighing the evidence and implications of arming teachers. One of the things he looked at was accuracy rates among police officers. "Police officers, trained and committed to using firearms, do not shoot accurately in crisis situations," Greenberg writes. "Teachers will be less effective in doing so."
One 2008 RAND study of New York City firearm discharges found that officers shot accurately between 18 and 30 percent of the time.
But for many school districts, arming teachers is also a more cost effective option to hiring a school resource officer, who don't come cheap with an annual salary of about $50,000 a year.
"A lot of it is economics. Schools are cash strapped enough," said Eaton. "Every year they have to make decisions, like hire an English teacher or enhance safety."
FASTER opened up shop in Colorado in 2017 through Coloradans for Civil Liberties, another pro-gun advocacy group, and held its first training session last summer.
But Laura Carno, who heads FASTER Colorado, says that teachers from about 25 school districts in the state participated in that training.
"We train teachers to have a firearm on their person, concealed, never seen by a student," Carno said. "Some schools in Texas have their firearms in biometric safes. We think it takes too long to get to the safe, god forbid something happens."
Carno says she's not aware of any situations where a teacher who'd undergone FASTER training had to respond to a shooting — but she thinks at least it works as a deterrent. When asked how a potential shooter would be deterred by armed teachers if a school hadn't publicized the fact, Carno responded that many schools put up signs saying "teachers may be armed."
FASTER touts its high standards of training, which is 26 hours over three days, that they say "exceeds the requirements of the Ohio Peace Officer Training Academy."
For skeptics, that doesn't cut it. "Putting someone through a course — an introductory course — even a few times, is orientation. It's not embedded training," said Greenberg. "A police officer is trained and retrained multiple times during the year. They practice on their own consistently."
Then there's also emotional readiness. "A police officer has a gun and is prepared to use it," Greenberg said. "She or he is committed to taking a life, and risking his or her life."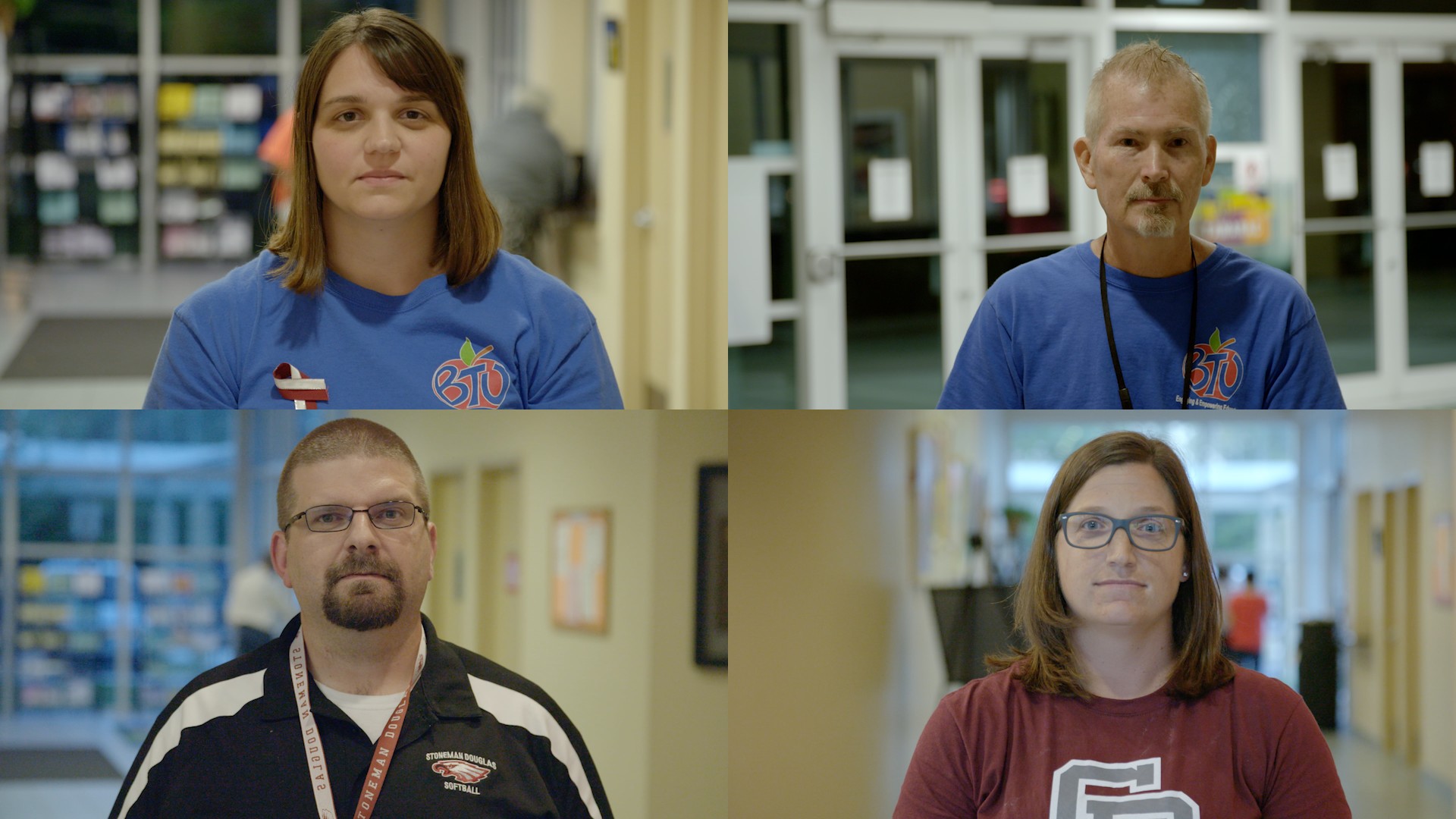 Cover image: Teachers and school personnel in Ohio participate in FASTER training in July 2013. Photo courtesy of Joe Eaton, program director of FASTER Saves Lives.