A portrait by photographer Nabeela Vega, from the series "Visiting Thahab." All photos courtesy SOMArts
Queerness and Islam have long been intertwined, even if the average outsider now sees them as incongruous or irreconcilable. Even in the 13th and 14th century, Islamic mystical poet-theologians like Rumi and Hafiz wrote odes about queer love. And though the struggle to see acceptance of queer Muslims is ongoing, a growing movement of contemporary art from queer Muslim and Islamic perspectives is helping to bridge the two worlds today. With The Third Muslim, a new exhibit at San Francisco's SOMArts, those perspectives are brought closer than ever before.
Running through February 22, the show features 15 artists working in a variety of mediums, from fashion to painting to poetry. Contributors include photographer Samra Habib, who created the Queer Muslim Project, which documents the portraits and stories of queer Muslims; Ayqa Khan, known for illustrations that normalize body hair; disability justice activist Kiyaan Abadani, and more.
The "third Muslim" is a reference to the many identities both assumed and transposed on queer and trans Muslims, who inhabit a third space outside notions of a monolithic Islam and cisgendered, white, able-bodied queerness. Curator Yas Ahmed relates the idea of creating meaning through third spaces to the Islamic concept of itijihad, which loosely interpreted means an ongoing practice of critical thinking and spiritual examination. "In many ways, this exhibit is overdue," said Ahmed.
VICE spoke with Ahmed, a writer and co-founder of the Muslim Alliance for Sexual and Gender Diversity, and co-curator Zulfikar Ali Bhutto, an artist, drag queen and performer, about their experience putting together a show that's as challenging to its audience's perception of both queer and Muslim identities as it is a showcase of beautiful work.
VICE: How did you conceive of this exhibit?
Yas Ahmed: We met through mutual friends within the queer and trans* Muslim community during the summer of 2016. We talked about art, activism, identity—and then began collaborating in earnest for about a year and a half.
Zulfikar Ali Bhutto: Our friendship was fairly new, but it made sense. Both of us come from multi-racial/multi-ethnic backgrounds, we both identify with queerness and Islam, and we had been devoting time towards that. The idea came from a need to find community. Muslims in general, and queer and trans Muslims specifically, are often judged, silenced, and vilified in the media. We have voices and we can speak for ourselves. When we saw the call for a SOMArts Curatorial Residency, we knew our opportunity had arisen.
What has been your reaction to attention the show has received thus far?
YA: Queer and trans* Muslims have been "sexy"—timely, resonant, compelling—in the media, in funding, etcetera, for a minute. So I think it makes sense. With increased visibility comes increased responsibility. We're continually pushing back against monolithic or reductive notions of what it means to be queer and/or trans* and Muslim. It's a discursive shift where queer and trans* Muslim voices speak for themselves, to wider audiences. The culture is changing.
ZAB: We are caught between creating visibility around queerness and Islam, while maintaining safety and security. We can't guarantee that we'll do everything 100 percent right, or that this show will strike every chord within the queer and trans* Muslim, ex-Muslim, half-Muslim, it's-complicated-Muslim psyche. But we want to ensure that the artists are represented in a way that they feel comfortable with.
It's hard to say if all this attention is another way of co-opting our movements and our struggles. Could it also be a way of assuaging guilt from colonial rule, the brutal war on terror? Being queer does not put us in opposition to people of our religion or culture—it just means we have an extra weight to carry.
The attention reveals a few things, not all super positive. One thing it does reveal is that Queer and trans* Muslim cultural producers are ready to be a part of something bigger, we are self identifying and also redefining queerness, we are owning it as an idea.
---
Watch Broadly profile an Islamic feminist cult: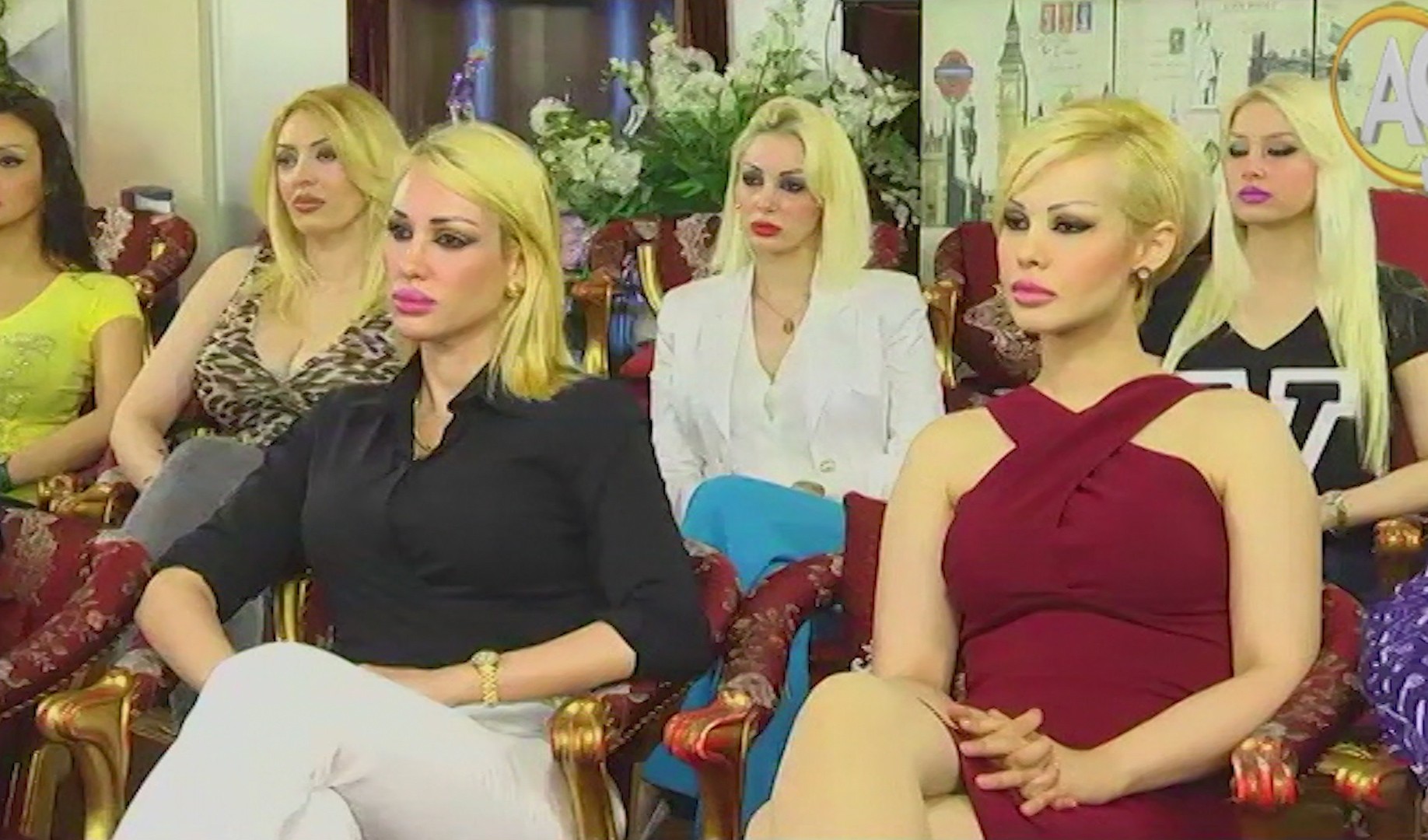 ---
Can you take us through the exhibit? How did you set it up?
YA: We wanted people to really "feel" the different dimensions of the stories as they walked through the exhibition. This is, in part, why the exhibition includes literary art in the form of poetry, mixed media visual art using textiles, fabric and paint, video and photography, and several soundscapes.
ZAB: When people enter the gallery, they can see the breadth of the show. The first works of art you see have a very intentional gaze, a stare both confrontational and compelling. Each piece breaths on its own, while in dialogue with the pieces around it.
Do you see some common themes in the show's artwork?
YA: Each piece tells different stories. Many of them reflect the ethnic heritage or heritages of the exhibiting artist. Many explore the hyphenated identities of the artist, and displacement, both literal and figurative.
Is this the first exhibit of its kind in the US?
ZAB: As far as we know, this is the first of this scale. I find it hard to believe that queer and trans* Muslim artists have not gathered to show their work before. We may not have had this kind of platform, to not only have a month-long exhibition in one of San Francisco's largest single exhibition spaces, but also have three free public events. The difference now is that we are actively documenting what we are doing, so that in the future, there is a tangible archive for people to build from.
How did your art-activism develop?
YA: That's such a tough question! There are too many people to name comprehensively. My go-to writing influence has been James Baldwin. In his text, his fiction, his analysis, there is always something else to uncover for me. In music, Stevie Wonder and Bill Withers. Historical fiction. Les Feinberg, a white, working class transgender anti-zionist Jew, broadened my understanding of allyship. These days, I'm inspired by Afro-futurism—and Kiese Laymon, Colson Whitehead, the venerable Octavia Butler. Afro-futurism invites us to imagine differently.
My activism is mostly influenced by the mandate for it.
ZAB: Very tough question. I was raised in a left-wing, and by US standards, incredibly radical environment. My father's side has been a part of Pakistani politics since even before the creation of the state of Pakistan; my mother's side of the family were all active in the Lebanese Communist Club. Some of my father's family worked deep within the Pakistani political establishment, whereas others, like my father, were far more on the margins. He worked at a grassroots level, campaigning against police brutality and the treatment of minorities in Pakistan. He was exiled from Pakistan—my sister and I were born in Kabul and Damascus respectively. When he came back to Pakistan, he was arrested, released, and then killed outside our home when I was six years old. Previous and later assassinations in my family shaped the way I see activism and the need for political change.
Even a family trip to Lebanon in 2006 turned into a defiant act when Israel invaded—we made the conscious choice to stay and simply exist through the length of the war. A ceasefire eventually forced Israel out.
I carry these histories with me. They are a part of who I am and the way I move in world. I consider my positionality as a Queer Muslim and my activism as an extension of the work my family has done, as well as those who have come before us. Sign up for our newsletter to get the best of VICE delivered to your inbox daily.
Follow Aditi Natasha Kini on Twitter.