Later this year, emoji users around the world will finally have a symbol to text about emotional support peacocks, anatomically correct lobsters, and gingers. But there's one group that hasn't received any love from the emoji creators over at the Unicode Consortium—interracial couples.
On Tuesday, Tinder announced it would be launching a campaign to champion this group, working to get the folks over at the Unicode Consortium to design a new batch of emojis that would be representative across numerous skin tones and genders. The dating app sent over an official proposal detailing 21 different designs, including three skin tone additions to the "Couple with Heart" emoji.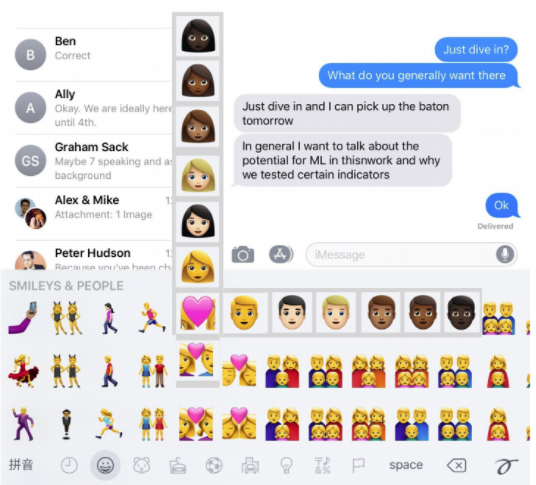 The proposal is co-authored by a team that includes Reddit co-founder Alexis Ohanian and Jennifer 8. Lee, who helped get the dumpling and hijab emojis into our phones. They wrote that "the lack of representation for diverse racial identities is a significant issue in an increasingly globalized society."
Alongside the proposal, Tinder has also kicked off a campaign asking people to sign a Change.org petition to move the process along and post pictures of their own interracial relationships. The project follows a recent survey that suggests the surge in dating apps since Tinder's 2014 launch correlates with an increase in interracial marriages. There's also a study that suggests people who use emojis have more and better sex, so this is firmly in Tinder's wheelhouse.
"At Tinder, we believe that no one should ever feel unrepresented or unseen," the campaign reads. "Love is universal, and it's time for interracial couples to be represented in our universal language."
Tinder's campaign follows the many others aimed at getting the Unicode Consortium to include more representative symbols, like the Muslim teenager who called for a hijab emoji in 2015. That year, the emoji lexicon added same-sex couples and five different skin tones, so you'd think Tinder's proposal wouldn't be too big of an ask. Maybe the folks over at Unicode Consortium can find some time to stop fighting over the frowning poop emoji and work on getting couples of all kinds represented in the burgeoning digital language.
Sign up for our newsletter to get the best of VICE delivered to your inbox daily.