Last month, Taco Bell rolled out a series of ads featuring the "Belluminati," a fictional organization that pokes direct fun at, uh, another mythical, all-powerful entity: the Illuminati.
"Is it the Illuminati or the Belluminati?" a narrator asks ominously in one commercial. The ads promote the fast food chain's vast array of menu items that'd been marked down to $1 each, from cheese- and beef-stuffed "stackers" to caramel apple empanadas.
Country singer Charlie Daniels, an octogenarian who's also got quite a lively Twitter presence, would like Taco Bell to know that it's foolish to speak about the Illuminati so glibly. After all, they could be watching.
Daniels, whose band might be best-known for the 1979 bop "The Devil Went Down to Georgia" (which, let's be clear, still slaps decades on), issued a rather a stern warning to Taco Bell via Twitter on Monday. His tweet is structured like a poem, with a line break and no punctuation: "Hey Taco Bell / The Illuminati is not a frivolous subject."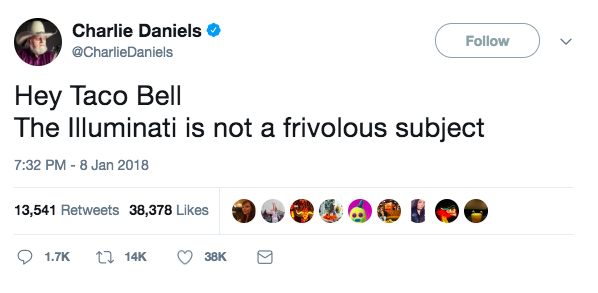 The tweet has no surrounding context, though it's quite likely that Daniels is referring to Taco Bell's Belluminati ads. MUNCHIES has reached out to Daniels for further comment regarding this matter and has yet to receive a response.
"On the Charlie Daniels front, Taco Bell does not have any comment," a Taco Bell representative wrote MUNCHIES Wednesday afternoon. Noted.
As Huffington Post reported on Wednesday, this is far from the first time Daniels has voiced his concerns about ominous organizations like the Illuminati, that fabled secret society that allegedly controls the world of mortals as if we were marionettes. Take a look at this verbose Facebook post from 2014, wherein he works through his suspicion over whether such an organization actually exists.
READ MORE: The Truth Behind the KFC Painting Twitter Conspiracy
"I don't know how much, if any, of the theory is true, an international mafia-like organization meeting in secret to decide the direction of world governments," he wrote, noting later on in the post that "the whole enchilada is a little too much for me to swallow."
Enchilada. Interesting choice of words there, my man. Make of that what you will.