Photo by GIC, via Stocksy.
Writer Emma Koenig compiled Moan: Anonymous Essays on Female Orgasm from her informatively-named Tumblr page, "How to Make Me Come." Despite being based on a task-based prompt, though, the essays it includes are far beyond instructional.
The personal narratives were anonymously submitted to Koenig in response to her popular blog's titular prompt, but delve into content much more complex than mere climax—providing readers with self-aware articulations of wavering emotions, personal growth, and reflective analysis on romance. Through the unabashed pieces, the authors share their journeys of discovering, naming, and demanding fulfillment of their desires, revealing how they shifted through internal and external constructions of sexual yearning and womanhood to uncover their own pleasure patterns.
Moan, which was released in late May, is divided into six steamy sections: Foreplay, Harder, Softer, Deeper, A Little to the Left, and The Afterglow. Collectively, they work to form a picture of the hurdles women face in their quests to achieve, sustain, and ask for orgasms. And in doing so, they grapple with some of the trickiest components of sex: unashamed masturbation, honest communication with partners, and reciprocal, mutually-orgasming intimacy.
As I read the collection, I found myself laughing out loud, tearing up, pausing to masturbate, rethinking my sexual education, reconsidering my romantic timeline, making connections across previous partners and desires—internally writing my own version of "How to Make Me Come."
When I shared this reaction with Koenig (author of another Tumblr-page-turned-publication F*ck! I'm in my Twenties!), she pointed out: "Hopefully, the work of discussing sex comes from a similar emotional place as sex itself." Which makes sense. The best writing about sex ideally mirrors the act, in turn causing readers to be turned on, sweaty, contemplative, and ultimately liberated.
And like the reality of sex, Moan's emotional tenors range widely, including sadness, joy, mourning, discovery, delight, nostalgia, humor, and contemplation. Throughout, the authors are undoubtedly the experts of their own emotion and sensation—something that women are too rarely trusted to be—as they lead the reader through a wide range of sexual encounters.
For one writer, climax started as young as age six. She describes rubbing herself, constantly, through fabric, "the thicker the better: mere underwear would have me reaching for the nearest stuffed animal to hump like a Care Bear molestor." Another is still grappling with performance, regularly faking orgasms: "I have a confession to make…I haven't been completely honest with, say…70 percent of you. You were led to believe that you made me orgasm and I'm so sorry to say…you did not…ahem…cross the finish line." Others find themselves attempting climax while unpacking religious shame: "I'm learning that I won't be banished to hell for touching myself, for showing you what I want, for communicating these things. I won't go to hell for having an orgasm."
There are stories of women who have only come once in their lifetimes, and others who can come multiple times a day—and we see the curses and glory in each experience. One contributor buys vibrators in an attempt to achieve self-love. Another touches herself and asks her partner to replicate that caress. We follow along as sex between contributors and their partners is reinvigorated, and then weakened, and then invigorated once more. Through the peaks and nadirs of partnership, we see moments of what can be shared and what still remains secretive: "I know she likes fucking me rough and hard, and wonder why she will only do it when she's drunk. Maybe she's embarrassed too?"
---
Watch: Alia Shawkat on Making a Sexy Film That's Not About Sex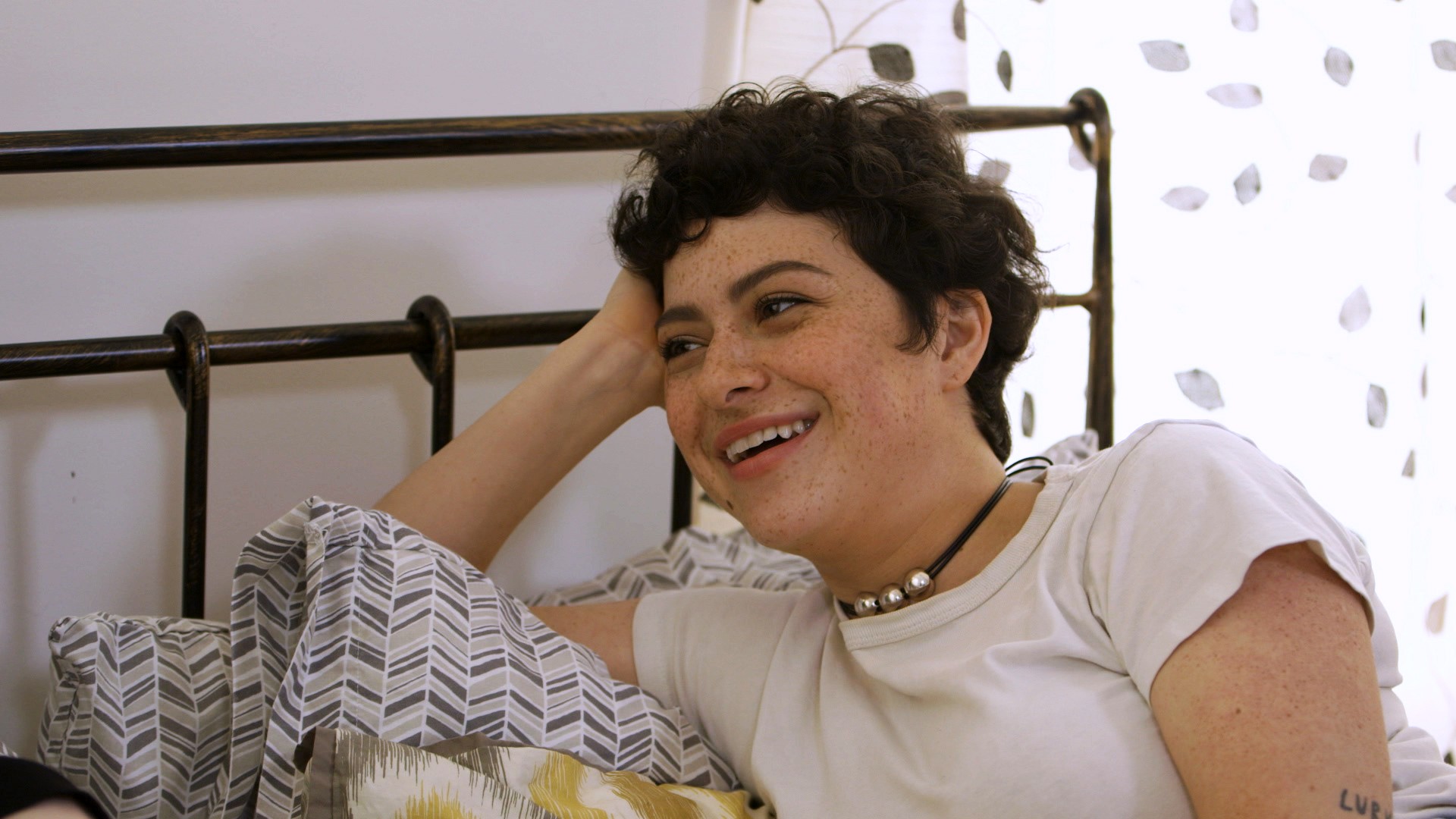 ---
Moan readers are invited into the privacy of the authors' bedrooms to discover what hidden desires they might share with the writer, or what unnamed proclivities the writer might give them the language to articulate. "There is something about sex that is unlike any other interaction we've had in our lives," says Koenig, "where I feel like there's a sort of special aura around it because you get to experience a certain kind of connection and embody a certain version of yourself that you probably don't get to feel or be with other people in your life."
Which is perhaps what makes this essay collection so compelling; these narratives are so devourable because of what they reveal, as Koenig knows: "Sex exists in this sort of outsider territory." In that realm, these narratives do not disregard the complicated shame and fear that many women experience in the pursuit of orgasm. In fact, the collection centers that shame: The book begins with Koenig unpacking a negative sexual experience. And if the #metoo movement has taught us anything, it is that most female readers will have experienced something similar to what Koenig did:
"I emerged from the basement feeling confused about certain plot points in Rocky Horror and conflicted about my over-the-sports-bra experience. I thought I had liked what was happening. It was exciting and fun to be touched in this way. And yet, it felt fairly ordinary—like things had unfolded exactly as they were supposed to. But I had no emotional or physical reference point for sexual experiences. So while it was easy to feel good during it, I wasn't sure how I was supposed to feel after it. When my mom picked me up that night, my face was red. It was as if my whole body was broadcasting that someone touched my boobs. Or 'boobs.' All of a sudden, I went from feeling in control of my destiny to feeling really guilty and uncomfortable."
The shame she felt that night was, in part, what eventually inspired Koenig to compile Moan, an attempt to understand sex—and all the rich and uncomfortable grey areas around it—by gathering similarly honest stories from a range of women. Over the course of three years in her twenties, she reached out first to her community—and then beyond—to solicit personal stories of female orgasm. "I found myself saying, wow I've never felt that way—and, this person feels this way all the time…which is just a reminder of how similar we can be and how different we can be.…We all have such rich sexual lives in our minds—the way that we experience sex in the world, that we don't always get to express or articulate."
And what makes those articulations feel particularly invigorating is that they don't exist simply for the sake of sharing (which of course, has its own kind of value), but actually teach us about ourselves in intimate and actionable ways. Koenig recently went on a "mini book tour" to New York and LA, both places she lived in while compiling the book. After reading from the anonymous collection, "people have said to me, 'it sounds like you're reading your own writing,'" she says, "which is really interesting, because these do feel like they are part of me—and I've read them hundreds of times. The book is in me."
It follows that these essays about our bodies—these tales of trial-and-error, joyous release, extremely specific guidelines on how to touch and be touched—not only remain within the reader's memory, but become embodied as well. At least, they did for me.