Getty Images
Donald Trump travels to the G-7 meeting in Quebec Friday seemingly at war with more than half leaders in the group made up of the world's most advanced industrial economies.
French President Macron and Canadian Prime Minister Justin Trudeau were the target of Trump's Twitter ire Friday, the U.S. president barking at two of America's oldest allies over trade.
Having considered pulling out of the summit entirely, according to reports, Trump instead decided to go into the meeting wildly flailing.
"Please tell Prime Minister Trudeau and President Macron that they are charging the U.S. massive tariffs and create non-monetary barriers," Trump tweeted. "The EU trade surplus with the U.S. is $151 Billion, and Canada keeps our farmers and others out. Look forward to seeing them tomorrow."
Trump was responding to an earlier Macron tweet that said: "The American President may not mind being isolated, but neither do we mind signing a 6 country agreement if need be. Because these 6 countries represent values, they represent an economic market which has the weight of history behind it and which is now a true international force."
Trump followed up with two more tweets, calling Trudeau "indignant" and warning the European Union and Canada: "Take down your tariffs and barriers or we will more than match you."
The rant continued:
As well as fighting with his supposed allies, Trump also lamented the absence of Russia, which was kicked out of the group for its annexation of Crimea in 2014.
"You know, whether you like it or — and it may not be politically correct — but we have a world to run and in the G-7, which used to be the G-8, they threw Russia out. They should let Russia come back in," Trump said as he arrived at the venue Friday.
The spat is symbolic of a growing discord between Trump's binary, winner-take-all, nationalistic economic worldview and the existing system of economic interdependence favored by much of the rest of the world. Tensions ahead of the summit were sparked by the heavy steel and aluminum tariffs imposed by the White House on U.S. allies.
READ: Trump will meet Kim Jong Un on an old pirate island covered in golf courses
Trump reportedly told aides he didn't want to go to the summit, predicting that nothing substantive would come from the talks. When he was told nonattendance would look like a retreat, Trump decided to go, although he will leave before the sessions on climate change and the environment to prepare for next week's meeting in Singapore with North Korean leader Kim Jong Un — an event Trump considers of far more consequence.
While Trudeau and Macron are the most recent recipients of Trump's wrath, his relationship with several of the G-7 attendees have also been soiled.
The German chancellor told parliament this week that "it is apparent that we have a serious problem with multilateral agreements here, and so there will be contentious discussions."
The Washington Post reports that Trump has complained to advisers about having an "uneasy rapport" with Merkel, which is unsurprising given the two leaders have diametrically opposing views on trade.
The bromance that blossomed when Macron visited the White House was but a fling. And now it's over. Having said earlier this month that Trump's tariffs were "based on a lie," the French President's tweet on the eve of the G-7 meeting shows that Macron's tactic of playing along with Trump in Washington failed.
The pair are due to hold one-on-one meetings at the G-7, but it is unlikely that perennial grudge-holder Trump will be able to get beyond the shade of Macron's Thursday tweet.
The British prime minister was the first international leader to visit Trump in the White House, eager to secure the U.S.-U.K. relationship as Brexit loomed. But like Macron, May's relationship with the former reality TV star has soured. The Washington Post reported that Trump views May as "too politically correct," while the Telegraph says the president is "tired" of May's "school mistress tone." Trump is also unhappy about May's willingness to criticize him in public.
The pair will not hold one-to-one formal talks in Quebec, a further signal of the breakdown in relations.
The Canadian prime minister will be eager to make all attendees feel welcome as host, but he and his Liberal government have become increasingly exasperated in their dealings with Trump's White House.
In a recent phone call between the two leaders Trump mistakenly claimed that Canadians were responsible for burning down the White House in 1812 — when Canada didn't even exist.
Trudeau has also publically hit out at Trump's tariffs: "It is simply ridiculous to view any trade with Canada as a national security threat to the US," he said.
Trump's closest ally within the group, the Japanese prime minister met with the U.S. president in Washington Thursday to discuss regional security and the upcoming summit with Kim.
Abe, who wants reassurances from the White House that Japan's interests will be taken into account in any deal struck with the North Korean dictator, was eager to show his admiration for Trump. "I would like to pay my deep respect to the outstanding leadership of President Trump, as he made this decision that no past presidents were able to accomplish," he said.
The Italian prime minister was only confirmed in his new role this week, and will be meeting his fellow leaders for the first time.
The G-7 will be the first chance for Conte to present the foreign policy of Italy's new coalition government to the world. Unfortunately, what that policy is remains sketchy, with Conte tasked with advocating for the disparate views of his coalition partners, from the Northern League's pro-Russia and anti-EU stance, to the anti-establishment Five Star Movement, which doesn't quite know what it feels about Europe.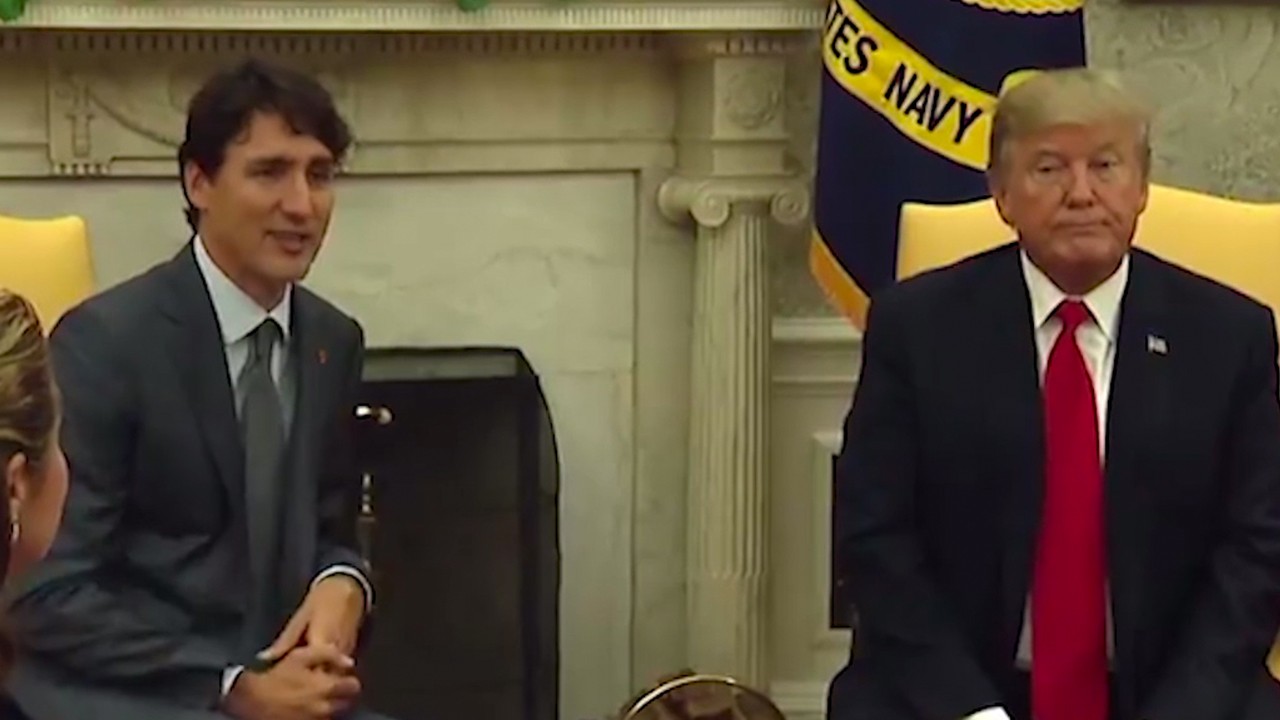 Cover image: Donald Trump at his joint press conference with Prime Minister of Japan Shinz Abe, in the Rose Garden at the White House in Washington, D.C., on Thursday, June 7, 2018. (Cheriss May/NurPhoto via Getty Images)