Last week Facebook CEO Mark Zuckerberg gave more than 10 hours of testimony before Congress. During questioning before the House Energy and Commerce Committee, Rep. Eliot Engel (D-NY) asked Zuckerberg about hate groups scraping data from users.
"We do not allow hate groups on Facebook," Zuckerberg replied. "If there's a group that their primary purpose …is spreading hate, we will ban them from the platform." That Friday, Facebook kicked prominent white nationalist Richard Spencer off its platform.
Muslim Advocates, a civil rights advocacy group focused on Muslim issues, was happy to hear Zuckerberg promise to run hate groups off of Facebook and even more happy to hear of Spencer's removal. But it doesn't think Facebook has gone far enough.
"In December of this past year, we sent [Facebook] a list of 26 groups. At least 24 of them are still up," Madihha Ahussain, Special Counsel for Anti-Muslim Bigotry for Muslim Advocates, told me over the phone.
A Facebook spokesperson confirmed to Motherboard that the company has been in contact with Muslim Advocates and that Facebook uses "a combination of signals to determine whether an individual or entity should be designated a hate organization".
Ahussain told me Muslim Advocates has been talking with Facebook for years about how to handle hate groups on its platform. Of the 26 names on the list, 21 appear on the Southern Poverty Law Center's list of anti-Muslim hate groups.
ACT for America is at the top of the Muslim Advocates list. Its Facebook page is followed by more than 150,000 people and it spends a lot of its time posting stories about Muslims who commit crimes, regardless of where it happened in the world. While Motherboard found nothing there that blatantly violates Facebook's policy, the company did tell us it considers what a group is doing outside the confines of its platform when deciding if it's going to ban it. Outside of Facebook, ACT pushes anti-Muslim legislation and holds "anti-Sharia" marches. Both the Southern Poverty Law Center and the Anti-Defamation League recognize ACT for America as a hate group.
"ACT for America has never, and will never, tolerate any bias, discrimination, or violence against anyone, based on their religion, gender, race, or political persuasion," ACT for America told me in a email.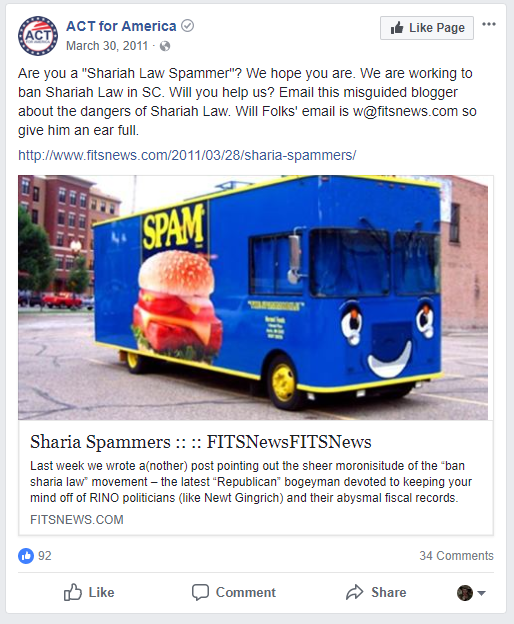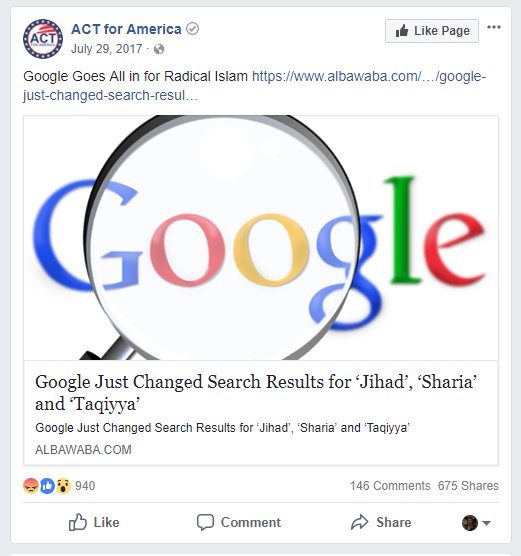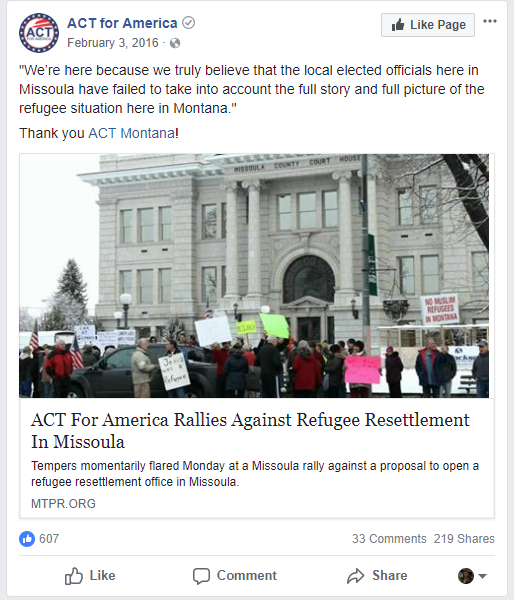 Facebook also hosts dozens of pages for the Soldiers of Odin and its various affiliates. The group started in Finland as an anti-immigrant street gang that has taken it upon itself to "police" migrants in Europe. Since 2015, the group has grown with dozens of affiliates in Canada and the United States.
That pages like these stay up after Zuckerberg told Congress hate groups are not allowed on Facebook is frustrating to Ahussain and Muslim Advocates. "There's always conversation," she said. "But there's little action to backup this notion that hate groups aren't allowed on the platform…even when we do report it to you, we can see that at least four months later, they're still up."
According to Facebook's Help Center, the company defines hate speech as "Content that attacks people based on their actual or perceived race, ethnicity, national origin, religion, sex, gender or gender identity, sexual orientation, disability or disease is not allowed." According to Facebook's community standards page, "Organizations and people dedicated to promoting hatred against these protected groups are not allowed a presence on Facebook."
Muslim Advocates believes the groups on the list it shared with Facebook are hate groups that promote discrimination against people based on their race, ethnicity, national origin, and religion. Ahussain thinks that should be enough for Facebook to act.
"These groups have already been identified as hate groups by well-known experts that are saying these groups are anti-Muslim," she said. "That should be guidance that they should follow. If they're not going to follow that then there needs to be transparency about what they're doing and what they're expecting from groups like ours, advocacy groups that have already identified these groups to them."