Moscow's narrative around the recent chemical weapons attack in Douma took another twist Tuesday, with a Russian military figure claiming troops had found a chemical weapons laboratory and stockpile in the Syrian town — but that it belonged to an Islamist rebel group.
The shifting story comes as international weapons inspectors Wednesday continued to push for access to the site of the attack.
Speaking on Russian state TV, Alexander Rodionov, from the Russian military's chemical weapons protection unit, said his team had found chlorine and components for producing mustard gas in the laboratory of the rebels, who were driven from Douma by a brutal regime assault.
Top Russian officials had claimed that the deadly April 7 attack never actually happened, and the attack was faked by the medical charity the White Helmets, at the behest of Britain, as a false flag attack to provide a pretext for attacking Syria.
The U.S., Britain, and France say that the Syrian government was responsible for the attack, and carried out missile strikes Saturday in retaliation. The World Health Organization, citing medical partners on the ground, has said that 43 of the dead had symptoms "consistent with exposure to highly toxic chemicals." About 500 total people were affected.
A team of international inspectors from the Organization for the Prohibition of Chemical Weapons arrived in Syria Saturday, but as of Wednesday had still not been able to begin its work in Douma, on the outskirts of Damascus. Reuters reported that the team of inspectors had encountered a security issue and was unlikely to gain access to the town Wednesday.
READ: U.S. believes Russia is tampering with chemical weapons evidence in Syria
The delay has prompted accusations that Syria and its backers are deliberately attempting a cover up the attack. The U.S. accused Russia Monday of blocking inspectors from reaching the site and said evidence may be being tampered with, while France said it was very likely that the evidence was disappearing.
Russia has denied tampering and blamed the Western missile strikes for the delay.
Meanwhile, Israel indicated Tuesday that further military action against Iranian forces in Syria could happen, a development that would further complicate the seven-year conflict. Israeli media ran satellite images and a map showing what it called an Iranian "air force," using civilian planes to transport weapons in Syria, signalling the sites could be targeted amid growing tensions with Tehran.
Israel, which borders Syria, has been increasingly concerned about the actions of Iran, its nemesis and a key backer of the regime of Syrian President Bashar Assad, in the conflict. Iran, Syria, and Russia accused Israel of carrying out strikes on a Syrian airbase on April 9 that killed seven Iranian soldiers, with Tehran vowing to retaliate.
Israeli analysts said the publication of the sites was intended to telegraph to Iran that the sites would be targeted if it took action against Israel.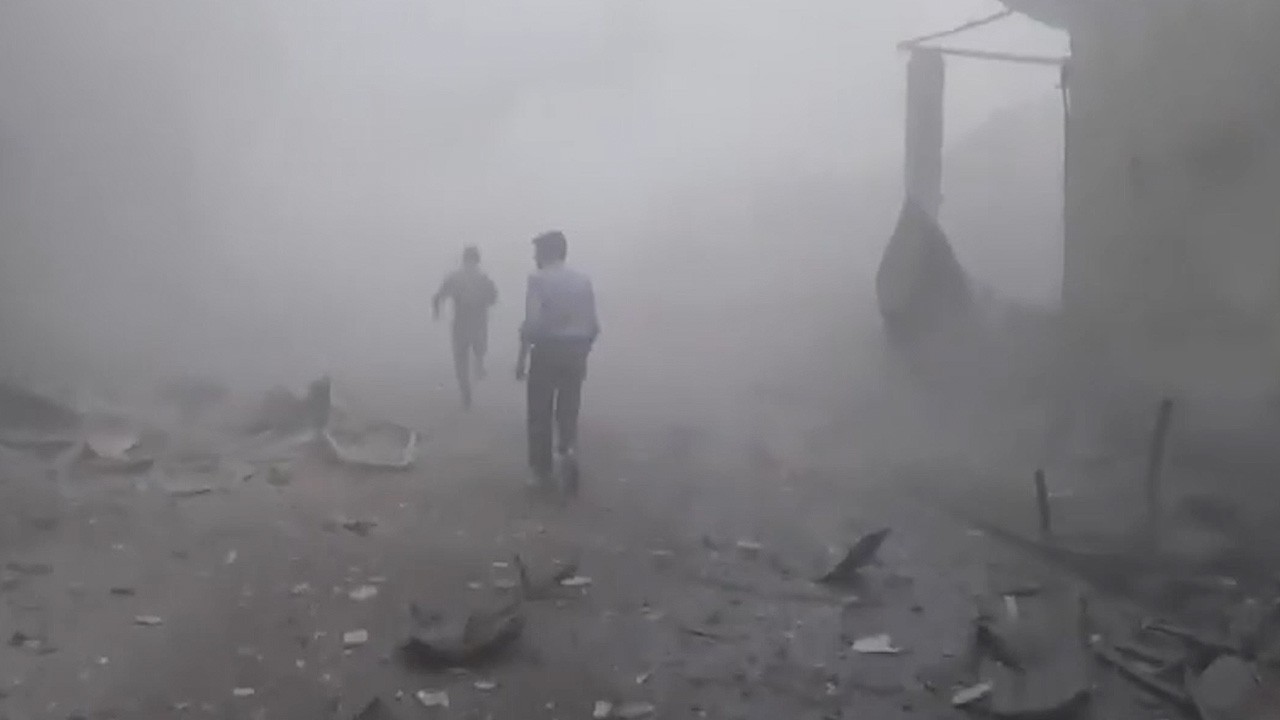 Cover image: An affected Syrian kid receives medical treatment after Assad regime forces allegedly conducted poisonous gas attack to Duma town of Eastern Ghouta in Damascus, Syria on April 08, 2018. (Mouneb Taim/Anadolu Agency/Getty Images)