Getty Images
Donald Trump wants to withdraw U.S. troops from Syria — and replace them with a joint military force from neighboring Arab countries, according to a report.
The Wall Street Journal, citing unnamed officials, reported Monday that U.S. officials had approached Saudi Arabia, Qatar, Egypt, and the United Arab Emirates about contributing troops and funding to establish the regional force.
The force would be tasked with securing the large stretch of Syria east of the Euphrates River currently controlled by U.S.-backed local Arab and Kurd troops, to prevent the territory falling into the hands of a resurgent ISIS or Iranian-backed forces once American troops depart.
President Trump referred to the outreach to Arab nations Friday, as he announced missile strikes on Syrian targets to punish the Bashar Assad regime for a reported chemical attack.
"We have asked our partners to take greater responsibility for securing their home region, including contributing larger amounts of money," he said.
The U.S. has about 2,000 troops in Syria engaged in the war against ISIS, and backs a force of Arabs and Kurds that has regained a large stretch of the country from ISIS, including valuable oil and gas fields.
Trump has repeatedly spoken of his determination to defeat ISIS — but in recent weeks has also said he wants to bring the troops home as soon as possible. The White House said Sunday that advisers had persuaded him to give the troops another five or six months to complete the mission.
"America does not seek an indefinite presence in Syria," Trump said in comments Friday. "It's a troubled place. We will try to make it better. But it's a troubled place."
Analysts have warned against leaving before ISIS is truly destroyed. Pentagon officials say that while ISIS has lost about 90 percent of its territorial holdings in Syria, it still retains pockets along the border with Iraq and elsewhere. There are an estimated 5,000-12,000 ISIS fighters remaining in Syria.
Analysts are already seeing challenges for the Arab regional force proposal.
Thomas Joscelyn, senior fellow at the Foundation for Defense of Democracies, told VICE News that while it made sense for the U.S. to ask Arab partners to do more, "this nascent plan is likely to run into a number of problems."
None of the proposed partners had taken the lead in fighting ISIS in Syria so far, with that role occupied by the Kurds — a group who Joscelyn noted "are not natural allies for any of the regional states mentioned."
The Gulf states had all provided support for Sunni extremist groups, he said, making them an unnatural fit for the fight against ISIS. And while Egypt hasn't officially taken a side in Syria's civil war, it has made occasional statements in support of the Syrian government – creating a risk it could choose to side with the Assad regime.
"Moreover, Egypt has its hands full battling an ISIS insurgency in the Sinai and hasn't played a leadership role in fighting ISIS outside of its own turf," he said.
"In essence, the Trump administration wants to build a new anti-ISIS alliance in Syria that has not previously existed on the ground and which would bring with it all sorts of competing interests that don't necessarily align with America's."
READ: What Syrians think about the United States' military strikes
Charles Lister, a senior fellow at the Middle East Institute, told the Journal that Saudi Arabia and the UAE are already heavily involved in the war in Yemen, while Egypt could be reluctant to patrol territory not under the control of the Syrian government.
Lister also said that it was unlikely that Arab governments would be willing to commit troops unless the U.S. kept some of its forces there in support.
Former U.S. Defense Secretary Ash Carter had sought the involvement of Saudi and UAE troops in anti-ISIS operations in Syria during the Obama administration, but those countries' involvement has been limited to funding the local U.S.-backed forces.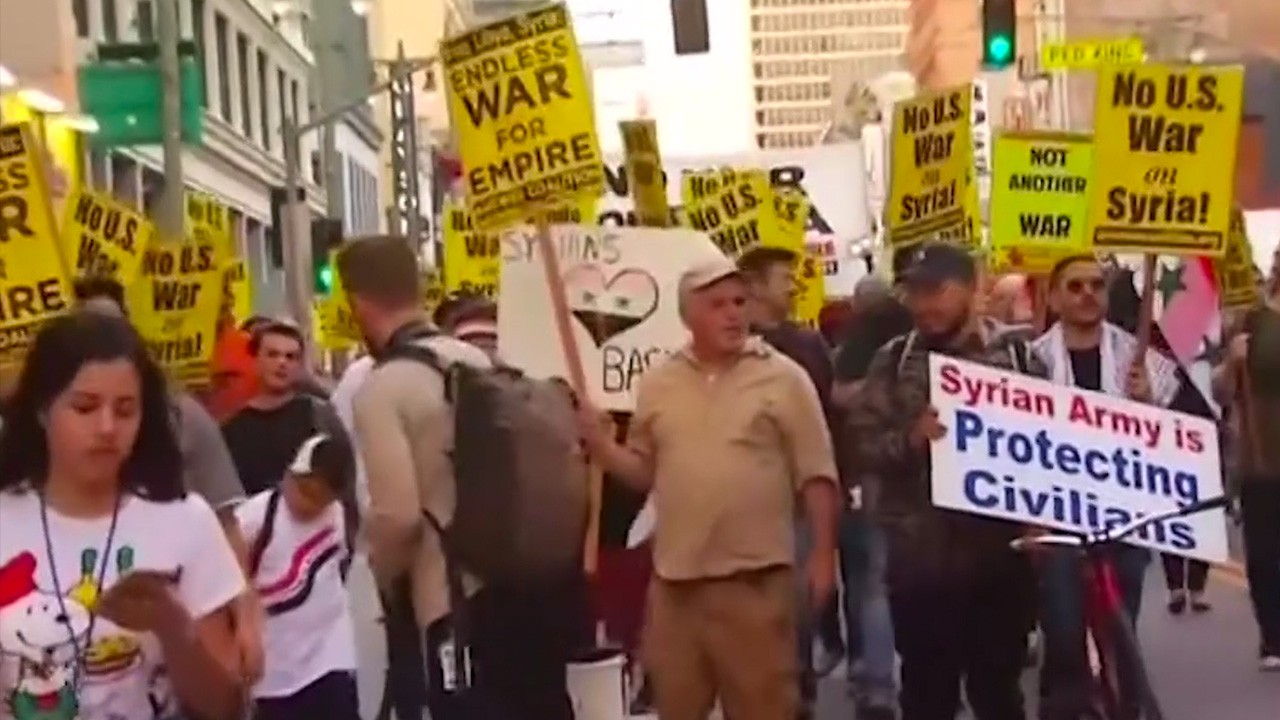 Cover image: U.S. soldiers stand at attention during a visit of a U.S. delegation to the YPG-held northern Syrian city of Manbij, where the U.S. has a military presence, on March 22, 2018. (DELIL SOULEIMAN/AFP/Getty Images)