Image via Facebook
This is an opinion piece by UN Young Champion of Earth Winner Kaya Dorey.
My ah-ha moment came while completing a research project on textiles waste and learning about synthetic fabrics like polyester, nylon and lycra. So much of our clothing is made from these plastic fabrics, many of them are non-recyclable, and all of them don't biodegrade. When we are ready to move on from our favorite t-shirt it has to go somewhere. In most cases, it will end up in a landfill where it will lay for the rest of our lives or generations thereafter.
A quick scan of the tags of what you have in your closet will reveal a startling truth. Very little is made from completely natural and/or organic fabrics. Admittedly, I found that about 90 percent of the clothing in my closet was either fully synthetic, partially synthetic blends or non-organic cotton. With my newfound knowledge, I started to think of all the clothing I had bought in my life and donated and where it all went. I did a bit more research and found that much of our second-hand clothing from North America goes right back overseas to where it was made or other developing countries; only about 10 percent of it stays locally for resale in vintage or thrift stores.
"Any of the brands that I thought were actually fashionable, didn't give a damn about sustainability."
When I finished my program in sustainable business, I went on the hunt for a job with a company that shared my philosophy. What I found, was that there were a handful of brands that shared my values, but they weren't making clothing that suited my casual, comfortable street style. I have nothing against the free-flowing, tie-dyed tops, whimsical shawls or Sunday morning meditation pants, but I just couldn't see myself hanging with friends or doing bike-brewery crawls wearing that sort of stuff. Any of the brands that I thought were actually fashionable, didn't give a damn about sustainability.
Enter NOVEL SUPPLY CO-- Vancouver-made, conscious apparel for the urban adventurer. I started this brand because there were so few local options for sustainable apparel that looked good. I also knew that in order for people to buy into sustainability, it had to be something they would already buy. It had to be cool. People aren't willing to sacrifice their style for sustainability. Style is how we express ourselves; it's how we tell our stories and it's important to us.
---
Check out more videos from VICE: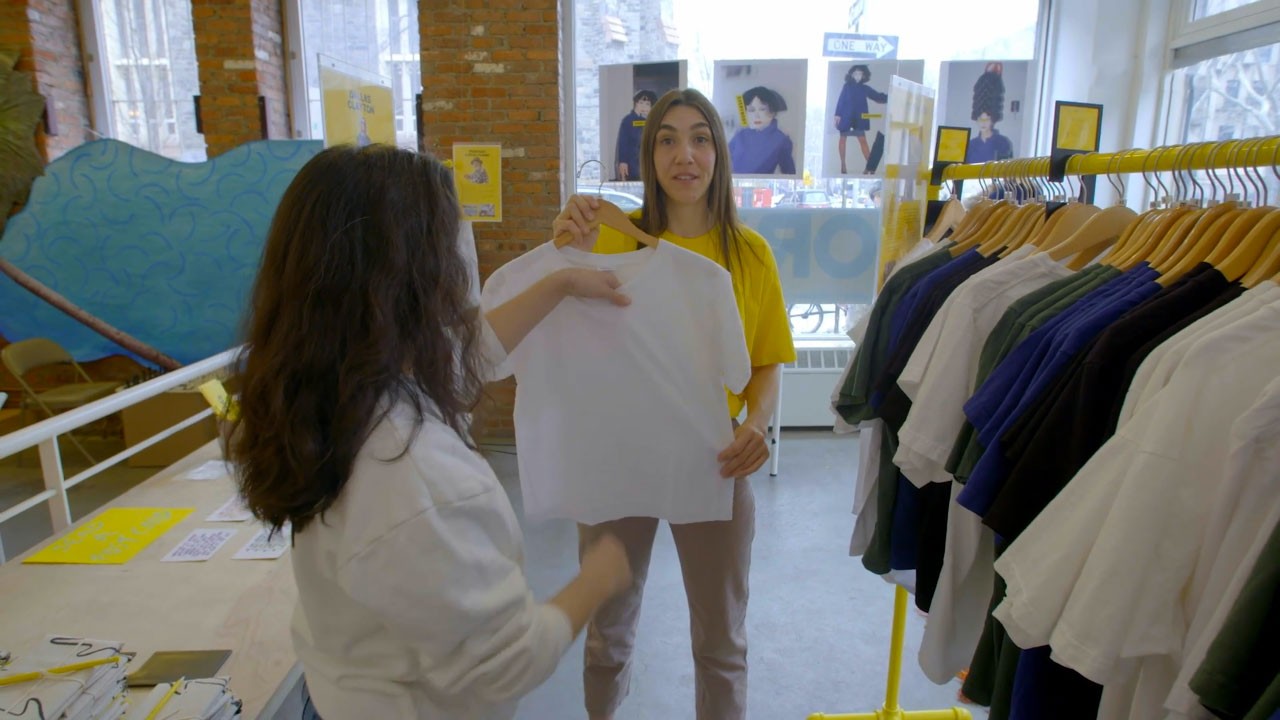 ---
Starting a clothing brand with no fashion background besides retail is not easy-- I won't sugar coat it. Thankfully, I had Factory45, an online accelerator program on how to start your own sustainable fashion line. Although it's a US-based program, it helped me navigate the ins and outs of the industry. The industry in Vancouver, however, is upside down #StrangerThings. The manufacturers here have more work than they know what to do with and so you have to fight for them to take your business. Once they take you on, there's no need to make the client happy. They can charge you an insane amount for production and can drop you at any moment. To say the least, it's cutthroat. I am lucky to have found a manufacturer on my third try that believes in what I am doing and wants to see NOVEL succeed.
"This award is not only a huge win for me but for everyone who is trying to shift this industry to one that is more ethical and sustainable."
On November 22, the UN launched a press release stating, "Young Canadian Wins Top UN Environmental Prize". I can't believe I am saying this but, it was me! I am honestly still in shock. Out of the other six 'UN Young Champions of the Earth' -- one from each continent --, I am the only one tackling the issue of fashion and super felt out of my league since other applicants had literally invented hydroponic systems, green roofs or digesters that turn waste into biogas.
I am stoked to know that the UN recognizes that fashion is one of the biggest issues we need to tackle. It's one of the most polluting, wasteful and unethical industries. It also has some work to do in regards to transparency. This award is not only a huge win for me but for everyone who is trying to shift this industry to one that is more ethical and sustainable.
Last week, the six Young Earth Champs attended the UN Environment Assembly. It was, to say the least, life-changing. I had the opportunity to sit on a panel with the CEO of the Sustainable Apparel Coalition, Jason Kibbey as well as the first Indian to travel to space, Rakesh Sharma. All of the people l met at the Environment Assembly shared their own stories that allowed you to see the world from different perspectives.
At the event, we talked about how to fashion a more sustainable future. I had the opportunity to share my ideas at the Multi-Stakeholder Dialogues to many environment ministers from all around the globe. Not to mention, Ellie Goulding, UN Global Goodwill Ambassador, and Lucy Seigle, Author of To Die For and ethical fashion advocate, were sitting front row at the Young Champions press conference. I am still pinching myself.
The six Young Champions of the Earth also had the chance to take part in an entrepreneurship boot camp led by The Do School, where we were given the tools to refine our work plans and determine the best way to spend our $15,000.
I plan to use the funds to close the loop on post-consumer waste. In other words, creating an accessible way for consumers to return their product to NOVEL at the end of its life. By doing so, we reduce the amount of waste ending up in our landfills and create an opportunity for well-loved products to be recycled.
I also intend to allocate funds towards researching the feasibility of automated manufacturing in Vancouver. If I can reduce the cost of production for a sustainable product, then I can make it more accessible for everyone. I figure, if I'm going to take on the responsibility of reducing the impact that fast fashion has on our planet, then I'm going to need a little robot help.