Prime Minister Justin Trudeau hasn't ruled out issuing pardons for those convicted of cannabis-related offences, but said that any remediation will come after his government legalizes the drug next year.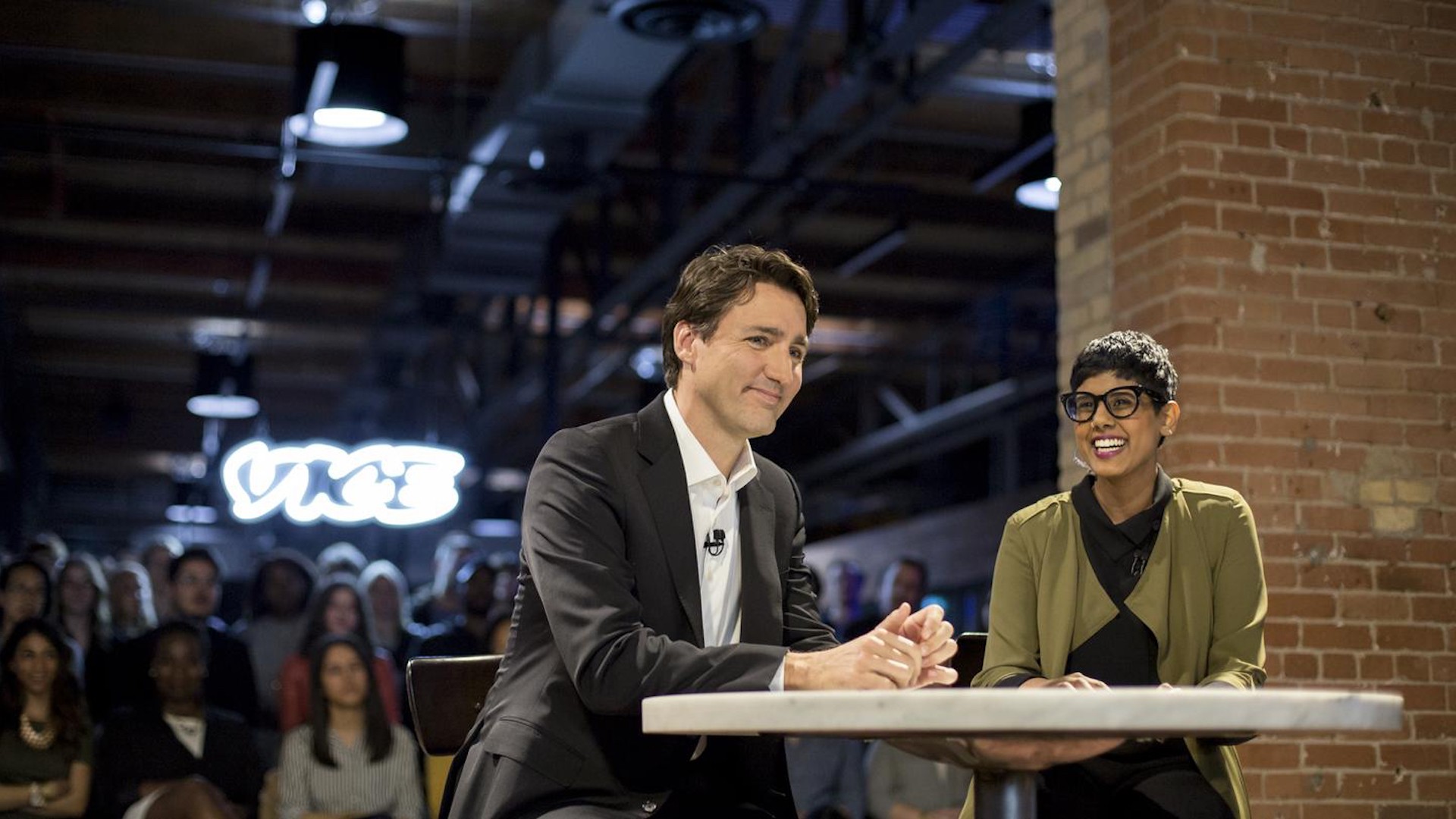 The comments, made at an exclusive talk on legal weed with VICE Canada, mark the first time Trudeau, as prime minister, has opened the door to doing something for those with pot criminal records — something that's at odds with recent statements made by members of his cabinet.
"Our focus is on making sure we're changing the legislation to fix what's broken, a system that's hurting Canadians," Trudeau said Monday, in response to a question from Malik Scott, a 22-year-old who is currently facing possession charges after allegedly getting caught with a small amount of pot.
"And then we will take steps to look at what we can do for those people who have criminal records for something that will no longer be criminal."
Trudeau made the remarks after acknowledging the inherent unfairness baked into a justice system that favors the elite. He said his own family had been confident his younger brother would be able to get out of a possession charge thanks to his father's resources and "connections."
"How am I going to become the next Prime Minister if I can't get a decent job because of these charges?"
Scott — who sat on a panel that also included Jodie Emery, a former dispensary owner charged with marijuana trafficking and Zoë Dodd, a harm reduction worker who pressed Trudeau on his response to the opioid crisis — told the audience about how he was worried that if he ends up getting convicted for his current marijuana charge, he would be barred from leaving Canada to visit family members abroad.
"In addition to that, how am I going to become the next Prime Minister if I can't get a decent job because of these charges?" Scott continued. "Given that all of this is going to be legalized in about a year, what would you say to someone in my position?"
Trudeau then delved into the story of his younger brother, Michel, who died in an avalanche 20 years ago at the age of 23.
"Six months before, he was driving back home from the west coast across the country, and he got in a terrible, terrible accident," the prime minister explained. "And his truck tumbled and a Sucrets box went flying across the highway and when the police were helping him clean up and tow, they opened the Sucrets box and there was a couple of joints inside, so he was charged with possession."
"My dad said 'ok, don't worry about it,' reached out to his friends in the legal community."
But after Michel returned home to Montreal, Trudeau said his that his father — former Canadian Prime Minister Pierre Trudeau — helped make it all go away.
"My dad said 'ok, don't worry about it,' reached out to his friends in the legal community, got the best possible lawyer, and was very confident that we were going to be able to make those charges go away," Trudeau admitted. "We were able to do that because we had resources, my dad had a couple connections, and we were confident that my little brother wasn't going to be be saddled with a criminal record for life."
Trudeau had previously, while campaigning in 2015 to be prime minister, suggested his government would look at overturning the criminal records held by people convicted of marijuana crimes.
Trudeau's retelling of the story of his brother on Monday has further fueled criticism of his government's refusal to halt new marijuana possession charges.
However, Scott was never confident his question would result an in immediate change, and told VICE News before the event that he would continue pushing for broader decriminalization of cannabis and raising awareness about its medicinal benefits.
"I'm also pretty calm about my charge because I've been to court six times now, and I still haven't received any disclosure from the cops," he said. "I'm confident that my charges will be dropped in the future, but I know that not everyone in my case will be as lucky."
Trudeau's pledge, which didn't specify when or how the government would review the hundreds of thousands of criminal records held by Canadians previously convicted of cannabis crimes, comes after his public safety minister, Ralph Goodale, told reporters last week that the Liberals had no plans to issue blanket pardons of past convictions for marijuana possession, and that the transition would not be a "free-for-all." Nor will it allow for a moratorium on new possession charges laid in the lead-up to the implementation of recreational cannabis market.
Under the proposed legalization bill, people in Canada will be allowed to possess up to 30 grams of cannabis, and grow up to four plants per household. However, there are still hefty penalties for those who break the law and operate outside of the regulatory framework, with maximum punishments for some offences reaching 14 years in jail.
This week, VICE News revealed new numbers that show more than 5,000 Canadians were prosecuted for cannabis possession in 2016, the year the Liberals announced their plans to introduce their legalization bill.