This past Sunday, a handful of people gathered at the Boston Marathon finish line and cast their eyes down Boylston Street looking for her. Each time we'd hear a skateboard on the pavement, our attention would be snapped back to the street. And then finally she appeared, weaving her way past parked cars. Trans woman Calleigh Little raised her arms in victory and punched the air. The enormity of her finish was of little consequence to the strangers passing by.
"I just skated from Oregon to MOTHERFUCKING BOSTON!!" She screamed as she spiked her board in the middle of the street and collapsed in an exhausted heap.
For trans women, the athletic experience is often one of controversy. For decades, they have suffered through accusations that they have an unfair advantage due to being assigned male at birth, and ensuing witch hunts that involve cruel sex testing. Despite very little evidence that trans women have a significant advantage over their cis counterparts, sports pages tackle the issue with very little nuance or understanding of hormonal science. It's hard to find a sports story featuring a trans woman being celebrated. Enter professional long distance skateboarder Calleigh Little.
Only two other people, both cis men, have ever successfully skated across the U.S. solo. The trip itself is a grueling test of endurance, planning, and resourcefulness. Managing a food supply that provides enough energy for a body to skate a hundred miles or more every day for a month and a half is a nearly impossible task in unfamiliar geography and sleeping in a tent is not as simple as it seems.
Before she got started on her trip, Little, whose inflection over the phone is a subtle mix of Boston earthiness and relaxed Southern California, was confident. She has several years of long distance skateboarding under her belt throughout New England and Southern California, as well as professional Long Distance Pushing races along both coasts. "I'm not nervous, I'm ready," she said.
But when asked what she feared most, she said it was mother nature itself as she set out from Oregon in mid October. "The weather definitely makes me nervous but I went out and got four season gear, winter jackets, gloves. I'm pretty much ready but nobody likes being cold. Coming from living in Southern California to being up here in the Pacific Northwest, I forgot what cold is."
Little took up long distance skateboarding shortly after her transition in 2014 as a way to get to work and around town because she lost her driver's license and couldn't even afford a bike. LDP as a sport was born out of illegal street races like the Broadway Bomb*, a spectacle involving hundreds of skateboarders bombing through the streets of New York, weaving in and out of traffic and through crowds of pedestrians before finishing at the Brooklyn Bridge. The sport has grown quickly over last decade and while once there was an edgy, almost illegal vibe, LDP has formalized of late, complete with a governing body, media coverage, and multiple professional events across the country. As a pro, Little doesn't make any money on LDP—but she does have sponsors who provide gear. She's ranked the no. 1 woman in the United States, and no. 3 in the world.
Little initially set out to prove that gender doesn't matter when it comes to speed and endurance on a skateboard. "I've been racing with women for a few years now and I get a little backlash [for being trans] but I'm just blown away because I've seen women break the world speed record on a skateboard and in distance too I've seen cis women just absolutely blowing me away with the times they're getting. I just want to prove that gender is insignificant and it's about how much you want it. I'm doing it for all women."
Additionally, Little hoped to bring awareness of trans people to areas of the country where they are not as typically present. But what started as a chase for the history books, turned into a valuable lesson on the humanity of strangers.
---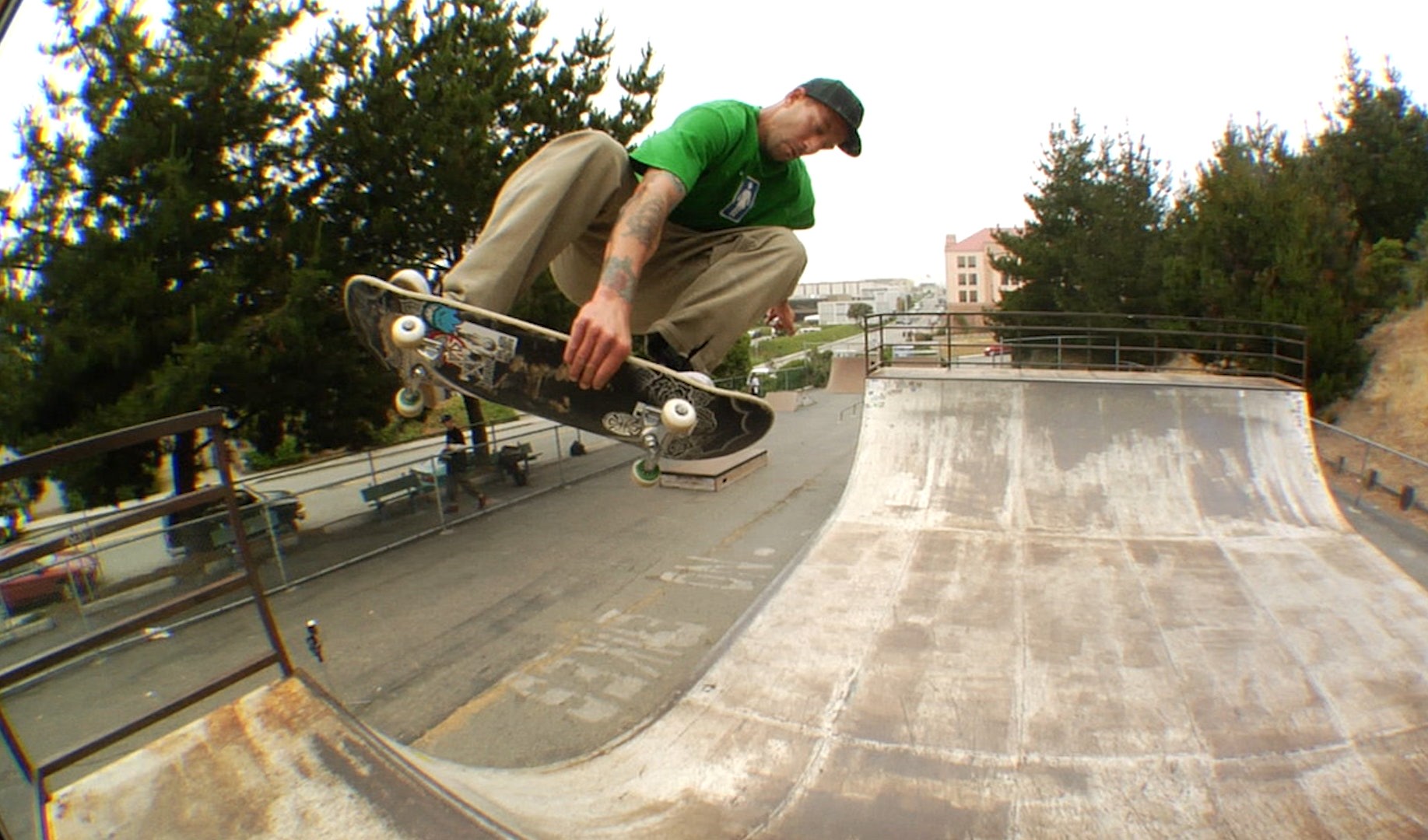 ---
After careful route planning involving the latest mapping technology to measure everything from the grade of each road to the quality of the pavement, Little decided to start heading east from Bend, Oregon after completing the 5k/10k and 25k races at the Bend Beatdown, a popular annual LDP event. She initially intended to treat her trip like a race and loaded up her pack with food, cooking gear, and loads of clothes, an indication that she didn't plan on making a lot of stops along the way. In her mind, she was chasing the calendar to make it across the country faster than anyone else on a skateboard ever had. As she struggled through the terrain of eastern Oregon, however, a snowstorm almost immediately derailed her plans for any records.
"As I was walking up this steep hill, a car pulled up and the driver was like 'You look like you need a ride.' At first I didn't want to because I was going for this record but the guy persisted. 'No really, you're going to want a ride, there's a snow storm up ahead.'"
Hitching too many rides would risk any official records but to Little, the thought of walking through a storm held little appeal. And it was not like she'd be able to break any records skating through the snow anyway.
She acquiesced, throwing her 55 lb backpack in the backseat to catch a ride to the next town. At the time, she reasoned, she was simply trying to survive. She was determined to get to Boston by any means necessary. It would not be her only ride from a stranger, she estimates that she covered about half of her mileage catching rides from strangers. A decision that comes with a tremendous amount of risk for a trans woman.
She hit one snag in Boise, Idaho where the roads were much rougher than expected as winter neared. "They had beautiful pavement down there, which is what I had heard, but by the time I got there, they had chip sealed everything. So riding over it was complete hell and I was screaming and crying. Think about skateboarding over loose rocks, it was awful."
Little slept outside a lot, especially early on out west, which meant tying up her food in a tree away from her tent, in case a hungry bear came along. The reality of sleeping in a tent all night while also spending long days on her board meant that Little was constantly battling the elements.
Eventually, Little abandoned many of her supplies, dumping most of her clothes, food, and cooking gear along the side of the road with a "free" sign attached. The lightened load helped make her days on the board more manageable but abandoning her food meant she needed to skate from town to town and city to city for food and shelter. She frequently went without both.
I just want to prove that gender is insignificant and it's about how much you want it.
Using a combination of warmshowers.com, a site cyclists use to find a roof to stay under on long distance rides, and Tinder, Little managed to avoid sleeping outside most nights. And in the process, met hundreds of everyday Americans along the way, many of whom had never met a trans woman before. "I can't tell you how many times I walked into a random bar out west and I was the only person not wearing camouflage." This often led to interesting situations when Little had to use the restroom.
With the nation still grappling with which bathrooms a trans woman should legally be allowed to pee in, I asked Little how she handled it out on the road. "It depends. Sometimes I would go several days at a time without being able to shave or wear makeup, so I'd try to judge as best as possible which would be safest." She noted that in the cold late fall weather she was often wearing protection on her face, and a hat over her long strawberry blonde hair and that made it easier to just walk in and use the men's room where she would be less likely to attract attention. At the finish line, she was happy to report she only had to shit in the woods once.
Later she reflected on her decision to seek help from those who offered, "I could have gone 100 miles a day, eating oats in the morning and soup at night and all I would have learned about myself is that I can plan and read a map."
Sometimes those interactions didn't exactly turn out positively. Over the course of several interviews during her journey, Little detailed a handful of incidents that went sideways once her trans status was revealed. But it was one incident in particular that sticks out of the bunch. As she crossed the flat, empty plains of eastern Wyoming, which Little called "very boring," and into Nebraska, she had her first serious run in with the police. "A cop car pulled up and told me I wasn't allowed to skateboard in Nebraska." Little, who had checked the legality in each state she travelled through, pointed out that there was no law banning skateboarding in that part of Nebraska. Nonetheless the police picked her up and drove her almost 150 miles into the state.
Little believes that the transphobia may have been a factor.
"When they called in my ID, they described me as 'Calleigh Little, white male.' I overheard the dispatcher tell them that the original call in reported me as female and they still treated me as a dude."
They ended up leaving her in the middle of nowhere, hundreds of miles off course, without food or water. It was frankly a bizarre encounter with seemingly little legal backing but she was content to move on without getting arrested or fined.
It wouldn't be her only interaction with the Nebraska police. "The police in Nebraska insist on dominance even when they don't have to," Little said, detailing another experience with Omaha police where she was banned from the public library for having an empty water bottle.
Standing in stark contrast, however, is the way other Nebraskans helped her in between. "From the guy in Osceola who gave me a ride 100 miles east to Omaha and bought me food and drinks to the guy who offered to let me stay at his parents' resort when I got lost in Ogallala on Halloween night and I couldn't find a place to camp, everywhere I went the people were so kind."
Little found it amusing that wherever she went, she was treated as a celebrity as word would spread around town that there was this person skateboarding across the country. She rarely had to pay for food and she had no choice but to start drinking coffee. "Everywhere I went, the one constant was coffee. Everybody drinks coffee and wants to buy you a coffee. The best stories came when I went off my route to find food."
In Omaha she began feeling ill. Weeks earlier in Wyoming, she had made the mistake of drinking river water. "In Wyoming, I had ditched all my food because of the bears in Yellowstone, and nobody picks you up in Wyoming because it's a state with only a few people. So I had no water so I stopped and drank water out of the Hoback River, which didn't prove to be an issue until [later on] when I got Giardia. I knew I was going to pay for that." She kept going into Iowa, despite non-stop constipation and diarrhea and made it all the way to Des Moines until the illness meant she couldn't skate and she ended up finding a friend willing to drive her across Illinois to Chicago, where a woman let her take a few days rest.
According to Little, she felt most unwelcome as a trans woman in Indiana, recounting how she had been tossed out of an open mic comedy night at a punk bar after someone told an offensive joke about trans women. She wanted to try out her own routine.
"I was excited to get up on stage, the opening line of my routine is 'My dad always told me I was going to grow up and be a great man someday, and I've spent the rest of my life trying to prove him wrong.'"
But she never made it up on stage.
"So this guy gets up there and tells a story about he hooked up with a 67 year old trans woman. He said at first he was wondering if it would be good but then he realized that she had her surgery six years ago, so it was like having sex with a six year old." Calleigh didn't appreciate the joke and one thing led to another and she ended up with the guy in a headlock before getting tossed out and banned from the bar for life.
The scene at the bar in Boston Little went to after the finish was more calm. The Patriots game was on every TV, but the people at the adjacent tables were focused only on Little. So often in sports, trans women who win against cis women are sneered at and accused of having an unfair physical advantage. Little, however, had achieved something that the general public could actually admire without caveats or snide remarks about her assigned sex at birth. But for Little, it was the people along the way that she'll never forget. "How much further back would I be without the people I've met? I feel like I have homes in fifteen states."
In total, her trip took her through parts of Oregon, Idaho, Wyoming, Nebraska, Iowa, Illinois, Indiana, Ohio, West Virginia, Pennsylvania, New Jersey, New York, Connecticut, Rhode Island, and Massachusetts. While she accepted too many rides along the way for her trip to count as an official record, the fact that a trans woman could skateboard and hitch hike across the country in the current political environment is an achievement that transcends mere sporting records.
It was Little, who had never previously left coastal America, who summed it up best describing how her trip on a skateboard across a continent will forever be remembered by the people. "I found my life on the road meeting these people."
Update: This article initially referred to the Broadway Bomb street race as the Brooklyn Bomb. It has since been corrected.