Photo by freestocks.org
Indonesia's transportation wars show no sign of letting up as the Ministry of Transportation complained over the weekend that transportation apps like Uber were unfairly undercutting traditional taxi companies by offering heavily subsidized fares and on-demand service.
"You can't take all the business," Transportation Minister Budi Karya Sumadi said of the tech companies on Sunday. "You have to be ready to fairly share the cake."
The ministry has proposed a series of regulations that would, among other things, set a minimum and maximum fare for both traditional taxis and on-demand car services. The regulation would put an end to Uber's surge pricing and curtail the deep discounts currently on offer from the country's three major transportation app companies: GO-JEK, Grab Indonesia, and Uber.
The regulations would also limit the number of vehicles available from a single company in each market—a move that the companies said unfairly favored traditional taxis and hurt innovation. They called the proposed regulations "protectionist" and "not pro-consumer" in a joint press release.
"The regulation as it stands will set the entire transport industry back to the entrenched practices of incumbent transport operators, who can invest more effort to innovate and improve their services for Indonesian commuters," Grab Indonesia managing director Ridzki Kramadibrata said in the press release.
They urged the central government to postpone the matter nine months for further investigation. The ministry agreed late last week to postpone three parts of the regulation, including rules on fares and fleet size for three months.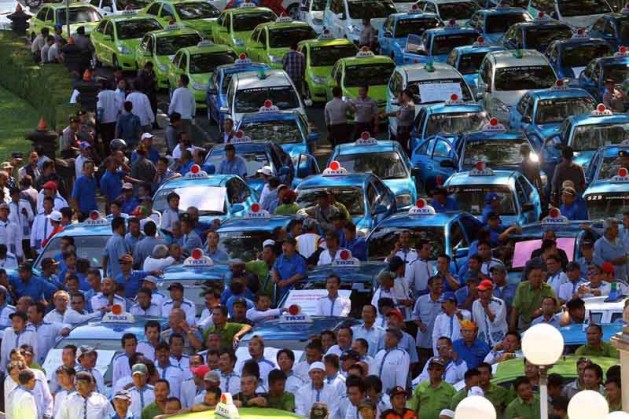 Experts said the proposed regulations were unfair for consumers who reap the benefits of lower fares and increased access to transportation services. The ministry should instead focus on ensuring that the the vehicles are safe and comfortable, said Azas Togar Nainggolan, an expert on transportation.
"What the government needs to do is to create a minimum service standard to protect these app-based taxis consumers," Azas told VICE Indonesia. "Which cars are roadworthy? Do they have air conditioners or not? Are the drivers reckless?"
Medrial Alamsyah, a public policy expert, said these protectionist policies will only result in higher fares for customers.
"I don't agree with the government trying to regulate it," Medrial told VICE Indonesia. "It says it wants to protect consumers, but the implementation of so-called consumer protections will impose extra fares on the consumers. If the regulations diminish the advantage consumers have been getting from the competition among app-based taxis, then the regulation only makes things unfair for them."
But some consumers said they would continue using the apps regardless.
"I've been relying a lot on them since they make things easier," Meryam Zahida said. "Wherever it is, whether I know the way or not, I can get picked up and driven to my destination."
Others said that the alternative—traditional taxis—can be unreliable and prone to fare gouging.
"Took a traditional cab in Bali. Fare was unfair and the driver drover in circles. And I'm not supposed to rely on app-based taxis? Hhhh. The revision of PM32 is important," blogger Falla Adinda tweeted.
But without some sort of intervention, the country's transportation wars may once again to turn into a street fight. Last year, a citywide strike turned violent in Jakarta, and recently a public minivan (angkot) ran a driver from an online ojek company off the road, triggering an angry standoff. Without a solution each incident threatens to add fuel to the fire.