In June, Alex put three tablets of sublingual ketamine under his tongue and lay down in a guest bedroom at his home in New York. It was his third session with Mindbloom, a ketamine telemedicine company he signed up with in April of this year.
Alex, a 51-year old who is using a pseudonym to protect his identity, has a long history with mental illness. His father had Bipolar I Disorder, which dominated his childhood. He has treatment-resistant depression that, despite antidepressants and talk therapy, stubbornly always comes back. 
Alex read online about the promise of psychedelic therapy for cases like his. Since ketamine is the only legally available psychedelic, when he heard about Mindbloom, he decided to try it.
You might have seen Mindbloom's ads on social media: They're sleek and well-designed, boasting testimonials that claim they can provide "five years of therapy in just a few sessions." 
After an online screening process, clients are set up with a nurse practitioner who determines dosing and takes a medical history. A person chooses a "guide" (who is not necessarily a mental health clinician, according to clients) to check in with before and after each at-home ketamine session, but clients can proceed unguided after the second session, former clients said. There are group "integration" circles included, where people discuss and process their experiences—but one-on-one integration costs extra. Mindbloom charges $1,158 for six sessions, billed in three chunks of $386 each; the website says it costs $89 a week, but there is no option to pay weekly. It doesn't take insurance. 
Alex's first two sessions started with 200 mg and 400 mg doses, which brought him into a mellow but somewhat underwhelming state. The follow-up conversations with his guide were also lacking. 
"They would say, 'Thank you for sharing that with me.' And that was what they said every time I said a sentence," Alex said. After his second session, the guide told him that he could do self-guided experiences from then on.
He asked to raise his dose, and it was agreed he would take three 200 mg tablets for his third session—a total of 600 mg. But when he started to feel the effects, they were too strong. He started to experience vivid and intense dissociation, "more than I would have liked." When he looked at the package for the tablets when he was lucid again, he found he had been sent the wrong dose. The tablets were 300 mg each; he had taken 900 mg instead of 600 mg.
A few days after telling his guide about the incorrect dosing, Alex learned that she was leaving the company and that he would have to pick another. He didn't hear from the new person, so he tried to reach out using Mindbloom's general contact form. After a few text exchanges with his new guide, she also stopped responding. Reaching out through the contact form again, he found out she, too, had left Mindbloom, "due to a medical emergency." 
What Alex described to Motherboard is in line with what eight other Mindbloom clients shared: organizational difficulties, long wait times, an overall lack of therapeutic support and consistency, as well as cases where Mindbloom was misleading about two medical experts being affiliated with the day-to-day operations of the company. 
In response to a detailed request for comment, a Mindbloom spokesperson said, "On background: The statements in your original request contain factual inaccuracies and mischaracterizations of events and are not representative of client and provider experiences with Mindbloom." (Motherboard had not agreed to speak "on background," a term of art for an arrangement in which information can be published without attributing it to the person who gave it, to which both the journalist and the source must agree.)  When asked, they did not elaborate on what was inaccurate or a mischaracterization. They did share the following statement:  
Mindbloom is on a mission to transform lives by expanding patient access to safe, clinically effective, and science-backed mental healthcare therapies. Mindbloom's platform has grown significantly since launch to meet growing demand for alternatives to traditional prescription drugs in the face of a mental health crisis. Each day, our team works tirelessly to meet our clients' and providers' needs, and to improve our services. We are grateful for the guidance of leaders in the fields of psychiatry and psychedelic medicine who have developed and oversee industry-leading treatment protocols, including our Medical Director Dr. Leonardo Vando, our Science Director Dr. Casey Paleos, and our world-class board of clinical advisors. We are proud of the clinical outcomes, safety record, and transformational stories we've accumulated across thousands of clients, exceeding those of traditional treatment options such as SSRI antidepressants. We remain committed to bringing positive change to the lives of our clients and being a supportive ally throughout their journeys.
Mindbloom, and the many similar teleservices springing up, are raising questions about what psychedelic therapy should be like in practice, especially how much support and expertise should be required for such treatments and the limits of telemedicine in this nascent field. Notably, teleservices like Mindbloom, that prescribe controlled substances virtually, can only exist at all because of the loosening of regulations as a result of the pandemic. Whether these companies will represent a permanent part of psychedelic treatment's future or be blocked by legislation is yet to be determined—but it's not a stretch to say that the safety practices of those operating today could have an impact on that outcome. 
Ketamine researchers and clinicians that Motherboard consulted with were alarmed at the lack of medical supervision and therapy clients say was given by a service that explicitly advertises itself as therapeutic. They warned that while technological innovations like online platforms could have a place in psychedelic medicine at some point, these are early days. Determining efficacy and safety should be the first priority before shuffling these services fully into telemedicine. 
Their concerns come right up against issues around accessibility and cost. Most forms of ketamine are not covered by insurance; one of the main reasons that people said they turned to Mindbloom in the first place was its relatively low price. But adequate levels of support and care should not be traded for the sake of accessibility—a balance the field will need to strike in the coming years. Ideally, people would select between telemedicine and in-person care based on their specific needs, diagnosis, and other individual factors, not just what they can afford. 
"It's contradictory to say that you have the most powerful substances that work really fast," said Gita Vaid, a psychiatrist and psychoanalyst practicing ketamine-assisted therapy in New York City. "But then say we're just going to give them to you to take it home and do it yourself. If they're really that powerful, then you should have a lot of care." 
Ketamine is different from the classic "psychedelics," like LSD and psilocybin, which act on serotonin receptors in the brain. Ketamine interacts with NMDA receptors, which involve a different neurotransmitter called glutamate. It can bring about dissociative feelings, euphoria, and sometimes hallucinations. It's also widely used at higher doses as an anesthetic. 
The early evidence for ketamine as a treatment option is promising: People who have drug-resistant disorders, like major depressive disorder, can achieve rapid improvements, even after a single session. What's still being actively researched is more specificity: Is ketamine the right first-line treatment, or does it work better for people for whom other treatments haven't worked? Are there long-term risks or side effects that we don't know about yet? Does ketamine work on its own, or is it better paired with psychotherapy? What kinds of supervision or support do people need during these experiences? 
This nuance can sometimes be pushed to the side since ketamine is currently the only psychedelic medicine that companies can legally open clinics for and offer to patients. Drugs like MDMA, DMT, LSD, and psilocybin are available only through clinical trials, at retreats in countries with legal access, or through underground therapists. Because of this, the legal psychedelic mental health industry is focused on ketamine. Between 2015 and 2018, the number of ketamine clinics in the U.S. jumped from fewer than 60 to more than 300. In a 2018 investigation into in-person ketamine clinics, Megan Thielking at STAT found that many of these clinics made broad, sweeping claims; had bare-bones screening processes for patients and inconsistencies in dosing amount and frequency; and were not adhering to the American Psychiatric Association consensus statement for ketamine therapy. 
Robert Campbell, a 34-year-old in Michigan, is an amputee in a wheelchair and has a compromised immune system from leukemia. For these reasons, trying ketamine therapy at home was appealing. He first saw the ad for Mindbloom on Instagram, and he signed up at the end of July. 
The first thing that surprised him was the price. He couldn't pay in installments of $89 a week, the price the website had highlighted, but in installments of $386 for the six sessions. Still, he was committed to trying it, and he was starting to get excited about the possibility of something that could help with his depression. 
Within an hour of his payment, he got an email signed by Dr. Casey Paleos (listed on Mindbloom's website as Science Director) that said Mindbloom was "humbled by the outpouring of interest," and that Campbell could have to wait two months or more for his first session.
"None of that was disclosed before you paid the $386," Campbell said. 
Campbell was upset. He felt that the lack of staffing should have been communicated to him before he paid—he would have sought out a different option. 
After reaching out using the website's general contact forms and not getting a response, Campbell joined LinkedIn Premium to message Mindbloom's higher-up staff to express his disappointment and to ask for a refund. Paleos was the only person to respond. But to Campell's surprise, Paleos said he wasn't involved in the day-to-day operations at Mindbloom anymore, despite being the second clinician promoted on their website.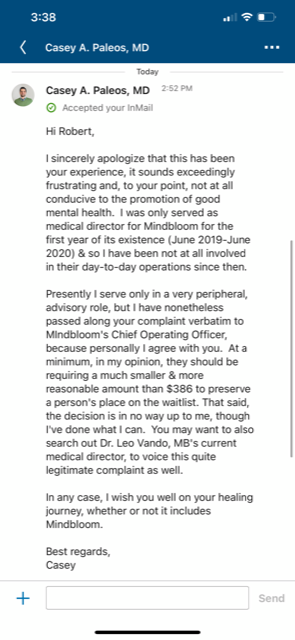 Campbell's email informing him about wait times had been signed "with love" from Casey Paleos. (Paleos did not respond to multiple requests for comment.) 

It's not the first time Mindbloom has apparently used someone's name and professional clout in their favor. Phil Wolfson, the founder of the Ketamine Training Center, said that when Mindbloom first formed, founder and CEO Dylan Beynon contacted him to ask if he wanted to be the director. Wolfson said no, but he said Beynon told others that Wolfson approved of their method and that he was using Wolfson's formulation for sublingual ketamine lozenges, which he does make available online. 
Wolfson wrote a cease-and-desist letter forbidding Mindbloom to associate his name with the company. "That didn't stop him from using the lozenge formula we created," Wolfson said. He didn't want his name affiliated with Mindbloom because, he said, he doesn't agree with its process. "The program to me has no adequate supervision," he said. "You're giving out medicine to people with minimal intake, minimal knowledge of people, minimal supervision, minimal feedback, minimal connection."
Campbell did finally get a response and asked for a refund for his $386. It was promised to be in his account in 5 to 10 days. A month later, at the end of August, he emailed again. He got a response apologizing and promising an emailed receipt of the refund. No receipt came. Two weeks later, he emailed again, and then received a refund, a total of two months and two weeks later. (Motherboard reviewed the email exchange.)
It wasn't just about the money, Campbell said. In sensitive mental states, the stress of trying to chase down money or feeling like he got scammed would have dramatically affected his mental health. "My mind can run wild and I get really anxious and worried," he said. 
He is still an advocate for ketamine therapy, but he's now apprehensive about doing it at home with companies like Mindbloom. If they couldn't even get him a timely refund, he wondered, do they have the resources to support someone through the treatment? 
Other clients described having similar difficulties with guide availability and long wait times when trying to keep up with consistent sessions. Sarah, a 43-year-old from the Bay Area using a pseudonym, signed up in July 2021. Sarah didn't like her first guide, who she said didn't know much about mental health or integration. "I felt like she should be in her garden, mining crystals," Sarah said. "Not to be an asshole, but to be honest." 
She picked a different guide for her next session, whom she liked better, but her selection was heavily curtailed by availability. Many of the guides she gravitated towards were booked for weeks out. After her first two sessions, she didn't see the added value of continuing with a guide, and did the remaining four on her own. Even by herself, she found the experiences helpful. "I saw a very distinct difference," she said. "I was not in bed as much. I was cleaning the house, doing laundry, able to do work. I've never experienced something that worked so well, and so fast." 
So, at the end of six sessions, Sarah bought another Mindbloom program focused on depression. She tried to select the same nurse practitioner she had worked with before, and saw that she was booked for six weeks. All other clinicians were booked for at least four weeks. 
"I paid and then I couldn't see someone for four weeks. I was like, 'That's unacceptable,'" Sarah said. 
Sarah was concerned about taking such a long break between doses. "You can't just start something and then drop it and pick it up again six weeks later," she said. Through persistent emailing, Sarah was able to get a sooner appointment, but she's now looking into other options, like getting a prescription for ketamine and working on the side with a psychologist. 
"I can tell when operations are trying to scale really fast and not do it well," she said. "They're just not able to add enough clinicians to meet the needs of their clients. But they keep signing clients up, without making sure that the current customer needs are met." 
During a pandemic, the federal government recognized, people can avoid the risk of being exposed to the virus by going to doctor appointments at home. As part of this, the DEA has permitted medical providers to prescribe controlled substances like ketamine virtually. Until 2020, that was not allowed. The pandemic has also allowed for clinicians to live in a different state than the patients they're treating, and for less-strict rules about HIPPA-compliant platforms for patients and doctors to talk to one another.
Mindbloom is just one of several telemedicine platforms that have recently launched, or will be opening soon, and seek to offer psychedelic services at home, offering ketamine alongside some kind of virtual guidance: KetaMD, My Ketamine Home, and NUE.Life Health, to name a few. 
The telehealth flexibilities that exist right now will remain at least until the federal public health emergency (PHE) ends, said Christine Calouro, a policy associate at the nonprofit Center for Connected Health Policy. That deadline is currently Jan. 16, 2022, but it could be extended, as it has been many times in the past year. 
"Some think it will still last all of next year, but we really don't know how long the Biden administration is thinking of letting it last," she said  "Number and severity of COVID cases I'm sure is a factor in them deciding how long to let it last." On the state level, it's also been a mix—some have let their telehealth flexibilities expire, and some have tied them to the federal or state PHE and are allowing them to continue. 
While it's uncertain if the broad expansions of telemedicine will persist after the pandemic, some permanent changes have already been made for Medicare, said Ateev Mehrotra, an associate professor of health care policy at Harvard Medical School. Congress passed legislation that said that for Medicare patients, telemedicine treatment of behavioral health conditions and substance-use disorders can continue permanently. 
This could influence private payers and legislation. "Often Medicare is the big gorilla in the room that dictates policy for the rest of the healthcare system," he said. For conditions outside of behavioral health or substance-use disorders, the telehealth future is less clear. 
When it comes to controlled substances, which psychedelic telehealth companies would be working with, there's also ambiguity about the future. In 2018, a law called the SUPPORT Act was passed by Congress. It called for the DEA to create a pathway for people to get buprenorphine or other medication-assisted therapies for treatment of opioid-use disorder through telemedicine. 
"The DEA dragged its feet and missed its deadlines," Mehrotra said. Then, when the pandemic happened, the DEA loosened regulation around prescribing all controlled substances through telemedicine, so it's unclear where that stands—and importantly, whether that applies to ketamine. Mehrotra said he doesn't think so.
When it comes to telehealth services for substance-use disorders, Mehrotra said, patients love them. They talk about how they're finally able to receive consistent care within their communities, and with less stigma. One legitimate worry is that if telehealth companies have irresponsible practices, it could impact legislation and tighten regulation that's been historically difficult to loosen up. (It took a pandemic.) 
This has happened before. The Ryan Haight Act from 2008 dramatically narrowed the ability for people to get controlled substances prescribed virtually, after 18-year-old Ryan Haight died of an overdose of Vicodin  prescribed to him by a telemedicine doctor he'd never met. 
This is why clinicians, like Gerard Sanacora, director of the Yale Depression Research Program and the Yale-New Haven Hospital Interventional Psychiatry Service, start to have major safety concerns. "These are medications that have real potential," Sanacora said. "But the failure to acknowledge that there's risk associated with it is very dangerous. Anybody who says this is totally safe has not really provided these treatments to people."
Mindbloom does require each person to have someone at home with them, but having a spouse or roommate at home doesn't guarantee safety, Vaid said. That person might get distracted, answer a phone call, or they might not have the experience to recognize when a person is in physical or psychological distress. 
Celia Morgan, a professor of psychopharmacology at Exeter University, has worked with recreational ketamine users and said that when injuries or deaths occur, it's often because of accidents that happen when people try to do activities in altered states and get hurt. 
Generic ketamine isn't approved for treating depression, so companies like Mindbloom that use it are doing so "off-label," the term for when a drug is legally prescribed for a different condition than it was approved for. A nasal spray called Spravato was approved by the FDA for treatment-resistant depression. (After publication, a spokesperson for Janssen Pharmaceuticals reached out to request that Spravato be referred to as esketamine, not ketamine.) Most of the clinics and telemedicine services use infusions or sublingual tablets.
Using sublingual tablets requires people to hold them under their tongue for a certain number of minutes, and then spit out the liquid. A person might lose track of time, or accidentally swallow and change the amount of ketamine absorbed into their system. 
In her patients, Vaid has noticed large variabilities in people's tolerance. It's another reason why she thinks it's safest to do at least the first session in person, to monitor people's sensitivity and side effects. Several Mindbloom clients also told Motherboard that all their doses were sent to them at once, meaning that a person with a delayed onset could reach for another tablet and end up with too strong of a dose. 
Spravato was approved with a REMS, or risk evaluation mitigation strategy, a document that outlines the way a drug should be administered. In the REMS for Spravato, it says that it must be delivered in a certified hospital setting by a healthcare professional. Sanacora said the REMS doesn't apply to any other version of ketamine, like the sublingual that Mindbloom uses, but he thinks it potentially should be.
Mike, in his mid 30s and using a pseudonym, had his blood pressure spike up to 170/100 during his Mindbloom session, and his guide told him he couldn't continue until he lowered it. Mike said that they couldn't tell him an exact lower number that would be acceptable. Then, despite his sessions being on hold, he was charged for the second payment and had to chase down a refund through aggressive emailing tactics, just like Campbell did. 
"I don't think they necessarily did a bad job, but I also don't think that they were equipped for: his blood pressure is very high," Mike said.
This is just one of the physical side effects that ketamine can cause: blood pressure fluctuations. But additionally, it can have a huge impact on the mind—it's being used for mental health, after all—so psychological consequences are also a potential risk. 
"I've had a lot of people get very disoriented and confused, which is fine if you're in the office setting and you're there supporting them," Vaid said. "Alone, something like that could be actually traumatic."
Mindbloom is explicitly marketed as therapeutic. When the New York Times recently described it as an "at-home delivery service," it had to run a correction renaming Mindbloom as a "telemedicine platform." But the majority of the clients that Motherboard spoke to did the majority of their ketamine sessions on their own, without any substantial therapeutic support. Morgan said that Mindbloom, in her opinion, is not actually that inexpensive if you consider how little one-on-one psychotherapy it comes with.
Sarah found the depression program she purchased "really weak." "You have a video that you watch that is clearly some sort of script typed out that someone reads," she said. "And it's just their voice. Then they send you to a SoundCloud and you listen to the SoundCloud, or you set your intention in your journal, and then you have your experience." 
In clinical trials she's been involved in, Morgan has found that groups that had ketamine-assisted psychotherapy had better outcomes than those that just had the drug alone plus education. When she has interviewed research participants, people reported that they benefited from the bonds they felt with their therapists and the support they felt during the experiences.
"I think it's missing a trick—saying it's just the drug, and it's nothing about that amazing therapeutic alliance that can build up," Morgan said. "The experience alone can be quite unsettling."
Steve, who lives in Texas and is using a pseudonym, had done four sessions at the time of talking with Motherboard. Though his sessions have gone well—he considers himself a "veteran psychonaut"—he agreed that Mindbloom's biggest weakness was that clients were left to do the bulk of the integration work themselves. 
"It's up to you to make best use of the experience," he said. "That's hard, and that wasn't something I was going to leave to chance, so I looked around and found a therapist in my area who is one of only three that does ketamine therapy." Adding this element helped him to make meaning of his sessions, "as opposed to just taking drugs," he said. 
Steve thinks it's a perk that doing psychedelic therapy at home offers a familiar and comfortable setting, but it comes with an added level of risk. "The guides are not therapists," Steve said. "My guide has a BA in neuroscience, which was the reason I picked her.  She told me she's working toward her therapy accreditation. She's been incredibly responsive and supportive via text, even proactive. But at the end of the day, a professional therapist is more helpful, especially because you spend more time with them."
How much of a role therapy plays in psychedelic treatment outcomes needs to be investigated more thoroughly, and it's an important question to answer as companies offer consumers options with different amounts of therapy attached to them.
For example, Awakn Life Sciences, led by psychedelic researchers Ben Sessa and David Nutt, is opening ketamine-assisted therapy clinics in the UK and Europe and hopes to have 20 open by 2024. But Sessa said that its clinics will be the "antithesis" of the telemedicine model. "We are patient-focused and we are psychotherapy-focused," he said. "The drug is an adjunct to the psychotherapy, which makes the psychotherapy more effective. Taking the drug without psychotherapy can still be helpful sometimes. People can take MDMA with their friends and have a positive experience. But when you combine it with psychotherapy, it's safer because it's in a controlled setting and you just get so much more out of it."
Journey, a "decentralized clinic model" that launched in April, is on something of a middle ground: It's a platform for psychotherapists to connect to ketamine prescribers so that they can get it to their patients, while they deliver the therapy piece of the puzzle. 
On the other end of the spectrum are products like Trip, an app launched by the ketamine infusion clinic company Field Trip Health, designed for people to use alongside an at-home psychedelic trip. When writer Kate Robertson tried Trip while she took psilocybin mushrooms at home, she wrote that it helped her to set an intention, but otherwise she has difficulties with navigating the platform while on the drug, and that looking at an animation of a river at sunrise on her screen made her feel nauseated. Looking at her Christmas tree proved more captivating. 
Ronan Levy, the executive chairman of Field Trip, told Motherboard, "I think it's important to recognize that Trip was never intended to be a replacement for a qualified therapist or guide. It is, instead, designed to be a tool to support consciousness expanding experiences through journaling, music, meditations, and integration techniques." 
"At its very best, Trip introduces aspiring psychonauts to a solid checklist of considerations before embarking on a therapeutic psychedelic trip," Robertson concluded. "But at its worst, it's a marketing tool for a company struggling to open clinics at a crucial time in their business plans—plans which have been thrown off course because of COVID-19." 
There's certainly room and need for technological innovation in both therapy and psychedelic therapy. Forthcoming (or already existing) apps will likely be involved in integration or follow-up, or even monitoring of patients during a therapy session. 
Research has been underway since before the pandemic to see if teletherapy is as effective as in-person therapy, and can potentially reach people who can't go in person. There are promising results in studies on PTSD interventions, depression, anxiety and adjustment disorder, substance abuse, and eating disorders. Cognitive behavioral therapy has also been shown to have similar outcomes when done virtually, compared to in person.
But what hasn't yet been studied rigorously or widely is whether having an acute psychedelic experience alone, without therapeutic support, can still lead to consistently good mental health outcomes for different conditions. Considering that a service like Mindbloom offers very little guidance and only extra-charge one-on-one integration opportunities, it's a moot point if therapy works better online or in person, since their offering is so limited.
Scalability is a huge problem facing the psychedelic field right now. Many clinical trials involve hours with therapists before, after, and during the experience—and that's expensive to replicate. "There's going to have to be some kind of middle ground," Morgan said, but she thinks it should be evidenced-based and tested for safety and efficacy before it's implemented. To put services in place before we know for sure what works? "It's really capitalizing on people's desperation," Morgan said. 
What will it take for ketamine to become both affordable, and for people to have the option of more supportive care, like one on one psychotherapy? Insurance coverage is another solution to help mitigate costs, outside of telemedicine. The issue, as Steven Mandel, founder and president of Ketamine Clinics Los Angeles, told ABC in July, is that ketamine is a "low-cost generic drug," meaning "it's unlikely that a pharmaceutical company would pay for the process that would be needed to get the drug approved specifically as a depression treatment." Off-label use of generic ketamine is rarely covered by insurance. 
"There is a real need and people do need access," said Vaid. "But to me it seems a little bit still upside-down to say let's just hand out the medicines quickly, when I think that we need to change the policies or maybe do more research to change policies rather than putting people at risk and potentially harming people." 
And while telehealth can increase accessibility for some, it won't for everyone. As pointed out by Mental Health America, "While it alleviates barriers like transportation access and time spent commuting, it adds in technology barriers that people don't have to navigate when doing in-person therapy. Not all households have a computer or a smartphone, and among those that do, not all have reliable (or any) internet service. And some people, especially older adults, aren't familiar with technology, which can make seeking telehealth confusing and intimidating." Safe, effective, and affordable therapy should be accessible to all people whether they prefer in-person, or one day, virtual. 
"There's a potential for that in the future," Sanacora said. "We may get to that point. We are nowhere near that right now.
Mindbloom writes on its website that 80 to 82 percent of its clients respond to treatment—though it cites this data from an "unpublished internal company document" from 2021. When Motherboard asked to see the document, a company spokesperson said, "We'll be happy to share the document with you when it is ready for general publication, following conclusion of analysis and formal peer review of findings."
It's true, of course, that not all of the people who use Mindbloom will have issues. Elizabeth, a 42-year-old in California, heard about Mindbloom on a subreddit. It was 2020, and though she'd had depression and anxiety on and off most of her adult life, during the pandemic her stress levels were rising. She was looking for something new, and different, to try. 
For the first two sessions, she checked in with a guide, and then for the third and fourth she was on her own. (This is when Mindbloom did four sessions instead of six.) She was able to text to check in with her guide between sessions, and she was invited to join integration circles if she needed to. 
"I didn't feel like I was lacking at all in therapy or support, but it may have been that I didn't require a lot," Elizabeth said.
The sessions went well and were gentler than she expected. "I just kind of felt very calm and at peace, and the mental anxiety that I tended to think was normal just kind of melted away," she said. She stretched out her sessions over the course of three months and has since bought two more Mindbloom packages, along with doing ketamine injections in a clinic and EMDR with a therapist as complementary treatments.
Still, Vaid thinks when it comes to mental health, there should be greater consideration paid to adverse events, even if they are rare. "To say [hypothetically] that 94 people did great but two people suicided and four wound up being traumatized—these are not insignificant," Vaid. "Sure, there's an argument to be made for doing more good than harm. But I think that it's a pretty sloppy argument, to be honest. Even those few problems could be avoided if you have better care."
When talking about psychedelics, much attention can be paid to the compounds themselves and the transcendent experiences they bring about. But the less exciting work of preparation, integration, and therapeutic relationship involved shouldn't be forgotten, especially when companies launch and try to capitalize on the hype around these treatments. It's possible there will be some way for technology to be involved in these treatments in the future, but just how much, and if it comes at the cost of providing the safest and most supportive experience, has yet to be determined. Unfortunately, it will be consumers, many of whom are desperate for something to help them, who will be the early adopters of these services that may miss the mark. 
After taking the too-high dose, Alex settled at 600 mg to finish up his Mindbloom sessions, still unguided. He has since switched to another doctor who can prescribe ketamine virtually and works with a psychiatrist who checks in on how he's doing. 
Alex admitted that his experiences would probably be more meaningful if he were talking them over with a psychotherapist. In one Mindbloom session, he visualized walking through the entirety of his childhood home room by room, seeing all the furniture and objects exactly as they were. Alex was still able to come to some conclusions on his own—he grappled with the blame he put on his dad's mental health issues for his tough childhood, and he realized that his father couldn't help it. 
"But that's the kind of thing that probably would have benefited from someone saying, 'What do you think that means about your childhood?'" he said. "I think that Mindbloom is an OK way to get access to ketamine, but I think that they provide really none of the promised therapy." 
Follow Shayla Love on Twitter.