The book Core Issues Trust recently sent to all UK MPs, and the group's leader Mike Davidson. Photos: Supplied
Officials from the UK's Government Equalities Office organised a private meeting with "ex-gay" leaders of a group that delivers a form of so-called conversion therapy, VICE World News has learned. 
A representative from Core Issues Trust told VICE World News that the group's leaders have "spent years" trying to speak to the UK government about how they "help people who want to move away from unwanted homosexual feelings", but they've always been ignored – until this year. 
Following communications with equalities minister Kemi Badenoch in June this year – LGBTQ Pride Month – the group was then invited to what it called a "productive" meeting. 
The group also told VICE World News that it had recently posted every single UK MP a new book called X-Out-Loud: Emerging Ex-LGBT Voices. It features 44 stories from people who claim they are "former homosexuals" or that they turned away from "LGBT lifestyles".
"In the midst of a sexual affair with another woman, I tearfully asked for a Bible," one person writes in the book. "Later on, I received specific prayer which freed me from demonic spirits. I vomited blood and screamed like a maniac."
Last month, Carrie Johnson, an environmental campaigner and the UK prime minister's wife, made headlines when she praised her husband's plans to ban conversion therapy. She said he is "completely committed" to protecting LGBTQ rights. 
Speaking at an LGBTQ reception at the Conservative Party conference, she added: "Whether you are LGBT+ or an ally like me, we are all committed to equality and acceptance for everyone, whoever you are and whoever you love."
A spokesperson for the government's Equality Hub, which works with several departments including the Equalities Office, said: "The Government's values do not align with those of the Core Issues Trust. We believe that conversion therapy is an abhorrent practice and will shortly publish our plans to ban it in this country."
However, emails forwarded to VICE World News from July 2021 imply that government officials were eager to speak to the group, following communications with Badenoch. The government actually ended up meeting with what Core Issues Trust described as ten "former LGBT people". 
Core Issues Trust is a charity based in Northern Ireland, where it actively promotes "talking therapy" for people who want to "explore moving away from unwanted same-sex attraction and gender confusion". It is one of the most vocal lobbying groups for conversion therapy in the UK. 
The term "conversion therapy" refers to any form of treatment or therapy that aims to change a person's sexual orientation or suppress a person's gender identity.
Some violent practices that may be classed as conversion therapy – such as "corrective rape" – are already illegal in the UK, but many religious practices are not, including those carried out by Core Issues Trust. Former UK Prime Minister Theresa May's government promised to ban conversion therapy in 2018. 
Boris Johnson's government is currently running a six-week consultation about how to "end" conversion therapy, but campaigners have said that current plans do not go far enough. Currently, "therapies" would only be banned for people under 18 and for those who do not actively seek it, so Core Issues Trust expects to be able to continue operating.
After some viral social media posts last year, some of the Core Issue Trust's content and services promoting conversion therapies were banned from Facebook, Instagram and other social media platforms.
In July 2020, Barclays closed the charity's bank accounts – and kept them closed even after a 70,000-strong petition defended the group. 
Exactly one year later, officials from the Government Equalities Office met with the group. A representative from Core Issues Trust told VICE World News that it was the first time any government has "taken the time to speak to former-LGBT people." 
An email sent from the Equalities Office to the group, seen by VICE World News, suggests eagerness from the office to set up a meeting.
The invitation says: "I am part of the conversion therapy team in GEO, and am reaching out to arrange a meeting with yourself ahead of the launch of the conversion therapy consultation, following on from a letter from the Minister for Equalities last month. 
"Unsure of your availability within the next week or so, but we're happy to work around your schedule as much as possible. Please see below for some suggested times next week."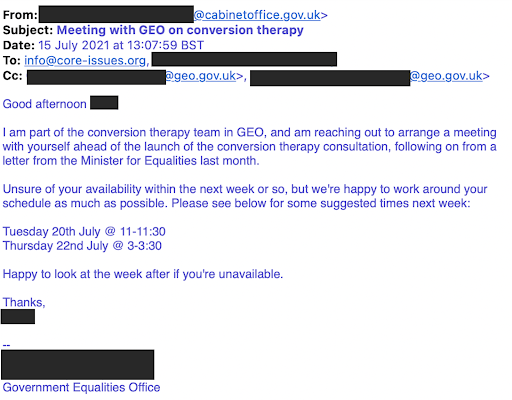 The charity's representative said the "productive" meeting went ahead in July. The government advisers "listened respectfully" and "encouraged" the large group of "ex-LGBT people" to participate in the upcoming public consultation on conversion therapy. 
They continued: "We've asked for meetings before and never been given anything. So, you know, this was a step in the right direction."
"It was just officials from the equalities office. It was a brief meeting. I think it was just over half an hour, maybe 40 minutes in total. 
"We tried to speak to Theresa May's government, and on two occasions had tried to contact them. We have no record of the government, or of any government, ever taking time to speak to former LGBT persons until now."
MPs from across the UK – who began receiving books from Core Issues Trust last week – have called the content "horrific". 
"After continuing to pray, to live with God, and to say no to temptation, I saw how my same-sex attraction diminished, as did my desire for same-sex relationships," one woman writes. 
An intro in the book says, "X-Out-Loud (a Core Issues Trust project) is an international community based in Europe, and like several other groups is contributing to the growth of the emerging former LGBT community."
It continues: "We ask the government ministers and peers in Westminster as well as politicians in the devolved governments across the UK consider carefully the damage that will be caused by banning the right and freedom to leave unwanted sexual practices."
VICE World News was contacted by "worried" staff working within parliament who received the book.
"The book came with our post on Friday, which I sort through every day. Some of the testimonials are shocking," one parliamentary staffer said. "I'm really worried about how organisations opposing the ban on conversion therapy are reaching out to MPs like this."
All the "testimonials" are from people who claim they "overcame" same-sex attraction with the help of Christianity.
"I am 22 years old and I no longer identify as gay," says one man. "I also made the decision to stop pursuing a gay lifestyle because my soul did not like what I was doing."
Asked if any MPs have responded to their book donation yet, the Core Issues Trust representative replied: "We've had a couple of letters thanking us, that kind of thing. But it's very early days because it only just arrived." They were not willing to share specific communications. 
John Nicolson, the Scottish National Party's shadow culture secretary and deputy chair of the All-Party Parliamentary Group on Global LGBT+ Rights, said "my copy of the X-Out-Loud booklet has gone straight into the recycling bin."
He continued: "Conversion therapy is a horrific practice. It's cruel. It doesn't work. And it gives false hope to the most vulnerable in society. Its practitioners are malevolent. I support the banning of so-called 'conversion therapy' under all circumstances."
Anneliese Dodds, Labour's shadow secretary of state for women and equalities, said: "Over three years since the Conservatives promised a ban on conversion therapy, LGBT+ people will be appalled to learn that the Government body responsible for protecting their rights is now holding private meetings with a group that promotes this insidious practice."
She added: "The next Labour Government won't sit on its hands like the Conservatives. We will ban the abhorrent practice of conversion therapies once and for all."