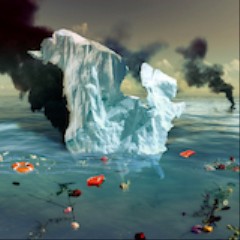 Tipping Point covers environmental justice stories about and, where possible, written by people in the communities experiencing the stark reality of our changing planet.
It's time to wake up. On Global Climate Day of Action, VICE Media Group is solely telling stories about our current climate crisis. Click here to meet young climate leaders from around the globe and learn how you can take action.
Maria Escalera breathes some of the most polluted air in New York City. The 64-year-old works at a family health center near the industrial waterfront of Brooklyn's Sunset Park neighborhood. Her office is within walking distance of chemical facilities, factories, a water treatment center, contaminated brownfield sites, and a freeway that over 150,000 vehicles travel down every day. A few years ago, her brother visited and during his strolls down to her office he would get a black film on his scalp. "He's bald so it sticks to his head," Escalera said. "I never really paid attention to that before but when I saw him I said, 'Wow, I didn't realize it was that bad.'" 
Lots of the people who come to the health center are undocumented immigrants without health insurance, a reflection of a neighbourhood where 68 percent of people identify as Asian or Hispanic and nearly 28 percent lived below the poverty line in 2017. Despite a lack of official data about the health effects of Sunset Park's poor air quality, Escalera thinks it's no coincidence that many of the center's patients suffer from cancer, asthma, or lung disease. She herself is a breast cancer survivor. "I attribute that to the environment," she said. 
On hot summer days the air gets even worse than normal. About six blocks down the road from Escalera's office is a power plant called Narrows Generating Station. Known as a "peaker," it sits dormant most of the year and only powers up during surges of electricity demand—such as when New Yorkers crank their air conditioners during sweltering heat. The Narrows peaker burns primarily natural gas, releasing nitrogen oxide and sulfur dioxide—which can cause chronic long-term damage to hearts and lungs. 
The facility is also accelerating the climate emergency. It and other peakers across New York collectively emitted 1.8 million tons of carbon dioxide in 2018, according to a report called "Dirty Energy, Big Money" that was prepared by groups that oppose the peakers, as well as research organizations such as the nonprofit Clean Energy Group. That is roughly equivalent to more than 560,000 vehicles on the road. 
"If our folks can't breathe, they can't fight for justice."
There's a tendency among climate advocates to argue that shifting to renewables will allow us to avoid terrible disasters in the future. But in neighbourhoods all over the U.S., getting rid of dirty energy would have immediate benefits. In Sunset Park, it's a prerequisite for solving longtime racial and income disparities, said Elizabeth Yeampierre, executive director of the Sunset Park community group UPROSE, which is pushing to replace the Narrows peaker with battery storage charged by solar panels. "If our folks can't breathe," she said, "then they can't fight for justice."
Despite the obvious health dangers of burning fossil fuels in a densely populated neighborhood, and the existence of cleaner alternatives, there's a strong financial reason why facilities like Narrows continue to operate. During the past decade, utilities and other energy providers in New York have made an estimated $1.4 billion in "capacity payments" to the companies behind Narrows, according to the "Dirty Energy, Big Money" report. The facility itself, along with two other peakers in Queens and Brooklyn, is operated by Astoria Generating Company. The parent company for Astoria is Eastern Generation, and that company is in turn a portfolio company of ArcLight Capital Holdings, a Boston-based hedge fund. 
Several years ago, ArcLight co-founder and managing partner Daniel Revers bought a $9 million penthouse in downtown Boston. The 3,435-square-foot condo is on the 59th floor of a tower that's home to other wealthy business and financial executives. News of the condo purchase got a write-up in the Boston Business Journal. 
In 2016, Revers gave a donation to his alma mater, Dartmouth College's Tuck School of Business, that led to it establishing Revers Center for Energy. The goal of the center is "to inspire and shape tomorrow's leaders in energy while engaging in today's energy economy," according to a press release. At an event sponsored by the center earlier this year, students had the opportunity to ask Democratic presidential candidates Amy Klobuchar, Pete Buttigieg, Andrew Yang, and others about their positions on climate change.  
But in private, Revers and ArcLight are closely associated with Republicans and fossil fuel development. ArcLight has given over $900,000 to the GOP since 2012, and around $30,000 to Democrats, according to the nonpartisan Center For Responsive Politics. Revers himself has given more than $170,000 to Republican candidates or political groups associated with them since 2004, Federal Election Commission filings show, and under $10,000 to Democrats. 
ArcLight didn't respond to VICE's questions about Rever's political donations or the profits it generates from operating peakers in New York. Those questions were sent in multiple emails to ArcLight's media account. Nor did the company respond when VICE followed up by phone. 
In 2017, Revers was one of two dozen business leaders that travelled with President Donald Trump to China. One of the goals of the trip was reportedly to entice Chinese investment in a formerly shuttered oil refinery in the U.S. Virgin Islands that is now owned by ArcLight. The refinery is located near a low-income Black and Latinx area of St. Croix and has a long history of toxic air pollution. Plans for the restart are currently proceeding. 
The perverse reality of it all, argue environmental advocates in New York, is that some of the money going to ArcLight to keep its Narrows peaker plant open comes from the bank accounts of Sunset Park's residents. "They have to pay through their utility bills every month for these polluting facilities to be sited in their communities," said Annel Hernandez, associate director of the New York City Environmental Justice Alliance, which is also fighting peakers in the city.  "Giving private interests money to continue business as usual and to continue burning fossil fuels is a mistake. We need to change it as soon as possible."
Change is coming to the Narrows peaker. Astoria Generating Company, which is owned by ArcLight, is now proposing a plan that would result in the Sunset Park facility being shut down by 2024. Partly that's due to stricter New York state regulations on peaker plant emissions that were announced late last year. Astoria would at the same time replace a different peaker plant that it operates one mile up the waterfront—Gowanus Generating Station—with newer and more efficient technology for creating electricity. This plan would reduce the harmful pollutants breathed by people like Escalera, the company argues.
"We think that repowering, which will lead to the retirement of Narrows and reduce emissions and electric prices, is the best path forward for both the city and the local area," John Reese, senior vice president for Astoria Generating Company, told VICE News in an emailed statement. The statement didn't address the company's ties to ArcLight.   
The problem with this plan, UPROSE argues, is that the new generating units Astoria is proposing to build would use natural gas. Even with technology to control air pollution, a facility that burns fossil fuels carries the risk of releasing "all the co-pollutants that are hurting our community," Yeampierre said.
And building new gas infrastructure is terrible for climate change. "The science is clear: the world has a decade to halve its emissions and three decades to reach complete carbon neutrality, at a minimum," several Sunset Park residents argued during a review process for the project earlier this year. "We want and deserve for our communities the technology and infrastructure of the future. That is a future that is free of fossil fuels."
What the next phase of the fight looks like is hard to predict. "We don't know if anything's coming up soon; a lot of things are being put on pause because of COVID," Yeampierre said. "But we are organizing and educating the community."
Versions of this standoff are now taking place in neighborhoods all over New York. Earlier this year, UPROSE joined with community based-advocacy groups across the city to form the PEAK Coalition, whose goal is to shut down New York's peakers entirely—15 of them in total spread across all five boroughs. Replacing these fossil fuel-burning facilities with solar-powered battery storage units would immediately improve the air breathed by 1.2 million New Yorkers, the report "Dirty Energy, Big Money" calculates, many of them people of color earning lower-than-average incomes. 
These short-term gains are often overlooked when climate advocates weigh the costs and benefits of aggressive action. A paper published in July in the scientific journal Nature calculated that even if we were to rapidly cut emissions across the planet, a noticeable slowdown in global temperature rise "will not occur until decades after efforts are put in place." The paper argued that we should be "managing our expectations." 
But that may not be a complete-enough picture of what society would gain. The cleaner air caused by reducing U.S. emissions on the scale needed to hit the Paris climate target of 2 C "would prevent roughly 4.5 million premature deaths, about 3.5 million hospitalizations and emergency room visits, and approximately 300 million lost workdays in the U.S.," Duke University earth science professor Drew Shindell told a House hearing in August. 
In Sunset Park, that could look like fewer undocumented immigrants coming into Escalera's family health center suffering from asthma. Fewer people being diagnosed with lung cancer. Schoolchildren no longer having to breathe fine particulate matter during recess. Rooftops covered with solar panels owned by the community instead of natural gas plants generating billions of dollars for hedge funds. An industrial waterfront redesigned to manufacture the wind turbines, electric vehicle engines, and other technologies needed to execute something like the Green New Deal, providing good-paying jobs to locals.
UPROSE has commissioned studies suggesting these goals are feasible. But achieving them requires saying "no" to power companies that want to keep burning fossil fuels and investors that use the profits to purchase penthouse apartments—along with the developers now attempting to saturate the waterfront with artisanal pickle shops and sake distilleries. "If we're able to do it, New York City could model what is possible," Yeampierre said. "This is a big fight."
Follow Geoff Dembicki on Twitter.
Have a story for Tipping Point? Email TippingPoint@vice.com