Scott Olson / Staff via Getty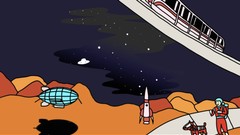 Moveable explores the future of transportation, infrastructure, energy, and cities.
A long-anticipated freight rail worker strike could begin as early as Friday morning that could debilitate the U.S. economy if allowed to persist. The rhetoric and posturing on both sides is heating up, with railroads beginning to enforce restrictions on hazardous material shipments which two major unions decried as "corporate extortion," as it will put pressure on Congress to intervene. Shipping trade groups, who are the railroads' customers, warn "any disruption in freight rail service will negatively impact our nation's international competitiveness while making inflation even worse which is affecting all Americans." The U.S. Chamber of Commerce likewise said a strike would be an "economic disaster." Commuter railroads outside the Northeast corridor are also expecting disruptions and stoppages because they run on tracks owned and operated by freight companies. Amtrak is also canceling some routes.
The disagreement that has a handful of corporations and 12 unions playing Russian roulette with the American economy is not over pay or healthcare. Instead, the main sticking point is draconian time-off policies that, as workers told Motherboard earlier this year, are ruining their lives and driving hundreds of their former colleagues to quit, policies put in place by the railroads to accommodate for years of shrinking their own workforces to improve profit margins. 
Sign up for Motherboard's daily newsletter for a regular dose of our original reporting, plus behind-the-scenes content about our biggest stories.
As of this writing, nine of the 12 unions have reached tentative agreements with the umbrella group negotiating on behalf of the railroads. The terms of that agreement are in accord with the recommendations of the Presidential Emergency Board, a panel of three experts appointed by President Biden to propose its own settlement after three years of impasse. The PEB essentially punted on questions of working conditions, allotting workers one extra guaranteed day off a year, and otherwise saying railroads could keep doing what they're doing. 
Critically, the nine unions that reached a tentative agreement are not the ones whose members operate trains and are subject to the new work rules. It's also important to mention that the tentative agreement means the union leadership has agreed to a deal in principle, but its members have not voted on it. And it is unclear how that vote will go. A recent survey indicated there is widespread grassroots support for a strike. However, it is expected all unions with a tentative agreement will engage in a strike in solidarity if there are any holdouts. In other words, it is all or none.
Do you work for a freight rail company? Know anything we should know? Email the reporter at Aaron.Gordon@vice.com.
Two unions in particular, SMART-TD and the Brotherhood of Locomotive Engineers and Trainmen (BLET), have a particular motivation to push for better terms. The lives of their members have gradually but fundamentally changed over the past five to ten years. The industry's workforce has shrunk by almost a third, thanks in large part to a management philosophy known as Precision Scheduled Railroading (PSR), which its critics decry as neither precise nor scheduled. It is a philosophy about cutting costs and accommodating only the most profitable shippers so railroads make the most money. In that sense, it works, as the seven biggest freight rail companies, known as Class I railroads, rake in billions of dollars in profits every year.
The flip side of this philosophy is workers are being told to do more with less. For many workers, new attendance policies that mandate being available for work up to 90 percent of their lives until the day they retire with no specific provisions for something as elemental as sick days is pushing them to the brink of both physical and mental exhaustion. Instituted in the last few years in various forms by several Class I's, these policies have many railroad workers thinking the good pay and healthcare isn't worth the tradeoffs. For them, it's now or never to improve their basic working conditions. Even workers who don't currently work under such extreme policies fear their railroad may be next, just as all of them gradually adopted PSR principles over time. For many workers, the thinking is simple: Either they win better terms under this contract or they will quit.
But winning better terms won't be easy because of the specific legal apparatus around freight railroad labor law. Under the Railway Labor Act, Congress can order striking railroad workers back to work under virtually any terms it desires. It can either mandate freight rail workers return to work under the terms the PEB recommended—generally regarded as the likeliest scenario—or require binding arbitration which would likely result in a mandated agreement much like the PEB, which itself was a form of arbitration. Or, less likely, it could formulate its own terms. 
Whatever it decides, it is highly likely Congress will intervene in some way, according to House majority leader Steny Hoyer. With the midterm elections just around the corner, it is highly unlikely Democrats, who control both chambers of Congress and the presidency, would allow railroad workers to strike. 

The bitter irony, of course, is Joe Biden and the Democrats actively court organized labor as a constituency, and intervening in the collective bargaining process to mandate workers return to work under terms they do not like is hardly a pro-labor move. SMART-TD and BLET are urging Congress to "stay out of the rail dispute and tell the railroads to do what other business leaders do—sit down and bargain a contract that your employees will accept." The railroads, in refusing to bargain further over working conditions, are behaving like they know what is going to happen next.