Update: Surrey RCMP said no charges have been laid but that they are still investigating.
Ryan Laforge, the embattled leader of vigilante pedophile hunting group Surrey Creep Catchers was allegedly arrested last night following a sting in which he started shoving his target into a wall.
Laforge began a Facebook live video at 8 PM Monday in which he said a Surrey Creep Catcher decoy who goes by Nicole Hunter had just met up with a man who was there to pay for sex with her and her fictional six-year-old daughter. During the sting, Laforge put the man under citizen's arrest, and cornered him, repeatedly grabbing at his jacket, pushing him into the wall, and making threats.
Following the sting, at around 11 PM, Hunter posted on Facebook that Laforge had been arrested for assault and that the alleged pedophile had also been arrested. Laforge later hosted another Facebook live confirming he'd been arrested for assault and thanking his followers for contributing to his $1,000 bail. Surrey RCMP have not yet confirmed either arrest or responded to VICE's request for comment.
Read more: Predators or Prey? Creep Catchers Accused of Targeting People with Physical and Mental Disabilities
In the original livestream of the bust, Laforge says his target was willing to pay $50 to be with a six-year-old girl and her mother (both made up by Surrey Creep Catchers) at the same time.
"We made a deal that if the cops don't arrest him then we're going to jail because somebody's gonna get fucked up. Somebody is going to jail today whether it's this fucking goof or me, I don't care. So please share," he says, demanding at least 1,000 views.
Laforge approaches his decoy Hunter and a South Asian man, who are seated at a booth in Tim Hortons.
When Laforge says the man's name and holds the camera up to him, the target begins to flee, going outside. Laforge runs after him telling him "this is a citizen's arrest, you're not going anywhere."
Laforge backs the man into a corner while Hunter shouts "You just asked me live on fucking Facebook if you needed to go buy lube so you could fuck my six year old daughter!"
"That was your idea, I'm not going to jail. Excuse me. I gotta go," the man replies.
Laforge, Hunter, and two others continue to crowd the man into a corner. As the man tries to leave, Laforge shoves him back repeatedly, and grabs at the sides of his jacket.
"You try to move I will fucking end your life," he shouts, yanking the man back and forth by his jacket.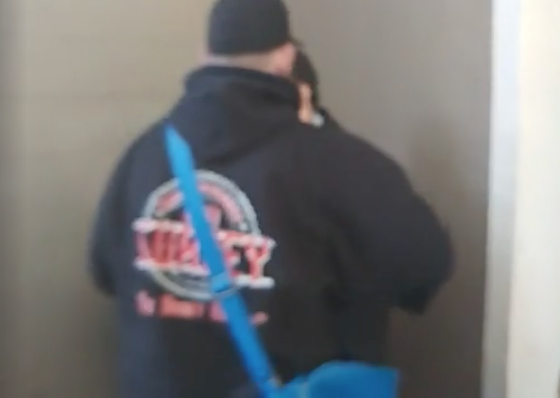 After nearly 20 minutes, the police show up; four officers speak with the accused pedophile as Laforge and his crew film from a distance.
Then two officers approach the Surrey Creep Catchers and demand all of their phones for evidence. Laforge says he's fine with giving up one phone but seems to be arguing against turning in all of the group's phones.
The video ends there and does not show Laforge being arrested.
Laforge said on Facebook he was let go on a promise to appear. "Nothing I'm not used to. Once a criminal, always a criminal."
VICE profiled Laforge in January as part of an investigation into vigilante pedophile hunting across Canada. In it, he admitted to his criminal past, which included selling drugs, and he courted controversy for shaming people who appeared to have cognitive and physical disabilities.
He's recently been hit with two defamation lawsuits and is subject to a separate investigation by BC's Privacy Commissioner.
Sean Smith, a Vancouver Island-based social media educator, who is suing Laforge, told VICE he has mixed feelings over Monday night's events.
"The audio of the person that they were trying to catch was pretty disturbing. But Ryan's actions were over the top," he said. "This really is proof that these are the wrong people to be doing this sort of thing. The ability to keep your cool and control yourself is so important if you're actually trying to catch a predator."
Lawyer Craig Jones told VICE Laforge's behaviour may have been within his rights. You can make a citizen's arrest if a crime is in process (in this case the crime would be attempted procuring of sex with a minor) and you're allowed to use reasonable force to prevent someone from leaving during the arrest.
"Watching the video… the actual application of force was minimal (some shoving and clothes-grabbing), and it does appear pretty clear that the suspect was attempting to leave. So I don't think it's at all clear that Ryan Laforge is guilty of assault, providing the arrest was justified," said Jones. "Not that this kind of shit is a good idea."
Follow Manisha Krishnan on Twitter.