The self-proclaimed "Dean of American Rock Critics," Robert Christgau was one of the pioneers of music criticism as we know it. He was the music editor at the Village Voice for almost four decades where he created the trusted annual Pazz & Jop Poll. He was one of the first mainstream critics to write about hip-hop and the only one to review Simon & Garfunkel's Bridge Over Troubled Water with one word: "Melodic." On top of his columns, he has published six books, including his 2015 autobiography, Going Into the City. He currently teaches at New York University. Every week, we publish Expert Witness, his long-running critical column. To read more about his career, read his welcome post; for four decades of critical reviews, check out his regularly updated website.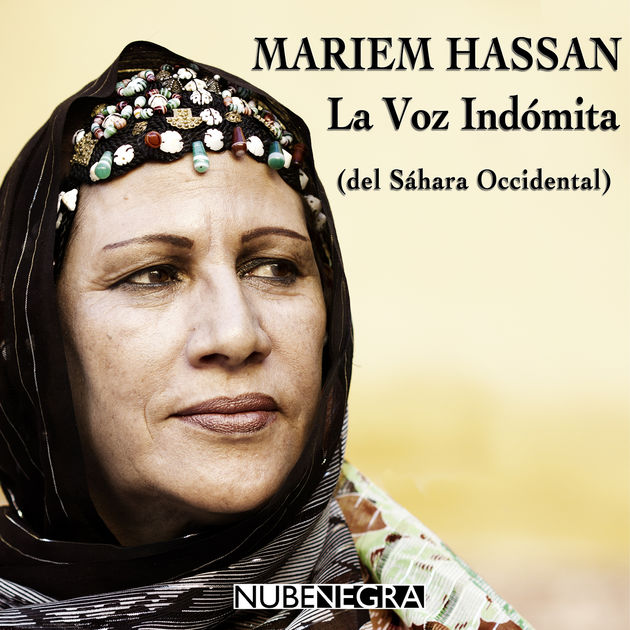 Mariem Hassan: La Voz Indómita (Nubenegra) "(Del Sáhara Occidental)," a subtitle explains, but the Western Sahara wasn't big enough to contain Mariem Hassan. Dead of bone cancer in 2015 in a Sahrawi refugee camp, she was postcolonial Africa's most striking female singer. Before, during, and after a European career of over a decade, her powersaw voice was intense at any volume, with none of the sensual comfort of the equally stirring Oumou Sangare, whose forested Wassoulou was so much more forgiving than Hassan's desert. Yet because this onetime nurse had the spiritual wherewithal to resettle in Barcelona, she got to make music with fellow Sahrawis and many others. Her sixth and final album is a DVD soundtrack, recorded solely in her last five years but digging back stylistically. Guests range from the Sahara ululators who haunt "Najter Alaila Anadal Lihuela" to New York avant-bassist Shanir Blumenkranz contrapuntalizing the desert blues "Latlal," from Yemeni-Israeli Ravid Kahalani to Sierra Leonean-Nigerian Seydu. I haven't figured out who's in the jazz combo that backs "Illah Engulek Di Elkalma," but I love the way her easy mesh with the idiom segues abruptly into one where the sub-Saharan Seydu softens her dry wail only to be overtaken in turn by a searing Sahrawi haul. The "Al Widaa" finale was recorded five months before she passed on in her haim, a word than means both family and tent. If 82-year-old Leonard Cohen made his death album, then 58-year-old Mariem Hassan made hers—and it's less sere. A MINUS
Orchestra Baobab: Tribute to Ndiouga Dieng (World Circuit Records) Specialist in All Styles and Made in Dakar, the 2001 and 2008 albums that reunited this world-class band, climaxed a career that began with a 15-year run in 1970, went into abeyance rather than "modernize," and then surged back. But because guitarist-arranger Barthelemy Attisso would rather be a lawyer in Togo than a star in Senegal, this long-delayed sequel was a challenge. Attisso's young Beninois replacement is deft enough without approaching his calm mastery or getting as much room, overshadowed as he is by a well-integrated kora add-on who, while hardly the usual mystagogue, sometimes renders the ambience perilously world-musicky even so. But though singer Ndiouga Dieng is indeed gone, Balla Sidibe and Rudy Gomis remain frontmen to reckon with as their voices roughen, and where Baobab's other 21st-century albums reconstituted their greatest hits, here they generate new titles worthy of their legend. For orientation, start in the middle with "Woulinewa" and the only remake, the Dieng-identified "Sey," which a cameo from Baobab alum Thione Seck takes home. Then start again from the beginning. A MINUS
Mariem Hassan & Vadiya Mint El Hanevi: Baila Sahara Baila (Nubenegra) Right, Spanish speakers, it's a Saharan dance album where Hassan's indomitable voice is augmented by percussionist-dancer Hanevi's chirpier one. Tempos vary perceptibly, rhythms decisively, yet although the results are galvanic, they'll wear down anyone who hasn't internalized those rhythms. So although Lamgaifri Brahim is the guitar virtuoso here, I find myself equally drawn to the downtempo Nayim Alal instrumental "Bleida." A one-of-a-kind document most pleasurably consumed in controlled portions. B PLUS
Honorable Mentions:
Tinariwen: Elwan (Anti-) Yet finer marginal differentiations on the theme of holy Azawad, this time rendered more "accessible" by, well, Kurt Vile and Mark Lanegan (of, you remember, Screaming Trees) ("Nizzagh Ijbal," "Assàwat") **
Tamikrest: Kidal (Glitterbeat) Their groove has evolved into a given, which does happen in Azawad ("Wainan Adobat," "Ehad Wad Nadorhan") **
Follow Robert Christgau on Twitter.