Today—December 9, 2016—the Retail, Wholesale and Department Store Union (RWDSU) is calling for a national day of action to protest Guitar Center's illegal union-busting activities. The RWDSU's continuing effort to unionize the company's 270 retail locations across the United States was first launched in 2013, and found itself hamstrung by the company's anti-union tactics. A federal court ruling handed down on November 7, 2016 found the musical instrument retailer guilty of breaking multiple labor laws, with offenses pertaining to surveillance, discrimination, bad faith bargaining, illegal withdrawal of union recognition, and threatening their workers with reduced benefits for their union support and/or affiliation .
Now, in partnership with the United Food and Commercial Workers (who represent over 1.3 million retail industry workers in the USA and Canada), the RWDSU is urging you to call company CEO Ron Japinga to tell him "enough is enough." They include his office phone number—which is 1-818-735-8800 ext. 2740—on the literature they'll be handing out to workers at 75 Guitar Center locations across the country today to let them know that Guitar Center just lost a year-long court case for violating their employees' labor rights.
As RWSDU communications coordinator Ben Townshend told Noisey, "The more solidarity we can build up among workers in all the stores, the better."
They also encourage people to contact the company via social media, and to sign the movement's MoveOn.org petition. Titled Guitar Center and Bain Capital: Let Workers Unite for a Fair Workplace, the petition has drawn support from a massive list of prominent musicians (including Kathleen Hanna, Tom Morello, Ian MacKaye, Laura Jane Grace, Roger Waters, Ted Leo, Billy Bragg, Steve Earle, The Mountain Goats' John Darnielle, and dozens more).
Noisey was sent a statement from RWDSU President Stuart Appelbaum earlier today that read, "We want all Guitar Center workers to know they won a major victory with the NLRB [National Labor Relations Board] deciding in their favor and against the company's illegal anti-union activities. The company is required to negotiate in good faith on a fair union contract."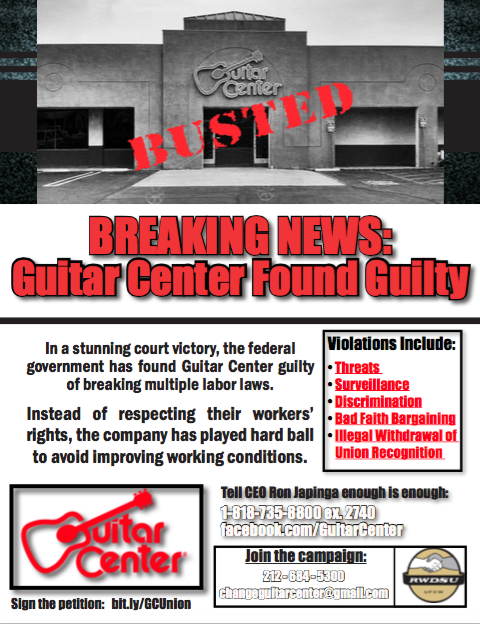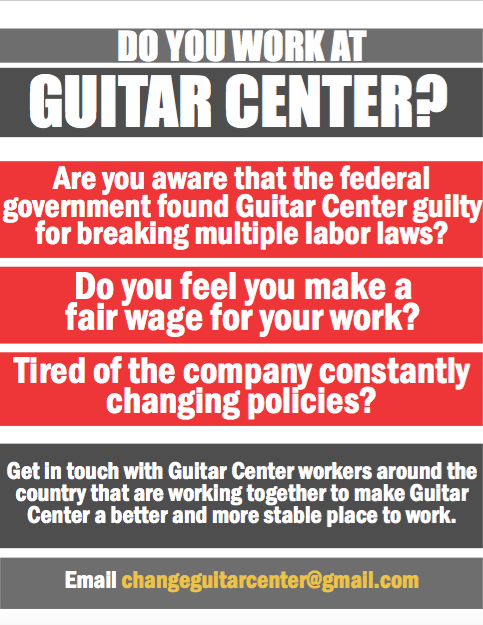 Kim Kelly is an editor at Noisey (and a proud member of WGAE); she's on Twitter.