Images courtesy the artist and 3 Punts Galeria.
Balloon-like heads contort their faces, naked men don giant animal masks, intact heads are smushed or even caved in, and other strange things happen in the work of Barcelona-based sculptor and painter Samuel Salcedo. The sculptures, which range from very large to toy-sized, are simultaneously surreal, absurdist, and hyper-realistic, and often infused with different media, like metal powders and embellished with paint. Like Santissimi's disturbing fleshy sculptures, Salcedo's work has a certain grotesqueness about it, but one more grounded in the real than the fantastical.
Salcedo tells Creators that he originally studied painting before becoming a sculptor. Little by little, after working for a sculptor, he began incorporating the medium into his artistic process. "In the beginning for me it was difficult to explain things through sculpture because it was just a job," Salcedo says. "But now most of my work is sculptural."
"At first, I was only doing one or two sculptures for my exhibitions, and the techniques I knew weren't very precise because I didn't study classical techniques," he adds. "I knew a lot about new materials like silicone, polyester, and different type of resins, and I tried to do in three dimensions what I was painting. Now I'm using other materials like aluminum, bronze, and wood, because different materials have different meanings, and you can completely change a sculpture's meaning by changing materials."
To make his sculptures, Salcedo works with clay or plasticine, depending on the size. Working off images and photos of people, which he collages together in different ways, Salcedo creates a silicone mold and makes a copy, which could be bronze or even fiberglass. Salcedo also adds materials, like more silicone, to the copy to alter its appearance, before ultimately applying graffiti spray paint or adding powders to change the surface texture.
With his larger sculptures, Salcedo tries to be a bit more serious and poetic. Shadow, a white polyester resin sculpture of a face with puffed out cheeks atop an elongated neck, is still playful, but not nearly as anarchic as some of his smaller, more transgressive sculptures. Talent Show: Donkey features a naked man bent over and inspecting the ass of another naked man who is wearing a donkey headdress.
"In the smaller sculptures, I explore this funny part of me because the size is so small," says Salcedo. "You can hold the sculpture like a toy and I can be more narrative and explain things that in life size would be too terrible and strong. I try to explain these things not only with naked men but poor materials like hats, masks, and other materials. What does the mask mean? We hide behind masks, and it's very traditional in Catalonia to wear these big hats and masks at carnivale parties, like those worn by kings and queens with crowns and scepters, and dance around."
Ultimately, Salcedo is interested in working with the idea of the human being. For him, it's interesting to consider why and how people hide behind masks. Salcedo wants viewers to consider, as he does himself, what is most important or illuminating about an individual: the human wearing the mask or the human without the mask?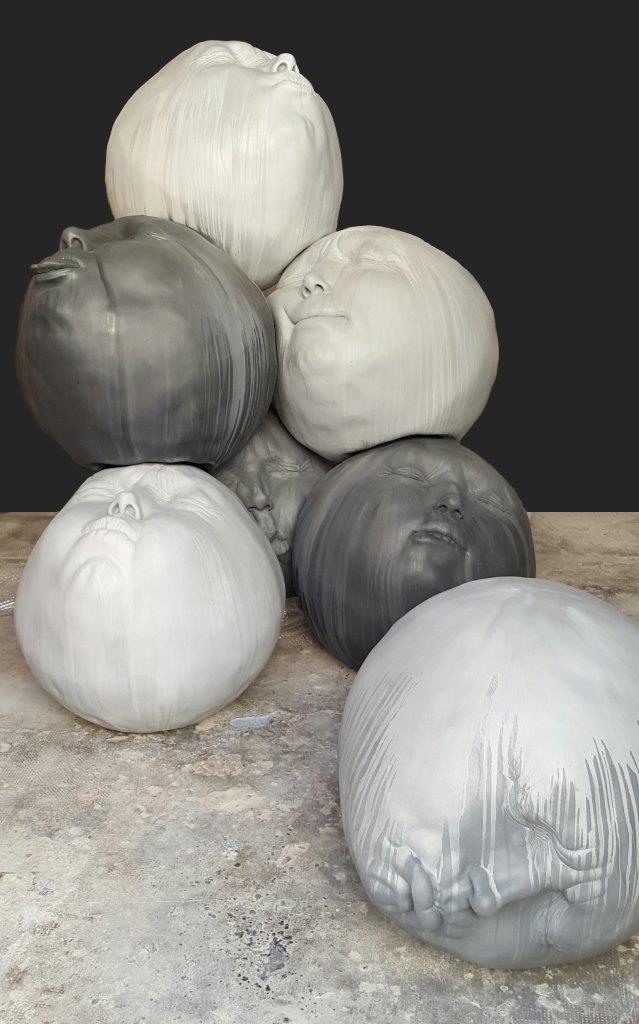 "If a man is wearing a mask of a bunny, for example, the bunny means something nice, but maybe the man behind the mask is a horrible person," Salcedo says. "So, I'm interested in what happens when the viewer looks at this sculpture, which is why I like to have wide open meanings. They are like mirrors: the self is reflected in the sculptures."
"People can read nice things or disgusting things, depending on how they feel," he adds. "Both are right. Sometimes I like to make people uncomfortable or strange with naked sculptures or even half-naked sculptures, which are even stranger."
At his most recent exhibition, as part of 3 Punts Galeria's showcase at CONTEXT New York art fair, Salcedo showed several knew bronze sculptures of heads on elongated necks, and smaller sculptures of his absurdist masks. He is currently in the midst of finishing new work, some for exhibitions and one for an installation in a garden in the north of France.
"I installed big balls with faces in this big garden," says Salcedo. "It's a very beautiful place, and I'm surprised when pieces with beautiful places want my work. Not because I don't think they're beautiful, but because I try to explain things. Sometimes it works very well, though."
Click here to see more of Samuel Salcedo's work.
Related:
[NSFW] After Looking at These Grotesque Sculptures, Try Sleeping Tonight
[NSFW] Disturbing Fleshy Sculptures Imagine a Mutated Human Race
Gigantic Smashed Candy Sculptures Will Give You a Sugar High