A bright speck of climate news was quickly overshadowed by the presidential election this week—America's children have officially won the right to sue their government over global warming.
Yesterday, a lawsuit filed by 21 youth plaintiffs was ruled valid by US District Judge Ann Aiken in Eugene, Oregon. A group of citizens, whose ages range from nine to 20, charged President Obama, the fossil fuel industry, and other federal agencies with violating their constitutional rights by declining to take action against climate change.
"Federal courts too often have been cautious and overly deferential in the arena of environmental law, and the world has suffered for it," wrote Judge Aiken in her ruling.
Along with renowned climate scientist James Hansen, who in 1988 pleaded with Congress to consider the harmful effects of greenhouse gas emissions, the youth group was applauded by activists who saw their lawsuit as a much-needed beacon of hope for future generations. In it, the plaintiffs accused the US government and energy trade industries of endangering their rights to life, liberty, property, and to vital public trust resources.
In 2015, the National Association of Manufacturers (NAM), the American Fuel & Petrochemical Manufacturers (AFPM), and the American Petroleum Institute (API), along with the US government, motioned for the case to be thrown out before US Magistrate Judge Thomas Coffin. Their opposition was based on a "lack of subject matter jurisdiction and failure to state a claim." Judge Coffin rejected their motion, although the defendants appealed, and was later succeeded by Judge Aikin after his retirement.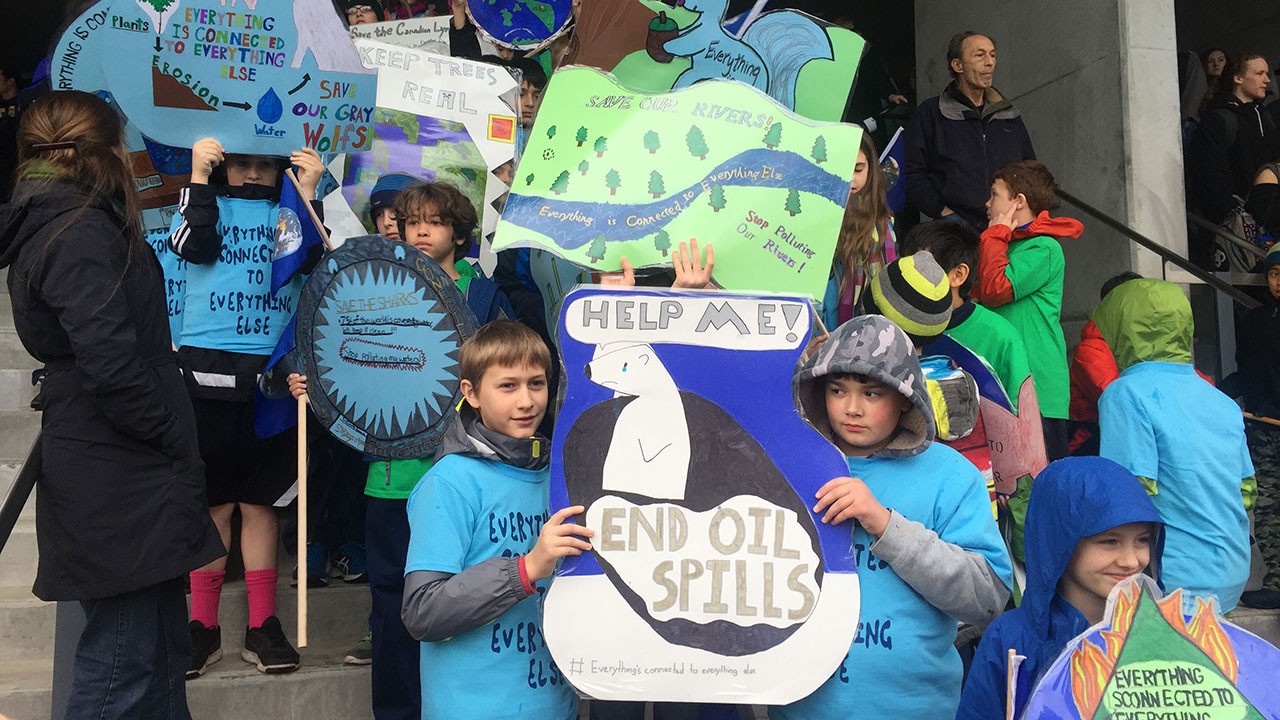 From our colleagues at VICE: This Teenager Is Fighting Climate Change by Suing the Government
As the largest fossil fuel trade association, API spends million of lobbying dollars each year to promote the interests of oil, gas, and coal companies. According to SourceWatch, the association has created a large number of front groups, organizations that advance political agendas by concealing their interests or affiliations, while also funding right-wing advocacy groups Americans for Prosperity and the American Legislative Exchange Council.
Throughout the 2012 election cycle, NAM received $1.17 million in funding from the Koch brothers' political spending group, Freedom Partners. The lobbying group is well known for opposing regulations on carbon emissions proposed by the Environmental Protection Agency.
In her ruling, Judge Aikin found little truth to the defendants' complaints. She declared the facts of man-made climate change "undisputed," and supported the plaintiffs' challenge to hold national powers accountable for the damages caused by global warming.
Aikin wrote: "This action is of a different order than the typical environmental case. It alleges that defendants' actions and inactions—whether or not they violate any specific statutory duty—have so profoundly damaged our home planet that they threaten plaintiffs' fundamental constitutional rights to life and liberty."
The youth group's victory is significant not only in itself, but also for the precedent it sets for other federal climate lawsuits. Last year, a judge in the Netherlands ruled in favor of Dutch plaintiffs, ordering the country to lower emissions by 25 percent of their 1990 levels within five years. This marked the first time a court had decided that states should have "independent legal obligations toward their citizens," according to the group's lawyer.
This week's decision is especially important as countries seek to fulfill their Paris Agreement pledges. Now that the treaty is in legal effect, members are expected to their curb carbon emissions through various means, though many fossil fuel groups have yet to endorse plans for developing alternative energy sources.
In a statement provided to Motherboard last week, ExxonMobil called the Paris Agreement an "important step forward," and implied that its goals are in line with those set forth by the treaty. However, the oil and gas company is currently resisting legal probes that could prove whether it knowingly deceived the public and shareholders about the dangers of climate change.
"My generation is rewriting history. We're doing what so many people told us we were incapable of doing: holding our leaders accountable for their disastrous and dangerous actions," Xiuhtezcatl Martinez, a 16-year-old plaintiff in the climate change case, said in a statement.
The lawsuit is one of several state and federal legal actions spearheaded by Our Children's Trust, a civic engagement nonprofit that advocates for young people and environmental issues.
"I and my co-plaintiffs are demanding justice for our generation and justice for all future generations," Martinez added. "This is going to be the trial of our lifetimes."
Get six of our favorite Motherboard stories every day by signing up for our newsletter.