Last month, chef, memoirist, and longtime VICE and VICELAND collaborator Eddie Huang delivered a powerful keynote address at the National Immigrant Integration Conference in Nashville, Tennessee. The annual conference, which is in its ninth year, is the largest of its kind and was attended by over 1,000 people, and Huang's speech, titled "No Coupons," was an impassioned message for immigrants to literally stop selling themselves short.
"Being a natural-born American, I refuse to see myself as a guest or an alien, no matter how many people tell me to go back to China," the Huang's World host told the audience. He connected his Chinese father's plight as a steakhouse owner in 1990s Orlando, offering steep discounts because "immigrants can't sell anything full price in America," to Huang's own experience today as the accomplished 34-year-old Taiwanese American chef in New York and LA selling Taiwanese gua bao for "full fucking price."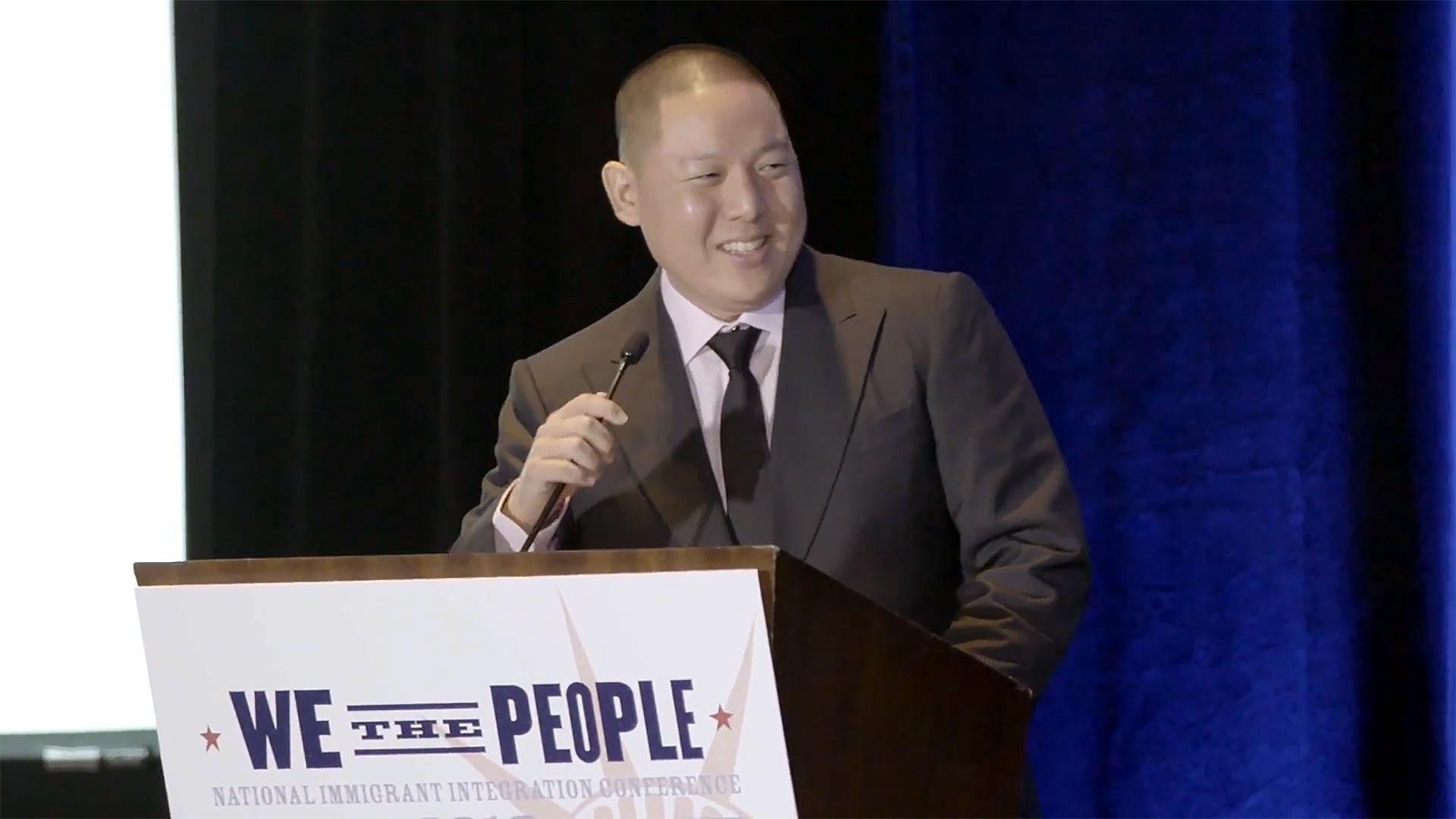 "As immigrants, we must tell our stories if we want to be understood at full market value," the Fresh Off the Boat author said, stressing the value of narratives as "the bridges to familiarity."
Huang's message for understanding and solidarity arrives at a time when immigrants in American are under attack from an incoming administration that has threatened to build an enormous wall between the US and Mexico border, start a Muslim registry, and deport millions of undocumented workers, and an American society that has seen a sharp uptick of hate incidents, Islamophobia, and intolerance since the election.
Huang continued: "I hope that one day America will acknowledge my identity and accept that I am a yellow-blooded, whole American, entitled to equal rights, because nowhere in our creation story is whiteness tied to the definition of an American.
"There is a lie I've seen told to white immigrants somewhere between the first and second generation, which convinces them that their struggle is the American one, and no other immigrant struggle can be understand as such and that inequalities against anyone wearing an SPF lower than 50 are somehow ordained," he said. "This is the lie that has propelled Trump to the White House. And whoever wrote this lie, voted for this lie, or turns a blind eye to this lie needs to stand with us today and dispel it, because the rest of America has to live it."
Check out the full video of Eddie's speech above. Huang's World airs on VICELAND.
Follow James Yeh on Twitter.