This story appears in the May issue of VICE magazine. Click HERE to subscribe.
Sarah* had been renting her apartment in Dublin for three years when her landlord texted to say that she would have to find somewhere else to live. His sister, he said, wanted to move into the house. Desperate to find a new home, Sarah went to viewing after viewing, rarely getting as much as a call back. People were offering thousands of euro in cash payments up front. Sarah, a 29-year-old single mom working part time in retail and living on government rent allowance, couldn't compete. She moved into the house of a friend, who was pregnant at the time and had one son older than Sarah's, all of them squeezed into a tight two-bedroom apartment.
"When I moved out, the same week my house was up [for rent]," she told me this past March, a year after her eviction notice, as we sat in a Starbucks in an industrial suburb of Dublin. She had been afraid to meet me at the temporary, government-supplied emergency accommodation she had since moved into, a hotel room she had called home for the past few days.
Her landlord contacted her about a week after she left to say she could move back into her old apartment for an extra $480 a month. That was on top of the $1,088 she was already paying for a two-bedroom flat in a rough area. "I was struggling to afford it as it was," she said.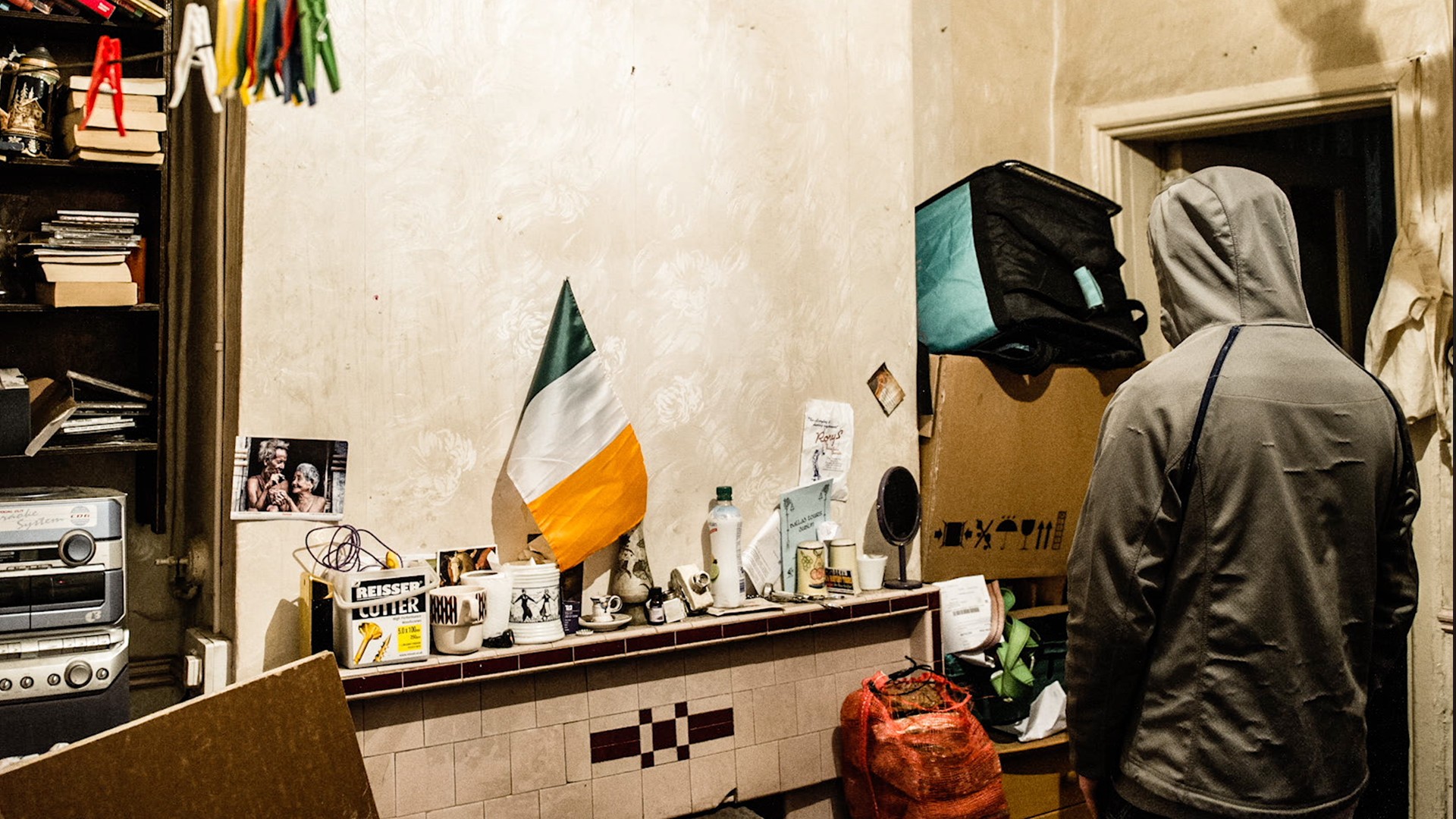 "I had to pack up all my stuff, put it in people's sheds, in people's homes," she said. "I lost count of how many [apartments] I viewed." A lawyer told her he would take on her case against the previous landlord for wrongful eviction. "But when you're sofa surfing and have a child and going to work… I just didn't have the energy for it." She saw a single-bedroom apartment in a building meant to be dedicated to social housing, which was being privately rented at nearly $1,200 a month. There were holes in the wall, and a woman at the top of the stairs screamed the whole time. Prices, meanwhile, kept rising.
She remembered growing up in the council house her mother still owns. When she was a kid, council housing was hardly sought after. Today, Sarah has been on the city's list for council housing for six years, and last week she received a letter informing her she was number "1,000 and something" on the wait for housing in the Swords area, a satellite town on Dublin's northern outskirts.
Sarah is part of a generation of young Irish people who grew up during the crash that followed the bursting of the country's property bubble and are now struggling to find a place to live. Since the collapse of the Celtic Tiger—Ireland's boom economy—in 2008, homelessness in Ireland, and particularly in Dublin, has been on the rise. The causes are diverse, and depending on who you ask include stagnant wages, rising rents, deep cuts to government social programs, and a concentration of available work in urban areas with insufficient affordable housing. More and more families have applied for emergency accommodation, and growing numbers of young people have faced homelessness. In the past year alone, the number of homeless in the country has risen by a quarter, the majority in the capital of Dublin. Now, with multinational corporations like Google and Facebook establishing headquarters in Dublin, demand for housing has spiked, consistent with rapidly rising rents and an apparent scarcity of available housing.
The current crisis in Dublin is part of a growing problem in cities across Europe. A new report from FEANTSA, the European Federation of National Organizations Working with the Homeless, has shown homelessness is on the rise in almost all European countries. The number of families in temporary housing in London has risen by 50 percent since 2010. One in 70 people in Athens are now homeless. Though the causes are diverse and vary in each case, housing costs are a consistent issue.
The young are particularly affected. As an article on FEANTSA's report in the Guardian noted, "In all EU countries, young people are more vulnerable to prohibitive housing costs, overcrowding and severe housing deprivation than the rest of the population." Youth homelessness in Copenhagen, for instance, is up by 75 percent since 2009. "For poor young people across Europe," the article continued, "the situation is becoming increasingly prevalent, with 65% in Germany, 78% in Denmark and 58% in the UK spending more than 40% of their disposable income on housing. The average in the EU is 48%."
The news is troubling. Yet, in response to these challenges, young activists across Europe have been mobilizing, using direct action to provide support within communities, sharing advice on squatting, and protesting. These actions highlight the complete lack of faith young people have that the government will solve a housing crisis that is hitting them the hardest. I set out to talk to this new generation of housing activists, visiting two cities: one, Dublin, in which the problem has festered for some time and is now at a seeming crisis point; and the other, Berlin, which, for all of its progressive housing legislation, now faces the telltale signs of its own incipient crisis.
On the night of December 15, 2016, a group of homeless people, artists, and housing rights activists launched an occupation of Apollo House, a state-owned office building in the center of Dublin that had once housed the Department for Social Protection. Their goal was to turn it into a residence for the city's homeless. For the next few weeks, the group, calling itself Home Sweet Home, transformed the building into a livable accommodation, turning on the heating, water, and electricity, and making the kitchens operational. There were around 40 people living there by the time I first visited as a volunteer, the number capped only by a court order that demanded they admit no more. Homeless people looking for shelter had to be turned away at the gates.
Less than a week after the occupation started, the High Court ordered the residents to evacuate by January 11. On that day, hundreds of protesters surrounded the building, protecting the inhabitants a little longer before their departure the following day. Where occupations of vacant buildings like this one had in the past largely been invisible to the public, Apollo House captured the attention of the nation, seeming to articulate an increasingly widespread concern: that housing, especially for the young, is becoming unattainable.
Megan Woods, a 26-year-old filmmaker who documented the occupation, told me she remembered thinking, as she watched the outpouring of support around Apollo House, that she was "witnessing a social movement." Over the few weeks it was operational, 750 people worked shifts night and day, and more than 4,000 signed up to volunteer. As well as material donations, around $190,000 was raised, and Irish musicians like Hozier and Glen Hansard lent celebrity support. "We were achieving something huge," she said.
Inside the block there were floors dedicated to those who needed support for addiction, an entire floor for the overflow of donations that came every day, and a dedicated team of volunteers, many of whom had been homeless themselves or had worked for years in support services, helping the new residents to create a home.
Woods said there is mounting rage among her generation. She had always been afraid to speak about housing issues, since for her it had hit too close to home. As a child, she had felt like an outsider, because her mother had moved from rented apartment to rented apartment. Before the crash, this had been unusual. "Now," she said, "I'm seeing friends going through the same shit."
She rents a room in a shared apartment but said it feels like "tearing up money and putting it in a black hole." She worries about another crash. Indeed, the Paris-based Organization for Economic Cooperation and Development has already warned that Ireland faces significant risks, including another rapidly inflating property bubble. "I'm seeing cranes up. I'm seeing building everywhere. I'm watching it, and it's happening again."
If she had the money, she said she would try to get a mortgage. Right now, it's almost more realistic than continuing to rent. Since 2014, the rate of inflation has been around 10 percent—up to 13.5 percent in recent months.
"I will never rent in this city again," Emer*, a 28-year-old artist and recent graduate who has squatted in Dublin for the past three years, told me when I met her this February. "I would have to create an entire falsified paper trail." With so many applicants for each available apartment, the rental process now requires extensive references from past landlords, proof of income, and other qualifying paperwork. Since she has squatted for the past few years and was recently on social welfare, she feels she wouldn't have a chance. We were sitting over a cup of tea in a cafe, on a narrow street on the north side of the city, a large empty plot of land growing weeds opposite. She was just back from a trip to Oakland, where a deadly fire had ripped through an overcrowded warehouse known as Ghost Ship in the city.
"There was a huge crackdown on DIY spaces. Friends of friends lost people. There was a lot of fear," she said. "I saw so many parallels between Dublin and Oakland. Gentrification brought on by the tech boom. Similar atmosphere."
Her first home as a squatter was the recently evicted Squat City in Grangegorman, now a site being developed as accommodation for thousands of students in a traditionally working-class inner-city neighborhood. She had been renting for seven years, having moved out from her family home in the countryside when she was 18. Behind on her rent, though making back payments constantly, she was evicted by her landlord. "They unceremoniously turfed me out," she said. "You fall through the cracks, and the squat catches you." When her parents separated just before the crash in 2006, they had to remortgage the house at a ridiculous rate to pay for the divorce and eventually had to sell it at the worst possible time. "I would have gone home ages ago," she said, if she had had somewhere to go. Her father is now renting with his new wife, and she is not in contact with her mother.
In 2014, she told me, the residents of Squat City hosted what they called a Squatters' Convergence, with more than 100 activists from around Europe coming together to share skills, compare the situations in their cities, and mobilize new efforts. She remembered discussing "grand actions" with a group of French squatters who had taken over a castle, similar to the recent occupation of a former Qatari general's mansion in London by the squatter collective Autonomous Nation of Anarchist Libertarians, charmingly known as ANAL. In Dublin, Emer worries about how many DIY and creative spaces have been shut down, including a popular creative and work space known as Block T, which housed more than 70 studios and was forced to close last year. She was concerned, too, with how many of her friends have nearly become homeless because they can't find a place to rent.
When I spoke with Emer again in April, she told me that, after having been evicted twice in the intervening months from squats in quickly gentrifying areas of Dublin, and facing several court dates stemming from her squatting, for her health she had decided to look for somewhere to rent, despite never wanting to go through the process again. She was fighting PTSD after some of the experiences, she said, and was trying to hold down a full-time job without having anywhere secure to sleep at night.
"We were told our entire lives, we have this amazing property boom," she said, talking of people her age who grew up during the Celtic Tiger, only to be faced with the economic crash. "Right as we're coming of age, we had the rug pulled out from under our feet." She saw that fueling a real sense of rage.
"Now there's a sense of the housing crisis as a real issue, but we were already aware as squatters," Emer said, adding that in Ireland there is a growing recognition of how systemic the economic and social problems that have led to the current crisis actually are—with property speculation and land hoarding now issues chatted about casually among young people in Dublin. "People from regular middle-class families are realizing: Fuck, this is stacked against me. Anything can go wrong."
Many activists I spoke to were motivated in their work by having experienced homelessness firsthand. Not long after he moved to Dublin with his mom at the age of seven, Samuel Awe and his family were evicted from their rental accommodation and had to surf on friends' couches for two months, becoming what Awe now knows as the "hidden homeless." Last year, Awe, originally from Nigeria, set up an initiative called Love Your Neighbor, which organizes events to raise awareness around homelessness and mobilize a "neighborhood watch" of people to provide support to rough sleepers. "If we can do it at this level, us just being a group of lads, what happens if organizations really back this sort of thing, when people in power really see what's going on," Awe said.
Part of a generation that cast their first vote during the marriage-equality referendum, a political awakening for many young Irish people, he and many others I spoke with have been disillusioned with the government's attempts to solve the crisis and have no expectations of being able to move out of home anytime soon.
Awe mentioned that his old manager at Topman couldn't afford to buy a house, even though he and his partner were making $64,000 a year. "I knew straight away I couldn't move out," he said. "When there's people with established families—that's a two-income family—that cannot afford a house… how can I win?"
Meireka Radford, a 24-year-old who is currently living at home with her mother and three siblings in northern Dublin, spent weeks volunteering at Apollo House. She got involved the week after the group held its first volunteer meeting, after getting sick of seeing doors filled with people sleeping rough during her two-hour commute into work. For her, too, a roof and four walls had never been a guarantee when growing up. Her mom, who also helped out at Apollo, has been on the waiting list for a council house for the past 17 years, and the family has lived in nine different houses, with the threat of eviction always looming. They have been homeless three times.
"My mam has struggled with housing issues for as long as I can remember," she said. "So it's something that's very close to home for us."
In an effort to ensure a more stable future, Radford recently went back to university to study marketing full time, but she still works five-hour shifts "here and there" in Croke Park, a stadium in Dublin. She receives an allowance from the government of around $170 a week, available to anyone who has been unemployed for more than nine months and decides to return to school after at least two years. But each day she works, regardless of whether it's two hours or eight, around $20 is deducted from her overall allowance. That means her five-hour shifts of seasonal work at Croke Park only net an additional $30 after the deduction is taken into account—effectively below the minimum wage of about $10 per hour. She had no option but to move back home, to a cramped apartment her mom now lives in after being evicted from the house the family had been renting for years. Her mom, a full-time carer for her seven-year-old brother, who has special needs, shares a bed with her son so that Radford and her sister have beds of their own.
"I want to work," she said. "I've always had my independence and worked for everything I had, but my current situation has taken that away from me."
She believes her generation has no hope when it comes to getting a secure home. She can't imagine ever being able to buy a house. Across the EU, nearly half (47.9 percent) of 18- to 34-year-olds were living with their parents in 2014, according to Eurostat. This is a growing challenge that extends even to the US, where the Pew Research Center recently found that more young adults are living with their parents than at any time since around 1940.
"What motivated me to continue were the people I met in Apollo. Their strength and determination encouraged me to continue to be involved. It really opened my eyes to how extreme the crisis is. Now I'm involved with local groups, not only because of what my mam has gone through or what I'm currently going through, but also because I'm thinking of my future family. The fear that my own children will be raised the way I have been—moved around multiple different houses and schools with very little stability."
After speaking with a number of Irish activists, I traveled to Berlin to see what form a housing crisis—and the resistance to it—might take in EU's strongest economy. In a light-filled apartment in an old Soviet block of flats in East Berlin, now rented out privately by one of the biggest property companies in the city, 25-year-old Filip* was recovering from a night spent celebrating nearly three decades since the foundation of a famous squat nearby. From a bed hung from rope in the living room, Filip, a housing activist studying human geography and working in city planning, lifted up a pair of binoculars and panned across the city from Berghain, the infamous club, to the Ostbahnhof train station.
It started in Mitte, he explained, a now relatively upmarket neighborhood that the Financial Times recently pegged as a new hotspot for bankers looking to escape Brexit. As rents rose, gentrification moved on to other neighborhoods, to Friedrichshain and then into Kreuzberg, an area dominated by a working-class immigrant community. While Ireland's low corporate tax has encouraged large multinational tech giants such as Facebook and Google to establish headquarters there, Berlin is still known for a genuinely grassroots startup scene, but gentrification, rising rent rates, and a stagnation in the building of affordable social housing are all leading Berliners to fear a similar crisis to Dublin's.
"Gentrification is moving through the city," Filip said, pointing out the window to cranes looming over the flashy new high-rise apartments and offices in "Media Spree," a riverside development site that now houses the offices of Mercedes and fashion-tech empire Zalando, on the grounds where old warehouses and factories once stood.
"They are building homes and flats for people with higher incomes," he said.
Filip is an organizer and activist with Zwangsräumung Verhindern Berlin (Stop Evictions Berlin), a group that came together in 2012 on the crest of growing opposition to rising rents in the city. On the last Saturday in February, Filip and other activists led a few-thousand-strong demonstration through the streets of Kreuzberg to protest gentrification in the neighborhood. Three weeks before the demonstration, they had stopped a nearby eviction with 150 protesters. Kreuzberg has become an icon of gentrification in Berlin, a neighborhood that had once been an immigrant-dominated area of the city, where artists' movements and collectives sprang up, drawn by affordable rents. The streets are now filled with chic cafes and bars, and the rumors are that Google is opening up a campus just at the border of the neighborhood, where a canal separates it from Neukölln, a rapidly developing area considered the new Kreuzberg, where cafes already advertise "Buddha Bowls" and flat whites in English on signs outside.
"Gentrification is moving through the city," Filip said, pointing out the window to cranes looming over the flashy new high-rise apartments and offices in "Media Spree," a riverside development site that now houses the offices of Mercedes and fashion-tech empire Zalando.
Protesters marched behind a heavyset blue and yellow truck kitted out by Stop Evictions Berlin for demonstration, carrying signs declaring ZORN (anger) and STOP ZQANGSRÄUMUNGEN (stop evictions). One lady in a white wool hat toted a sign saying SORRY HIPSTER… THIS IS WHAT DEMOCRACY LOOKS LIKE!! GENTRIFICATION FUCK IT!! Innana, a 21-year-old who fled her home in Damascus in 2015 and came as a refugee to Berlin, had joined the demonstration spontaneously with her German friend. She was renting a room for $213 a month in Kreuzberg, because she was able to continue renting on an "old contract," similar to a rent-controlled apartment. If she had to leave and find a new place to live, she doesn't know how she could afford it. Isabel*, a 24-year-old student who lived her whole life in Kreuzberg, rented an apartment in the area with two friends, all three of them neighbors as kids. They were paying $453 a month each for their rooms, which was more, they said, than they could afford. Their parents were paying double for rent, and one of their grandmothers had to move farther from the city because of the rising costs. "We want to stay in this area," said Isabel.
Last year, Berlin's administrative court issued a ban on short-term letting agencies, targeting Airbnb rentals, with a fine of more than $106,600 for anyone found to be renting more than 50 percent of their property without a permit from the city. It was an effort to prevent developers from buying up entire properties to rent in the short term. An extreme measure to some, the regulation was introduced to avoid a housing crisis similar to that in London, where people have been pushed farther and farther out of the city due to gentrification and central property acquired for investment rather than housing. Despite legal complaints lodged by major property managers, the ban has been upheld so far, with one of the deciding judges stating that "the availability of affordable housing is severely threatened in the entire city of Berlin and the regulation therefore justified."
For the past few years, young people from cities like Dublin and London have been flocking to Berlin for its affordable rents. An estimated 40,000 people are moving to the city each year. Stop Evictions Berlin is one of more than 27 groups in more than 15 countries that are part of a larger, even more ungainly named group, European Action Coalition for the Right to Housing and to the City. As part of a coalition meeting, Filip came to Dublin last November and met with Irish Housing Network activists, just as the occupation of Apollo House was being planned. He said he and other activists were inspired to plan similar actions in Berlin. The coalition has a commitment to not only "document the European housing crisis but to intervene in it," organizing protests against politicians selling off public assets to developers at international real estate conferences over the past few years and holding a series of direct actions in October 2015 under the banner No People Without Homes, No Homes Without People.
The coalition also conducts research. In a recent report, it noted that in France, evictions have been on the rise since the 1960s, from a few thousand judgments a year to more than 123,000 in 2016. The number of forced evictions has reached 13,000 a year. In Germany, there are an estimated 33,000 cases of forced eviction every year, the report stated. In the UK, the private-rental sector is so unregulated that landlords often decide on a whim not to renew even short-term contracts of six to 12 months, meaning people are constantly in a state of housing insecurity as rents continue to rise. In Berlin, somewhere between 5,000 and 7,000 eviction notices are sent out a year. In Ireland, legal proceedings for eviction have risen from 300 a quarter in 2012 to more than 3,000 a quarter in 2014.
Though many activists I spoke to blamed the short-term, informal rental market pioneered by Airbnb as one of the forces driving homelessness, not everyone agreed. Yvonne Pearse, who has a master's in real estate finance and had been living and working abroad for years, moved back to Dublin last summer to work as the Dublin city manager for Airsorted, an up-and-coming Airbnb management company. The startup began in London, helping clients rent properties on the crowd-sharing rental platform with minimum stress. Last year, it set up office in Dublin and also has offices in Sydney and Edinburgh. Most clients are people who are away for a few months in the summer or for business: A few have second homes. Pearse described it as an ideal way to make use of idle properties.
The company effectively acts as a real estate agent for short-term lettings: taking photos of the property, vetting applicants, and arranging viewings. Across Europe, cities like London and Berlin have been rushing to try to implement regulation to deal with these new, short-term rentals. Pearse worried about harsh regulation being implemented, fueled by accusations that Airbnb is to blame for the current housing crisis, which she saw as a complex issue and a product of the last decade or more of governance around housing. She saw Airbnb, which has its European headquarters in Dublin in previously derelict warehouse buildings rumored to have been squats in the past, as a way for people who bought properties during the boom but aren't in a position to sell yet to make them available on the market, for added profit.
Pearse named the most attractive areas for clients, areas people from Dublin might "turn their nose up at," and included inner-city neighborhoods that have rapidly gentrified over the past few years. As a 31-year-old from Sligo moving back to the capital, she agreed that the rental market is highly competitive at the moment and thought there should be new ways of creating flexibility in the market, beyond the standard lease. But one activist who helped organize the occupation of Apollo House stressed that on the same road as she lives, renting for about $430 per month, a room rented through Airbnb is demanding the same price per week.
Of all the activism I saw—the marches, the occupations—it was the local community groups that were the most quietly impressive, mustering the most support and often, in turn, helping create the large-scale actions like Apollo. In one such group, a Facebook Messenger chat for the North Dublin Bay housing group, around 200 people share their experiences and advice for members who are already in emergency accommodation or facing homelessness. One of the people who shares her advice is Sarah, the single mother who, after her landlord had evicted her over a year ago, was unable to find a place in the private market, ultimately ending up in government-provided emergency accommodation. Each night, she talks to girls who have to call the emergency free phone—a hotline that the homeless can call in order to get access to emergency housing—in search of somewhere to sleep. Drawing on her own experience, she tries to guide them through the labyrinthine process.
The first day she and her son slept in emergency accommodation, they were awake all night. Now they manage to sleep, though they share a single bed. She gets up at 7 AM to take her son to school and then goes to work at the part-time retail job she managed to secure before the crash. She doesn't finish until 6 PM, so her son goes to an after-school club. As a one-parent family, she's entitled to some support from the state and a rental allowance of about $215. But many landlords refuse to take people on rental allowance, she said. There's a stigma attached to it. No one at work knows that she is homeless. She doesn't like to tell anyone. But still, she continues to go to the housing-group meetings, supporting others affected by the housing crisis and planning new ways to push for change.
"Someone said to me, 'You're the next generation becoming homeless. You're working homeless now. You're going to have to go out and talk.'"
The local council, when Sarah had applied for emergency housing, asked her if her son's dad was involved and whether she could leave the kid with him. If so, they said, they would put her into a homeless shelter for single women. "I worked with homeless on the streets on a soup run," she said. "They tell me, 'We sleep on the streets because the hostels aren't safe.' And [the council] wanted to put me in there."
"When I got home," she began, then paused and shook her head. "When I had a home, I would be lying in bed thinking of these people." She would get news from other volunteers weekly about who had died recently on the streets. "Nobody ever thinks it's going to be them," she said. "I honestly thought I was going to find somewhere to live."
*Names have been changed or withheld to protect subjects' identities.
UPDATE 5/24/17: An earlier version of this article misspelled the title of the company Airsorted.