Nelmarie du Preez, Autonomous Times, 2015 at Arebyte Gallery. Image courtesy of Arebyte Gallery. All rights reserved.
South African artist Nelmarie du Preez brought a pack of wild robots to the Arebyte Gallery in east London for her show AUTONOMOUS TIMES in October. These small, fierce-looking machines, inspired by the savage-industrial DIY styles of Mad Max: Fury Road, were built by Preez.
Preez tapped into the online maker community for the designs to her "feral robotic arms that need to be tamed" hitting up open source sites like thingiverse.com and Github. Repurposing the "safe" designs and adapting them—and learning to program the bots by engaging with hobbyists in online forums.
"Some of the things were just simply impossible to find and I had to improvise," she explains to The Creators Project about self-building the pieces. "A lot of the instructions that I found online asked that I 3D print or laser cut certain parts and at some point this simply became too expensive and I ended up cutting and crafting certain parts by hand. It was only in that 'crafting by hand' that I also began to alter the aesthetic designs of the robots by adding my own little nuances by 'hacking' into the designs."
Photo by Christian Kaatz
This meant the robots became jagged, edges were exposed, they weren't the shiny, smooth forms their designers intended. But by hacking the designs and materials, the robots' characteristics were altered, too, augmenting their unpredictable and "feral" natures. "I rather enjoyed this unpredictability and in the end I ended up altering the control systems for these robots as well and programmed them to test their own limitations even more so as it became an act of producing errors. In the end I also decided to use quite long signal cables, which created a lot of twitchy failures and unpredictable movements on their part."
To add to their hostility Preez looked into creating fire-throwers, smoke-machines, and lasers—all adaptations readily available online, but bypassed the safety aspects the hobbyists suggested. "My own interpretations of their instructions sometimes created a space for all kinds of health and safety violations. So I guess more so than the robots becoming harmful, I was the one transforming."
Photo courtesy the artist
Preez wanted to explore robotics through the prism of maker and DIY culture because it was a way to examine what the world might be like if every one of us was capable—and had the resources—to create AI.
"To me DIY culture exemplifies the way in which the workplace is changing, especially through the open source online culture, but even within this seemingly free and open culture there are tons of limitations that are dependent on various individual circumstances determined by who you are and where you come from. DIY culture also provides a particular aesthetic and it was important for me to explore this through an artistic platform where robots could become art objects."
Photo by Christian Kraatz
The installation involved a video, a row of responsive robotic arms, and a performative piece. The arms responded to a digitized version of Preez where she recorded herself cracking a whip, which was played back to the robots. Preez likens her screen-based image to a lion tamer, with the machines reacting to "create a kind of choreography or performance themselves."
"My question within all of my works is always: why and how do we innovate new technologies? How do these things expose our relationship to each other? How does the human-computer relationship reveal how we deal with each other and ultimately trust each other?" Preez notes. "I want to ask at which point will the technology cross over from simply being a mediator between us to becoming a fully-fledged intelligent actor and how will this alter our systems—our democracies."
Photo by Audrey Salmon
Nelmarie du Preez, Autonomous Times, 2015 at Arebyte Gallery. Image courtesy of Arebyte Gallery. All rights reserved.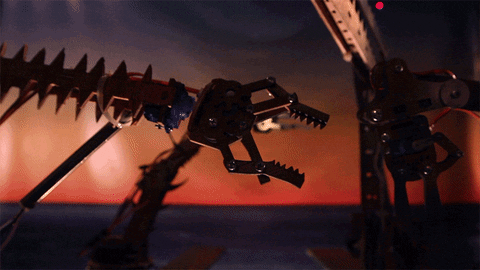 GIF courtesy the artist
Nelmarie du Preez's AUTONOMOUS TIMES was on display at the Arebyte Gallery in east London from October 2nd through November 7th, 2015.
Related:
Would You Trust Robots with Your Passport?
Hell Is Being Controlled by Robots
A German Robot Learned to Flip Pancakes from WikiHow