Photo by Soobum Im-USA TODAY Sports
No team was more tightly wound coming into the 2016-17 season than the Los Angeles Clippers. Three of their four best players are eligible to become unrestricted free agents this off-season, and all will be well past their prime on their next deals. It's a group that's been through everything except glory, perpetually on the verge of implosion.
Several pieces have shifted around over the last four years, but the core of Chris Paul, Blake Griffin, DeAndre Jordan, J.J. Redick, Jamal Crawford, and head coach Doc Rivers has remained intact—a remarkable continuity in an era of constant player movement. These guys know one another's tendencies like the back of their own hands. Crunch-time sets, pick-and-roll coverages, all the ways they communicate without opening their mouths—these are the advantages that come with being together for so long.
Read More: The Rockets' Biggest Challenge in the Playoffs? Their Own Defense
There's also a downside, however: the gnawing doubt that can strike during tough times, when they're reminded that even though they're super talented and complement each other so well, none (except Rivers) know what the top of the NBA mountain looks like. For all these players' individual accomplishments, their resumes still have that one gaping hole.
This team is built to win today and flounder tomorrow. There aren't any intriguing young players or draft picks in the pipeline. There are no assets to dangle on the trade block, there's no cap space left to fill. This is the Clippers' last, best chance for a run at the title for the foreseeable future, and they know it.
Fortunately for Los Angeles, they are peaking at the right time. After a series of injuries threatened to tank their season—a sudden knee procedure sidelining Blake Griffin for three to six weeks in December, Chris Paul needing thumb surgery in January—the Clippers are healthy, and as deep and versatile as they've ever been. Paul, Griffin, and Jordan are each All-NBA performers, and the offense has literally never been better (with this or any other Clippers core over the past 20 years).
Despite losing four of their first five games after the All-Star break, few teams in the NBA have been better. They've pounded the competition, going 14-6 with the league's best offense and second-highest net rating over that span. They're undefeated since a humiliating home loss against the Sacramento Kings on March 26, with impressive wins over the San Antonio Spurs and the Houston Rockets this past weekend.
Heading into the postseason, they're set to square off against a beatable first-round opponent in the Utah Jazz. The Clippers are 18-3 against the Jazz since trading for Paul in 2011, and this roster was built for postseason play, with a starting five that continues to annihilate everything in their path. The offense bogs down when Doc Rivers deploys his all-bench units, but while those groups are damn good on defense, they shouldn't see the light of day in a playoff series.
L.A.'s secret weapon—its "break in case of emergency" flamethrower—is its ability to stagger the team's starpower, rotating the trio of Griffin, Paul, and Jordan on and off the floor. With just Paul and Jordan, the offense builds off their unguardable high pick-and-roll. But in a seven-game series, Griffin is the indispensable muscle that flexes when defenses tighten up and take that away. In many ways, he, more than anyone else, will ultimately decide how far this team goes in the playoffs.
An overlooked top-15 player, Griffin's steady maturation over the past few seasons begins with a look at his shot selection. While many critics long for the Griffin of old, the Kia-clearing acrobat with no physical disadvantages, the 28-year-old has quietly discovered a sweet spot in how to attack from the perimeter. The percentage of his overall shots from 16-23 feet has plummeted, from 45.8 percent last season to 28.3 percent now, per Basketball-Reference. Meanwhile, he's never been more accurate from that area, while drifting more towards the three-point line and back inside the paint.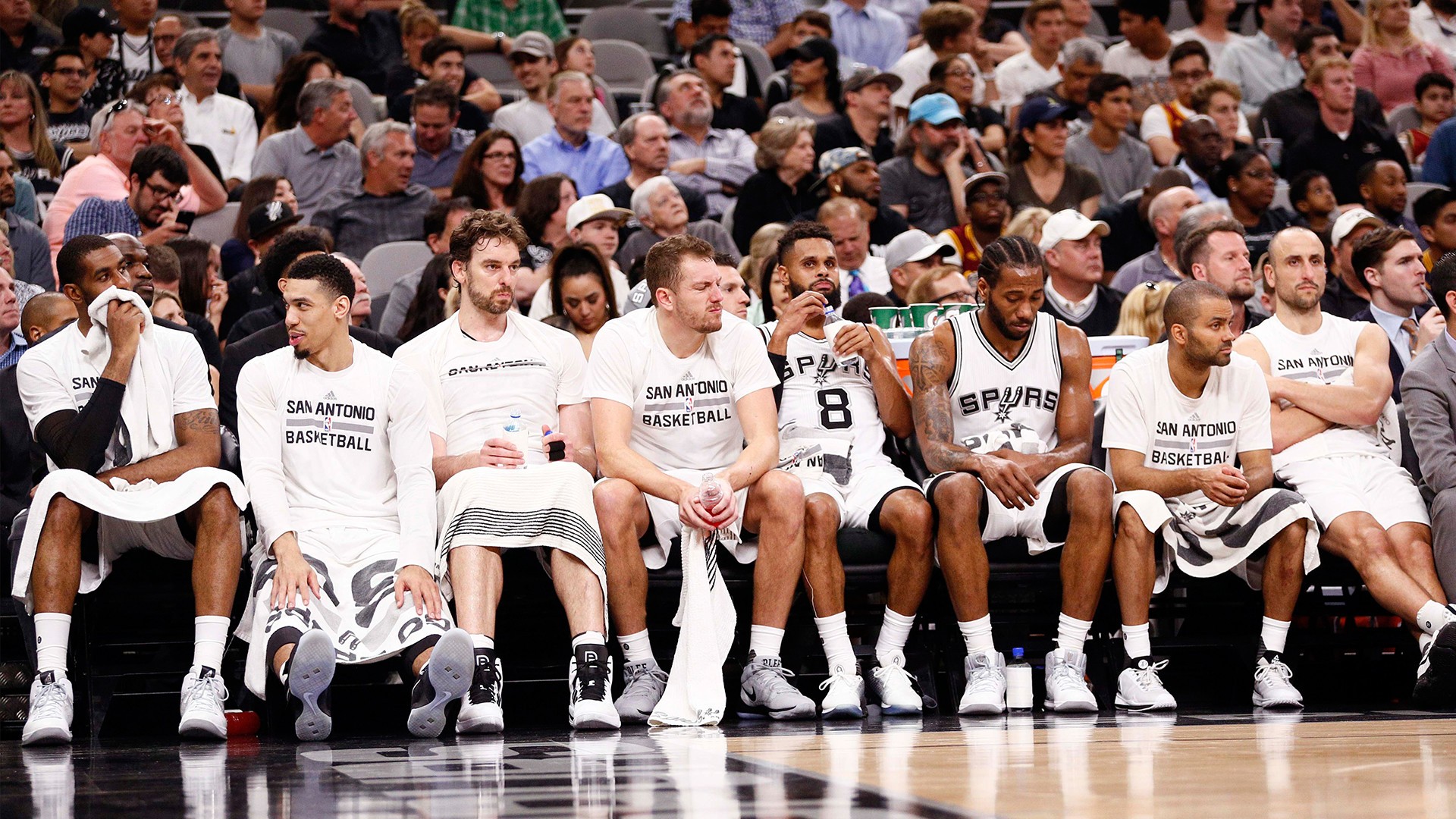 In his previous four seasons, Griffin attempted 115 threes and made 28.7 percent of them. This year, he's jacked up 110, and 34.5 percent have gone in (including 50 percent from the corners). He doesn't overwhelm on the inside quite like he used to, but Griffin is still one of the most efficient post players in the league. He's a beast one-on-one on the block, and arguably the finest pick-and-roll playmaker at his position.
He also knows how to read defensive coverages when Jordan comes to set a screen, and is well aware of the opponent's top priority to take away the lob. Hesitate for a split second on the switch and he'll bulldoze his way into the paint.
Go under the screen or double Jordan and Griffin is plenty comfortable pulling up off the bounce for an open jumper. He hits this shot in his sleep.
The Clippers are noticeably faster this season when Griffin is on the floor without Paul. Their pace revs from 98.03 to 101.29—or from just outside the bottom ten up to the top five league-wide. When a bruiser as fast and skilled as Griffin takes off coast-to-coast, his own man has no chance to keep up. It forces backpedaling defenders to make impossible decisions, and the result is either a clear runway to the rim or kicking the ball out to an open three-point shooter.
According to Synergy Sports, only five players (with a minimum 65 possessions) are more efficient as ball handlers in transition: Jimmy Butler, Kevin Durant, DeMar DeRozan, Giannis Antetokounmpo, and Kawhi Leonard. Decent company!
The only downside to separating Paul, Griffin, and Jordan is that it dilutes how incredible they are when banded together. Los Angeles outscores opponents by 15.7 points per 100 possessions when those three share the floor. Not to overlook the Jazz, an adaptable and hungry up-and-coming organization, but reducing Paul, Griffin, and Jordan's minutes together will be necessary for the Clippers if they make it past the first round, when they run head-first into the best team in basketball: the Golden State Warriors.
This, in all likelihood, will be where their season ends. Los Angeles allowed 515 points in its four losses to the two-time defending Western Conference champs this season. If the Clippers are to have any sliver of hope to get beyond Golden State, Rivers will need to lean on score-first lineups that always have at least two of his Big Four on the court. The best defense against Golden State is an onslaught of offense. Rest Paul and Griffin at the same time and watch Kevin Durant and Klay Thompson lead Golden State on a 12-0 run.
That means playing Crawford over Luc Richard Mbah a Moute in crunch time, and spunky small lineups that put Griffin at the five beside Ray Felton (or a healthy Austin Rivers), Paul, and Redick. That strategy is weak on the defensive end, and it ultimately may not be enough to save their season, and this entire era, but if L.A.'s traditional groups don't work it's not worth repeatedly trotting them out there.
None of this is easy, and there's a reason why the Warriors are head and shoulders above the competition. But the Clippers have proven to be as formidable a foe as anyone the last few weeks.
If Paul can sustain his efficiency and aggressiveness (the Clippers are 14-4 when he attempts at least 15 shots, and since March 1st he's logging 50-40-90 shooting splits), Griffin can dominate his individual matchup against Draymond Green on both ends (and increase his usage in pick-and-roll and transition opportunities), Jordan controls the glass, and Rivers staggers his lineups at all times, the Clippers have a chance to pull off one of the great second-round upsets in recent NBA history.
That's a lot of "if"s, but for these Clippers it's now or never.
Want to read more stories like this from VICE Sports? Subscribe to our daily newsletter.