A still from Professor Marston and the Wonder Women
"I don't experience sexual jealousy," Elizabeth Marston jeers, moments after accusing her husband of eyeballing one of his students. "I'm your wife, not your jailer."
Professor Marston and the Wonder Women follows the life and trials of William Moulton Marston (Luke Evans), the college professor who created the Wonder Woman character and comic book series, and the two women who served as its inspiration: his wife Elizabeth (Rebecca Hall) and his teacher's assistant Olive Byrne (Bella Heathcoate). The film revolves around the trio's polyamorous relationship, putting polyamory center stage and, unusually, depicting it in a positive, uplifting light.
A question that haunts each of Professor Marston characters is, "Are you normal?" Marston was physically assaulted, called perverted and mocked by nearly everyone around him for his alternative lifestyle. And while some millennials may believe polyamory is the future of love, it's still extensively unaccepted—according to a recent Gallup poll, only 17 percent of Americans say polygamy is "morally acceptable," and those views are often reflected in film. A movie like Professor Marston and the Wonder Women helps push the conversation forward and makes the case to usher in real change. It's not often the poly community sees themselves represented fairly on screen, but Professor Marston's message is clear: Polyamory is both sustainable and respectable.
Written and directed by queer filmmaker Angela Robinson, the film opens with a group of kids and teens collecting Wonder Woman comics and burning them in a bonfire. The film jumps between 1945, when backlash against Wonder Woman was at an all time high for its "perverse" and "sado-masochist" undertones, and the 1920s, when Bill and Elizabeth first meet Olive. Bill is a professor of emotional psychology at Radcliffe College, Harvard's sister school (when Harvard was male only). His brazen wife assists him, contemptuously quipping that Harvard won't give her a PhD because she "has a vagina."
At first, Elizabeth warns Olive not to "fuck" her husband, who's developed a crush on her, but after a repartee over Freud and feminism, she falls for Olive, too. Sexual desire plays a large part in Bill and Elizabeth's attraction to Olive, but Robinson focuses on love and emotion rather than lasciviousness: Elizabeth first acknowledges Bill's desire for Olive by asking if he's in love with her. Soon after, Elizabeth admits she's in love with her, too. Finally, the couple asks Olive if she's in love with them, before actually propositioning her to have sex.
"I didn't necessarily come at it as, 'I want to tell a poly story,'" Robinson told me. "I wanted to tell a very organic love story between three people." Robinson said she's been surprised and warmed by the film's warm reception from polyamorous and queer critics, and agrees that she hasn't seen any other films that portray polyamory quite like Professor Marston does.
"I have never seen polyamory centered or treated with respect in a movie before ever in my life," Gaby Dunn told me. Dunn, a bisexual YouTuber and author (I Hate Everyone But You), has advocated for polyamory much of her adult life. "It was beautiful to see that yes, you can love more than one person, and have a family, and be happy."
---
Take a look inside London's polyamorous unicorn movement: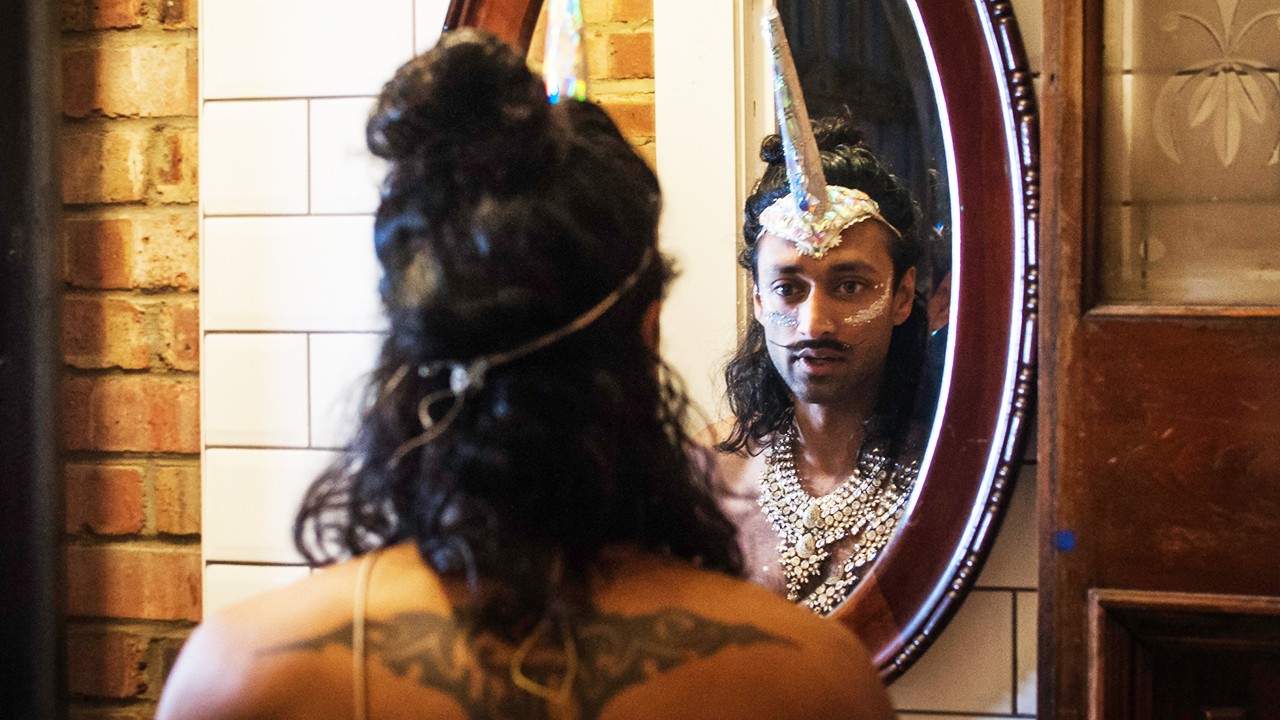 ---
It's more often that characters will use polyamory as a cheap plot device or for comic relief, with filmmakers asking the audience to laugh at a polyamorous character's misgivings rather than connect with them emotionally. Take the idea of a "hall pass," like in the 2011 film Hall Pass, or the 2017 film Permission, in which an open marriage is used as a device for the primary partners to come back to each other. Or Bob & Carol & Ted & Alice (1969) or Swinging With the Finkels (2011) which explore swinging. Films like these treat polyamory with the gravitas that television's Arrested Development gives to Lindsay and Tobias Fünke, who open their marriage and constantly sabotage each other (or themselves) in their search for casual sex: It's never given its proper due.
Non-committal sex with multiple partners pops up throughout film history, especially in comedies, like Friends With Benefits (2011) and No Strings Attached (2011). The 2015 dramedy Sleeping With Other People follows a womanizer who meets his match in a serial cheater, but they ultimately find monogamy in each other. Communal living situations have been touched on, like in David Wain's Wanderlust (2012). However, the people of the commune are seen as freakish by the conventional protagonists, and the male character is shamed for his wandering mind and libido. And unlike A Home at the End of the World (2004), Professor Marston's poly relationship doesn't break due to jealousy.
For Professor Marston's Bill, Elizabeth and Olive, polyamory isn't a one-off tryst; the three start a life and family together. Their relationship is balanced, equal and brimming with mutual respect. Each character is starkly different, they each experience lust and desire, and their relationship is by no means just Bill's idea. Elizabeth and Olive share a romantic love of their own—in a moment alone, Olive tells Elizabeth, "I see you in everything you do. I think you're magnificent."
Carolyn Yates, a polyamorous woman and editor at queer media website Autostraddle, told me that when it comes to polyamory in film, "There's a lot of reductive thinking: That poly people are being greedy, that we're being childish, that we're being selfish… It's much harder to get into the nuances of pursuing relationships for which there are no social scripts."
The few times when polyamory has been portrayed positively in film, it hasn't been placed front-and-center in quite the way it is in Professor Marston. Woody Allen's Vicky Cristina Barcelona (2008) features a polyamorous triad that's balanced, respectful, and doesn't crumble due to monogamous covetousness—but it's not a driving plot. Conversely, Oliver Stone's Savages (2012) positions a polyamorous triad as the central focus, but the film was criticized by bloggers in the community for its nebulous, thoughtless view of multiple partner-relationships.
The most notable difference between Professor Marston & The Wonder Women and its predecessors is the role of the female gaze. While films like Savages and Vicky Cristina Barcelona feel voyeuristic and at times lewd, sex scenes in Professor Marston overflow with intimacy, sensuality and respect. This was intentional; Robinson told VICE that she focused on shooting the characters' faces and desires, rather than their body parts or what sex act they were doing. "I became obsessed with the idea of consent," Robinson said. "The camera was always on each of the characters and tracking, literally, their consent to everything." For the film's bondage scenes, Robinson turned down a male rope expert in lieu of a female one, who she felt could play an important role in codifying the female gaze in how she directed the film's bondage. "I was really aware of not trying to otherize [the characters'] experience," Robinson said.
Before Bill and Elizabeth invite Olive into their lives, Elizabeth worries, "What we want can't happen." Bill replies, "Why?" She laments, "Because the world won't let it." With a daring smirk creeping across his lips, Bill proclaims, "The world can't stop us."
Follow Jillian Gutowitz on Twitter.