Welcome to Sean McIndoe's weekly grab bag, where he writes on a variety of NHL topics. You can follow him on Twitter. Check out the Biscuits podcast with Sean and Dave Lozo as they discuss the events of the week.
The third star: These two Predator fans – It was fun times all around in Nashville. Good presence of mind to slow down when the helmet almost slipped off.
The second star: The catfish has a hat – He also has a tiny stuffed penguin but we can only focus on so many things at one time.
The first star: Bike Guy – The NHL combine was this week. That's the event where the top draft prospects gather, compete in a bunch of physical tests, and then get made fun of for not doing enough bench press reps by out-of-shape sportswriters like me. The highlight every year is the Wingate bike test, in which prospects cycle furiously while a scary guy yells at them.
It's all quite terrifying. But this year, the Golden Knights decided to put the guy's talent to some use by getting him to yell at random Twitter users to be more productive.
Well, I just cleaned my whole house. For some reason I also just studied for all my exams, of which I have none. The guy is good.
The issue: We just had two Stanley Cup final games in Nashville, and all the fans there were really loud and into it and just generally having a great time. The outrage: None, of course. Literally nobody could be mad about this. Is it justified: Phew, dodged a bullet there. OK, on to the next section where we can… The issue: We're tired of hearing about how great Predators fans are. The outrage: Seriously, give it a rest, cheering on your team in the Cup final doesn't make you great fans. Is it justified: Wait, what? Is this actually a thing? Are people actually saying that? (Checks.) Yes, apparently they are. This is a bad take. The issue: Anyone criticizing Nashville as a hockey market is wrong! The outrage: In fact, it's always been a great market, and anyone who ever doubted it sure looks silly now. Is it justified: And then, right on cue, here's comes the backlash to the backlash. Look, can we all enjoy what's happening in Nashville right now while also acknowledging that it really did look dicey for a while there back in the day? That seems fair, right? The issue: The Predators have the greatest fans in the world. The outrage: If you deny this you are a terrible person and also probably Canadian. Is it justified: See there is a middle ground where we could… The issue: Predators fans are front-runners who only support their team when it's playing for the Stanley Cup. The outrage: Real fans are there for their team through good and bad, they don't just hop on the bandwagon when times are good. Is it justified: Well, first of all, that thing about Predators fans only showing up now just isn't true. But yes, they're more excited now because of the playoff run. Isn't that how it's supposed to work? The issue: Nashville had thousands of empty seats back in 2010. The outrage: If you don't sell out the building every night you're a bad fan base. Is it justified: Well, fine, but then you're throwing stones at just about everyone, including places like Chicago and Boston and basically everywhere outside of the really die-hard Canadian markets. But sure, fine, if it will get everyone to stop complaining and hyper-analyzing every hockey market, then we'll agree: Only Canadian fan bases that sell out every game are good fans. Can we all please stop this now? The issue: Canadian fan bases that sell out every game are pathetic sheep and the reason the country never wins the Stanley Cup. The outrage: A real fan base would only support their team when they were in the Stanley Cup final. Probably by being really loud and maybe throwing some kind of fish on the ice. Is it justified: I hate all of you. The issue: Hockey fans can never just let their fellow humans be happy about anything. The outrage: It's tiresome, predictable, and the reason why nobody likes us. Is it justified: Yes.
Obscure former player of the week
Penguins' goalie Matt Murray is trying to win his second Stanley Cup as a rookie, which doesn't sound like it should be possible. But it is — a player's status is determined by his regular season play, so it's possible to have two or even more postseason runs as a "rookie".
The list of goalies who've actually done it isn't all that long, but Murray's certainly not alone. It's been done by Ken Dryden and Jacques Plante (who I wrote about earlier in the week), as well as fellow Hall-of-Famers Ed Belfour and Martin Brodeur. Jake Allen did it three years apart, with appearances in 2012 and 2015, and Corey Crawford and John Gibson are also in the club.
As you might expect, the list also includes a few less well-known players. That includes this week's Obscure Player, Daniel "The Bandit" Berthiaume.
You may remember him from the Bob Miller tribute a few months ago, in which we all learned we'd been pronouncing his name wrong all along. But his career began when the Jets made him the 60th pick in the 1985 entry draft, a few picks behind future Conn Smythe winner Bill Ranford. He debuted in Winnipeg a year later, seeing his first action in the 1986 playoffs before he'd ever even played a regular season game.
He followed that up by earning regular duty the following season and splitting time with Pokey Reddick, who I just realized has never been an Obscure Player and we will damn well fix that over the summer. Berthiaume joined the rookie two-timer club in 1987, playing eight games as the Jets won a playoff round for the second (and last) time in Winnipeg NHL history.
From there, Berthiaume began a tour of the NHL; he was traded twice in 1990, first to the North Stars and then to the Kings. He spent a few years backing up Kelly Hrudey in Los Angeles before being dealt to Boston, where he had a falling out with the team during the 1992 playoffs. He was later traded back to Winnipeg, but never earned a roster spot, and by the start of the 1992-93 season he was plying his trade in Europe.
But the expansion Senators came calling, and Berthiaume signed with Ottawa to back up Peter Sidorkiewicz. He wasn't very good, winning just two of 25 games, but nobody on that year's Senators was. Here's a fun clip of Berthiaume trying to pretend he's not miserable in Ottawa.
Berthiaume closed out his career with one of the sadder season stat lines in NHL history. In 1993-94, he appeared in one game, played exactly thirty-nine seconds, faced two shots and allowed two goals.
That made him the only goalie since the save stat's been recorded to give up goals in a season in which he never stopped a single puck. Even in the high-flying early 90s, a save percentage of ".000" was considered bad, and Berthiaume's NHL days were done.
He'd kick around the minor leagues (as well as some professional roller hockey) for another decade before hanging up the skates in 2005. He was inducted into the ECHL Hall of Fame last year.
The NHL fans actually got something (kind of) right
As part of their 100-year anniversary celebration, the NHL unveiled a fan vote to determine the all-time 10 greatest teams. And everyone immediately went "Oh no, this will be terrible."
After all, the league made a minor mess of its Top 100 players list, and that was an unranked list put together by experts. This was a ranked list, and it would be determined by fan vote. If the last year has taught us anything, it's that nobody should ever be trusted to vote for anything. And that's especially true for hockey fans, who'd no doubt cast their ballots for the 2015 Blackhawks or 2016 Penguins or a write-in vote for "Whoever just beat the Leafs, lol they suck".
This week, the final list was unveiled, and the winner is: the 1984-85 Edmonton Oilers. That's… well that's not terrible, is it? You can defend that pick. That team had 109 points, scored over 400 goals and lost just three games in the playoffs, never facing elimination. It was the Gretzky/Messier/Kurri/Coffey core at the height of its powers.
It's not a perfect pick — you could make a case for one of the late-70s Canadiens teams or maybe one of Al Arbour's Islanders Cup winners, and the 84-85 team might not even have been the best Oilers teams of the era (it was the only one between 1984 and 1987 that didn't finish first overall). But still, it's not a cringeworthy pick. As far as fan voting goes, that's progress.
So let's focus on the positive and take our wins where we can get them. And let's definitely not look at the rest of the list, which is like half Oilers teams and ranked an 87-point team as the second greatest ever. They got the winner reasonably close to right. We'll take it.
Classic YouTube clip breakdown
Win their win last night, the Penguins are now just one win away from a championship. That means the Stanley Cup will be in the building on Sunday night in Nashville. And that means Gary Bettman will also be in the building, ready to do his annual awkward Cu handoff while being booed.
A few years ago, I celebrated Bettman's 20th anniversary on the job by ranking every one of his handoffs so far. Today, let's take a look back at the handoff that ranked number one on that list, and remains to this day the most awkward Bettman Cup moment of all-time.
It's June 19, 2006 and the Carolina Hurricanes have just defeated the Oilers in game seven to capture the Stanley Cup on home ice. The crowd is roaring, friends and family have poured onto the ice, and emotions are running high. Who wants to hear a corporate executive deliver a rambling speech?
We actually start off with Cam Ward being interviewed by Ron MacLean. Ward's just been named the Conn Smythe winner, but he informs us that the honor is "completely irrelevant". He then adds "Unless I'm mediocre at best for the next ten years but keep getting huge contracts, in which case I guess it will turn out to be pretty relevant after all".
As Ward talks, we get a shot of Rod Brind'Amour talking to somebody, who starts laughing. Presumably, Brind'Amour has just told him what he's about to do.
The Cup is ready to make its way to the ice, so Ward has to get back to his teammates. Sadly, MacLean does not end the interview by poking him in the tummy.
And here comes the Stanley Cup, carried as always by its two longtime keepers: Phil Pritchard, and the other guy who apparently doesn't have a PR agent and almost definitely secretly hates Phil Pritchard.
Something to note: With this being the year after the lockout, the NHL broke with tradition and didn't introduce Bettman or have him announce the Conn Smythe. Instead, they introduce the Cup, and then Bettman slips in while everyone's cheering. Whoever it was at the NHL office who came up with this plan was immediately fired for making a good decision.
I think having an ominous thunder and lightning sound effect right as Bettman begins speaking is a little on-the-nose there, guys.
Oh good, it's the legendary "Peter Karmanos had a dream" speech we all learned about in grade school.
At this point, Brind'Amour has had enough and decides to just skate over and interrupt Bettman, because Rod Brind'Amour IS A FREAKING HERO. But Bettman hilariously shoes him away, admonishing him with an annoyed "I'm almost done" into a live microphone. This causes Brind'Amour to have to stand there awkwardly, and causes me to laugh so hard my lungs hurt every single time I see it.
That face where you're ready to go but your partner wants to talk for a while first.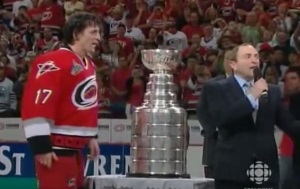 Brind'Amour gets bored and decides to start randomly pointing. Bettman speeds through his last few mentions, and gets ready for his very favorite moment of the year: The handoff. Seriously, Bettman lives for this. He knows fans hate it and wish he'd give the job to someone else, but he doesn't care. Once a year, he gets to pick up the Stanley Cup and hand it over to the winning captain. And he always milks the moment for all its worth, mugging for photos and refusing to let the Cup go for as long as humanly possible. I honestly think this moment might be the only joy Bettman gets out of his job. He lives for it.
NOT THIS YEAR GARY.
In a moment that should absolutely have resulted in his instant induction into the Hall of Fame, Brind'Amour grabs the Cup off the table before Bettman can get to it. You can tell that Bettman realizes what's happening, but speeding through his speech has thrown him off and now he's caught still holding the microphone in his trophy-grabbing hand. It's a small delay, but it's all Brind'Amour needs, and he just straight up jacks the Cup before Bettman can do anything.
This may be the greatest moment in Stanley Cup history. They should have the kids in that bank commercial act it out for the next chapter.
Also, Brind'Amour proceeds to kiss the Cup on the neck instead of the main body, which always seemed weird but that sentence is already making me feel uncomfortable so let's just move on.
The rest of this clip is just the Hurricanes skating around the ice with the Cup, occasionally pausing to step over a sobbing Fernando Pisani or the remnants of Dwayne Roloson's knee ligament. Glen Wesley gets the OGWAC first handoff honors, Ray Whitney swears on live TV, and the whole thing is one long exercise in going "Wait, that was the 2005-06 Hurricanes roster? They really won a Cup with those guys?" I don't recommend any of it.
As an epilogue, I highly recommend watching Bettman's handoff with Scott Niedermayer one year later. Niedermayer tries the Brind'Amour yank move, but this time Bettman is ready for him and holds on. You know he worked on that all year long. Defending Cup yanks is basically Bettman's version of having to shake hands with Donald Trump.
Have a question, suggestion, old YouTube clip, or anything else you'd like to see included in this column? Email Sean at nhlgrabbag@gmail.com .