In order to house his monumental new installation, dancer, sculptor, and performance artist Nick Cave took over the largest exhibition space Mass MoCA had to offer: a former factory warehouse the size of foot ball field called Building 5. Cave transformed the space into an immersive sculptural dreamland filled with metallic lawn ornaments, a cloud made out of crystal, a towering cliff wall that's been hand-woven from shoelaces and pony beads, as well as an abstract garden that's been decorated with hundreds of birds and flowers. The sheer magnitude and detail of the Until installation is enough to leave you completely floored.
The museum helped Cave gather materials for the piece by scouring the internet and buying up objects from eBay and secondhand stores. Among other things, the installation exhibits 16,000 wind spinners, millions of beads, thousands of ceramic birds, 13 gilded pigs, more than ten miles of crystals, 24 chandeliers, one crocodile, and 17 cast-iron lawn jockeys.
At first glance, the work can seem like an extravagant playground. On closer inspection, however, the viewer begins to take notice of the different structures' subtle political commentary and reference to social justice. The piece's title is a play on the phrase "innocent until proven guilty," or, perhaps, "guilty until proven innocent." This is a common theme seen in Cave's work. He is perhaps best known for his Soundsuits project, a series of sculptural costumes he made in response to the Rodney King beating. Until addresses a number of the same critical issues facing American politics today like gun violence, gun control, and race relations.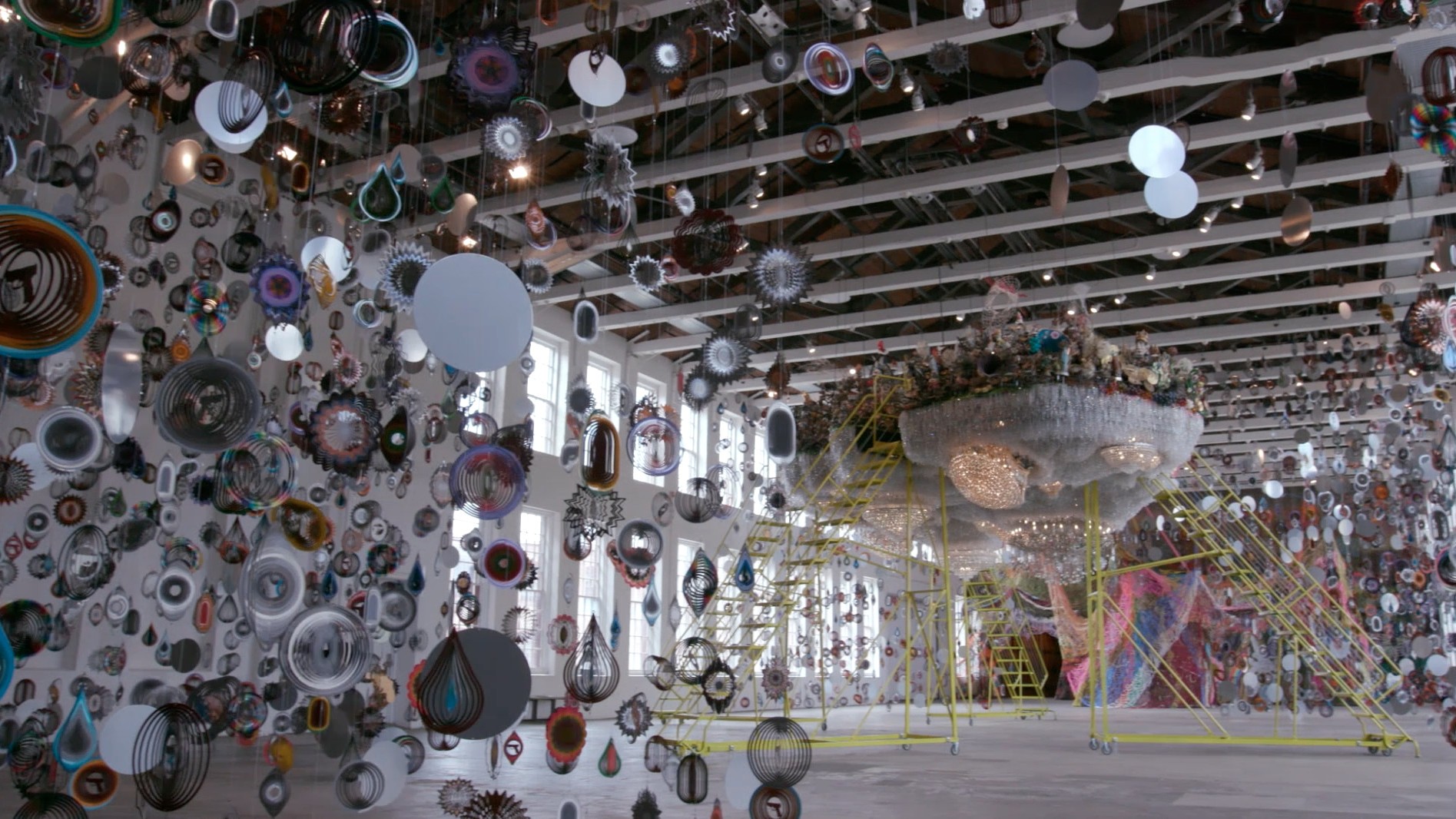 The traveling installation was recently turned into a book that features an essay about guns by Talking Heads co-founder David Byrne, poetry about the justice system by Claudia Rankine, a reflection by criminal justice attorney Lori Lightfoot, and written pieces by Mass MoCA curator Denise Markonish and Nick Cave himself.
Until is on view at the Mass MoCA through August 2017. Learn more about the exhibition on the museum's website.
Related:
Turning Nick Cave's Heard NY Into GIFs
I Meditated Inside NYC's Quietest Art Installation
Meet the Artists Who Want the "Pi Project" to Become the Biggest Installation in the World